In today's Rumor Rundown we look at a few deals that almost might have happened and couple deals that still could. Did the Edmonton Oilers and Toronto Maple Leafs talk at one time? Will the Leafs be talking with the Arizona Coyotes? How much interest did the Anaheim Ducks have in Alex Galchenyuk and do they still? Is Carey Price on his way out of Montreal?
Galchenyuk a Duck
According to Elliotte Friedman of Sportsnet, there was speculation the Anaheim Ducks kicked tires on Montreal Canadiens forward Alex Galchenyuk. Galchenyuk has struggled in Montreal so far this season but might be turning a corner and the Canadiens are hoping there is some chemistry between Jonathan Drouin and Galchenyuk moving forward.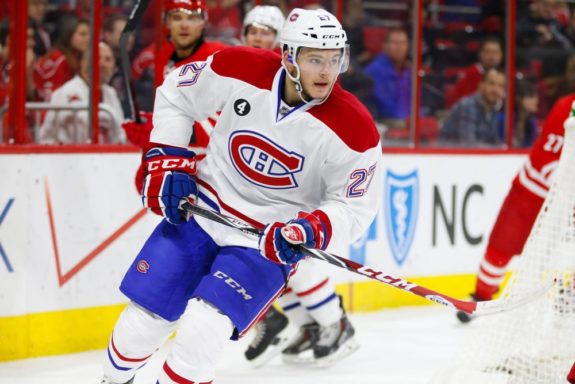 Even though trade talk has picked up throughout the NHL and a few deals have taken place, a Galchenyuk trade isn't necessarily imminent and he's no longer listed at the top of many people's list. The Ducks are still looking for a forward to help offset some of their injury issues so other options besides Galchenyuk may be more likely.
Leafs and Oliver Ekman-Larsson
Chris Nichols of FanRag Sports has reported Bob McKenzie was on TSN 1050 in Toronto and when asked about the struggles with the Arizona Coyotes, McKenzie is baffled by how nothing seems to have worked in the desert. Derek Stepan, Niklas Hjalmarsson, a new coach and other minor changes haven't' equated to wins and if it continues, a player like defenseman Oliver Ekman-Larsson might not see the Coyotes as a long-term option.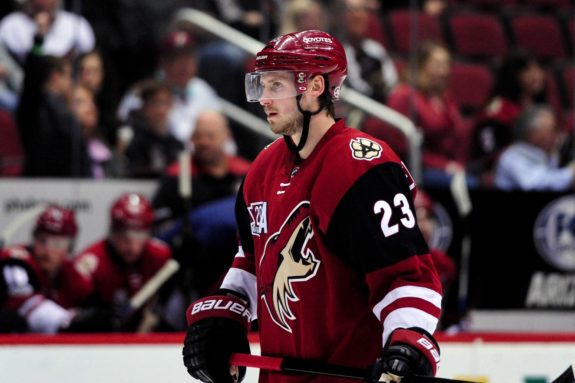 Regarding the likelihood that Ekman-Larsson and the Coyotes can continue on this path, McKenzie said:
"I don't think at this point in time Arizona is contemplating anything with Oliver Ekman-Larsson. That said, he's unrestricted at the end of next season… if you're Oliver Ekman-Larsson – even though you might be part of the problem right now, and let's not let him off the hook because he hasn't been playing well – that whole environment and what's gone on with Arizona, do you really want to re-up there?"
If this is the case and both sides are realizing that a change might be on the horizon, McKenzie thinks Ekman-Larsson and the Leafs would be a natural fit except when it comes to the money. For that reason alone, things are way more complicated than just making a hockey deal. McKenzie explained:
"But there's a guy (Ekman-Larsson) who's making (a $5.5 million cap hit with $6.5 in actual salary this season and then $7 million in 2018-19). Oliver Ekman-Larsson long term is not going to be cheap, and with everything else the Leafs have to do it starts to become a challenge."
Related: Blown Leads & Missed Opportunities Plaguing Coyotes
Golden Knights Might Set the Market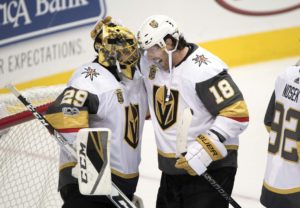 Elliotte Friedman is reporting that many GM's in the NHL are checking out what other teams might be willing to do on the trade front but there isn't a ton of serious talks and might not be until the Vegas Golden Knights make some decisions on players like James Neal and David Perron.
Oilers and Leafs Might Have Talked
On Tuesday the Edmonton Oilers acquired scoring-winger Mike Cammalleri from the LA Kings and sent Jussi Jokinen the other way. Friedman believes the Oilers may have contacted the Toronto Maple Leafs first to inquire about Josh Leivo or Nikita Soshnikov but the asking price might have been much higher than Jokinen, who has struggled this season and been a healthy scratch much of the year.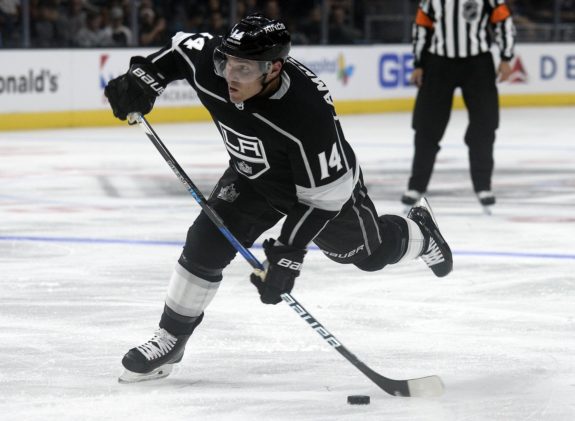 The Oilers badly needed to do something and when they made the trade it was before their eight-goal breakout versus the Golden Knights. Edmonton is still needing consistent scoring and their hope is Cammalleri adds some of what they've been missing thus far this season. He may not be and his contract is expendable. Edmonton may not be done making moves.
Related: Oilers Upgrade Scoring Depth with Cammalleri
Carey Price Trade Bait?
Clearly, this is just speculation, but on TSN MONTREAL 690, RDS' Normand Flynn told host Tony Marinaro he wouldn't be surprised if the Montreal Canadiens traded goaltender Carey Price as early this week. Much of it has to do with Price's injury situation and that the netminder didn't elaborate on his injury, or that the team didn't know right away he was hurt. If he's not badly injured, why is he still being kept out of the lineup?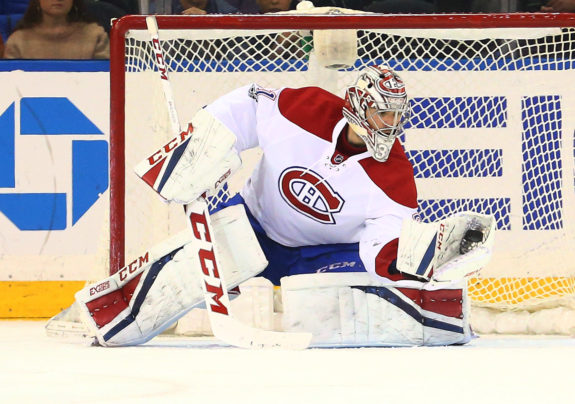 This may not be much of anything at all other than a team keeping things close to the vest, but of course, a player as important as Price and a team as marquee as the Canadiens is bound to stir up speculation. The bigger issue that comes out of all this is Price's contract and no-movement clause and how the Canadiens manage all of it if Price is unhappy in any way.
The Canadiens and Price seem to have struggled with their communication and it could be an issue that stirs in the background as things play out.