It's the start of a long week for the Maple Leafs, who start on a 3-game road trip throughout Western Canada. Their first foe will be the injury-plagued Edmonton Oilers, who currently sit at the bottom Pacific Division, 4 points below the supposedly pathetic Calgary Flames. Let's take a look at how the two teams stack up.
The Standings
TOR: (8-4-0, 16 pts, 2nd in Atlantic Division)
EDM: (3-8-2, 8 pts, 7th in Pacific Division)
The Injuries
TOR: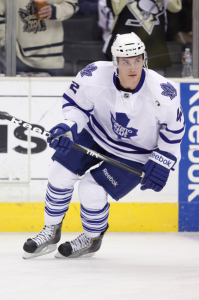 W Joffrey Lupul, foot (probable for Tuesday)
C Tyler Bozak, lower body (out for a week, will likely return vs. Devils)
W Nikolai Kulemin, ankle
D Mark Fraser, knee
EDM:
LW Taylor Hall, C Sam Gagner, possibly G Devan Dubnyk, and a whole bunch of others.
First line center RNH could also miss time after a knee-on-knee against LA's Kyle Clifford.
The Storylines
-The Oilers will be looking to avenge a 6-5 OT loss from their last meeting. Joffrey Lupul tied it up with 31 seconds left to go. Dave Bolland finished the comeback with the overtime GWG. Both teams played pretty poorly on defence, especially the goaltenders. It will be interesting to see if both teams tighten up their zone coverage.
-It's going to come up the next few times the Oilers play the Leafs, but it's always fun to see a game where a coach faces some of his former players. Head coach Dallas Eakins of the Oilers, formerly of the Toronto Marlies, will face several of his old proteges once again.
-Speaking of proteges, C Nazem Kadri is expected to fill in for the injured Tyler Bozak on the top line alongside sniping extraordinaire Phil Kessel. Kadri and Eakins did not have the most cordial of coach-player relationships. Eakins, a noted fitness addict, may have been right about Kadri. But I'm sure Kadri will be more than happy to prove to Eakins just who is out of shape – him or the Oilers.
-Who will play between the pipes for Edmonton? Starter Devan Dubnyk was sidelined with a sore foot for Sunday's tilt against the Kings, but he could be ready today. AHL call-up Richard Bachmann played sensationally last night, stopping 47 of 48 shots, before losing in the shootout. Backup Jason LaBarbera is unlikely to start after his outburst of frustration against the Coyotes.
LaBarbera was pulled briefly that night before finishing the game. At one point, he smashed his stick on the bench. Did not win any points with Eakins.
The Prediction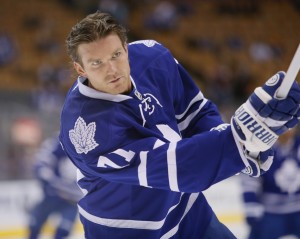 It's hard for anyone to predict that the Oilers will win right now. This team was struggling defensively, but without Hall, they're struggling offensively too. If they're missing RNH, this team will be hard-pressed to score goals and produce. Most teams would struggle with two of their top offensive weapons, and almost all would capsize with three out. Montreal's Lars Eller may have been wrong to characterize the Oilers as junior team, but at this point, this team is looking a lot like an AHL one. Like literally – a large percentage of the current roster players are call-ups. To be fair, C Mark Arcobello has been a play-making revelation so far this season. Arcobello's 10 assists has him in a six-way tie for 3rd in the league, alongside the likes of Sidney Crosby and Nicklas Backstrom.
For the Leafs, you can be sure to expect a full effort and hopefully a big game from Nazem Kadri. Without Bozak, he'll play his heart out every second he gets to alongside Kessel and JVR. A strong performance in that spot could mean a full-time job as #1 center. David Clarkson will also be looking to make a splash after being held off the scoresheet for his first two games back. He has 6 shots and 2 PIMs so far. A win would put the Leafs back on top of the Atlantic, dethroning the surprising current top dogs, the Tampa Bay Lightning.
The Oilers will be sure to come out hard, especially their AHL call-ups, who have something to prove. But even if the Oilers give it their all, it's very likely that the pure skill advantage the Leafs have will be too much.
I predict the Leafs will win this tilt.
Follow me on Twitter for all the latest updates! @alexmai11
Alex is a Lead Writer for the Toronto Maple Leafs. Since joining the Hockey Writers, he has also briefly covered the Carolina Hurricanes. He also currently works as an assistant for the Western Mustangs at the University of Western Ontario. Follow him on Twitter @alexmai11.