The Lehigh Valley Phantoms look to be in good shape heading into the 2015-2016 season. Their forwards, previewed here, should have a great mix of youth and veterans with both speed and skill. Their projected defensemen, on the other hand, have an abundance of youth and size, while potentially lacking in veteran presence and speed. In terms of goaltending, the Phantoms should have a solid one-two punch. If Anthony Stolarz is ready to handle a larger role with the team, then that will open up space for Jason LarBera slide between the NHL and the AHL.
There is plenty to be excited about on the Phantoms blue line this season. With the potential of having three of the Flyers top five defense prospects (Sam Morin, Shayne Gostisbehere, and Robert Hagg), the Phantoms should at least prove to be a solid development center for future Flyers.
Overview of Last Season
Although filled with promise, last season did not go as planned for the blue-liners of the Phantoms. Two players who were projected to play a major role on the team, Shayne Gostisbehere and Mark Alt, were limited by injury, while the Phantoms did not have sufficient depth to replace them.
Players like Steve Delisle, Jesper Pettersson, and Matt Konan were thrown into roles in which they were not prepared, while players like Brandon Manning and Oliver Lauridsen were able to get more exposure. Robert Hagg had an up and down rookie season that saw him take time away from the Phantoms to play in his third straight World Junior Championship U20 tournament.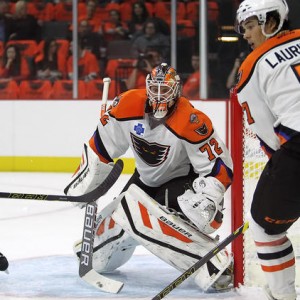 The goaltending situation was good, but not great, for the Phantoms last season. Rob Zepp was a stellar starter, while Anthony Stolarz had a roller coaster rookie season. Zepp's .917 save percentage was good enough to keep the Phantoms in most games. Due to injuries, both Zepp and Stolarz had to be called up to the Flyers at various junctures during the season. During those times, Martin Ouellette filled in adequately.
Projected 2015-2016 Defensemen
At the moment, neither Steven Delisle, nor Adam Comrie have a contract for next season. If they receive contracts, then they can be added to this list.
Brandon Manning is an interesting case that must be addressed. Last season he spent 60 games with the Phantoms, earning 11 goals and 32 assists. He has been an AHL All-Star in the past while also spending parts of three seasons, dating back to the 2011-2012 campaign, in the NHL. Now 25 years old, he signed a one-way contract this summer.
The Flyers look to be giving Manning a legitimate shot to win an NHL job. If he does not earn a top six roster spot out of training camp, he will likely stay on as an extra defenseman at the NHL level. However, if he is eventually sent down to the Phantoms, he will be one of their top defensemen next season.
Therefore, here are the nine defenseman who are projected to spend a majority of the season with the Phantoms.
Mark Alt – 6'3″ – 205lbs – 23 years old – Right
A former 2nd round pick of the Carolina Hurricanes, Mark Alt will be entering his third professional season in 2015-2016. He is a big, mobile defenseman who can move the puck well, but does not possess a lot of offensive skill. He is only 23 years old and figures to be a swingman between the AHL and NHL this upcoming season. He will play big minutes (both at even strength and on the penalty kill) for the Phantoms, and may get a call up to the Flyers if/when injuries come along.
Robert Hagg – 6'2″ – 203lbs – 20 years old – Left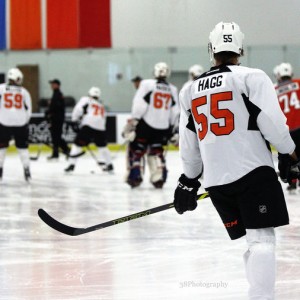 This Swede, who the Flyers picked in the 2nd round of the 2013 Draft, is entering his second pro season and seems primed to have a big year. At only 20 years old, Hagg has been playing against grown men for three years. He had quite a few adjustments to make last season (smaller rink, longer season, North American style of play), but he handled himself well, earning 20 points (3G, 17A) in 69 games. He is a smooth, two-way defenseman who can chip in some offense while playing a solid defensive game. He will be a top-four defenseman for sure.
Shayne Gostisbehere – 5'11" – 170lbs – 22 years old – Left
Shayne Gostisbehere, in my opinion, is a dark horse to start the season with the Flyers. However, if he stays on the Phantoms he will be, by far, their best puck-moving, offensive defenseman. After averaging a point per game through his first five AHL games last season, along with a two game NHL call-up, Gostisbehere suffered an ACL injury. Most reports say that he has healed well and will be at 100% at Training Camp. The organization may not want to throw him right into the NHL, therefore he may play a large chunk of the season with the Phantoms, logging heavy minutes at even strength and on the power play.
Samuel Morin – 6'7″ – 225lbs – 20 years old – Left
For two years, Flyers fans have been waiting to see Samuel Morin on a night-in, night-out basis. They may not be able to see him a lot this season in Philadelphia, but if they drive over to Lehigh Valley, they can get a glimpse of this monstrous defenseman. The 11th overall pick of the 2013 Draft has improved steadily since his Draft year and he even pushed for an NHL roster spot out of training camp last season. He will probably start the 2015-2016 season with the Phantoms, and it may take him some time to adjust to the pro game. He may not start the season on the Phantoms top pair, but he will be given plenty of time work his way up the line-up.
Davis Drewiske – 6'2″ – 220lbs – 30 years old – Left
Drewiske has spent time in both the NHL and the AHL with multiple organizations. Although he may not be exciting, he will surely bring a level of veteran experience and leadership to a young defense core. Drewiske has played in 149 AHL games, earning five goals and 34 assists, while also suiting up for 135 NHL games (5G, 20A) for the Los Angeles Kings and Montreal Canadiens. Drewiske is the only projected Phantom who will be over 25 by the end of the 2015-2016 season.
Jesper Pettersson – 5'8″ – 187lbs – 21 years old – Right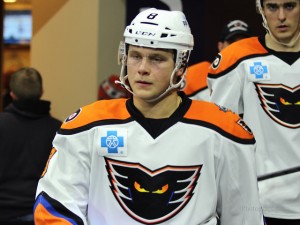 Jesper "Pitbull" Pettersson will once again have a hard time becoming a mainstay on the Phantoms blue-line. Generally, undersized defensemen are offensive, puck-movers. But Pettersson bucks that trend, playing a more defensive/shutdown game. His lack of size and offensive skill led to a tough transition to the North American game last season, but he should be improved this year. Much depends on how things shake out at training camp, but my bet is that Pettersson starts the season as the 6th/7th defenseman for the Phantoms.
Christian Marti – 6'3″ – 210lbs – 22 years old – Left
Christian Marti is one of the biggest question marks heading into the 2015-2016 season. He has flown under the radar since being signed, mostly because the Flyers have so many highly touted defensive prospects. He has spent time in North America and has also spent the last two seasons playing in a professional hockey league in Switzerland against grown men. Therefore, he should have a relatively quick adjustment period. At this point, it is nearly impossible to predict where Marti will fall in the Phantoms line-up.
Nick Luukko – 6'3″ – 209lbs – 23 years old – Right
Nick Luukko, the 179th pick of the 2010 Draft will be joining the Phantoms after finishing his senior season at the University of Vermont. He did not put up impressive point totals in the NCAA, nor did he record a point in his six games with the Phantoms at the end of last season. Overall, Luukko projects to play a bottom pair role next season and could potentially see himself as a healthy scratch. However, being a right handed shot could help his chances.
Maxim Lamarche – 6'2″ – 192lbs – 23 years old – Right
Maxim Lamarche, has spent the majority of the past two seasons in the ECHL. After a fine overage season in the QMJHL in 2012-2013, the Flyers offered Lamarche a contract. So far, he has had trouble sticking at the AHL level, competing in 12 AHL games in 2013-2014 and only seven AHL games last season. Unless he has an outstanding training camp, there is little reason to believe that Lamarche will begin the season as one of the top six Phantoms defensemen. However, he will likely find himself in the line-up at some point due to injuries.
Potential Pairings
If Gostisbehere begins the season with the Phantoms, I believe their pairs could look like this:
Hagg – Alt
Morin – Gostisbehere
Drewiske – Marti/Pettersson
Extras: Marti/Pettersson, Luukko, Lamarche
If Gostisbehere begins the season in the NHL, this is how I project the pairings:
Hagg – Alt
Morin – Drewiske
Marti – Pettersson
Extras: Luukko, Lamarche
Projected Goalies
Jason LaBarbera – 6'3″ – 232lbs – 35 years old
With nearly 200 games of NHL experience among five teams and over 25o AHL games to his name, Jason LaBarbera has a proven track record. He will likely be called up to be the starter for the Phantoms while taking on NHL responsibilities if one of Michal Neuvirth or Steve Mason goes down with an injury. LaBarbera played in five NHL games last season and has a career NHL save percentage of .907. He is a two-time AHL All-Star and a two-time winner of the Baz Bastien Memorial Award, the award given each year to the AHL's top goaltender. LaBarbera will also be called up on to be a mentor to Anthony Stolarz.
Anthony Stolarz – 6'6″ – 210lbs – 21 years old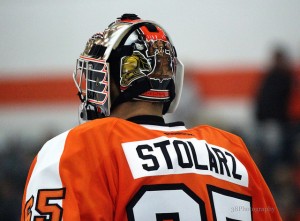 Stolarz, the Flyers second round pick in the 2012 NHL Draft, is heading into his second pro season. He finished his first season with a .905 save percentage in 31 appearances. He is still young and putting his game together, so this year will be critical for him. If he can push LaBarbera for playing time, then it is not unreasonable to think that he could find himself as something of a 1B (as opposed to a back up) by the end of the season.
Martin Ouellette – 6'2″ – 194lbs – 23 years old
Martin Ouellette played in only eight games for the Phantoms last season. He spent a majority of the season with the Reading Royals of the ECHL. Although he started out well for the Phantoms, he ended up with an .890 save percentage and should not be relied upon for a heavy workload at that level. However, if/when injuries occur, he may be called upon again to suit up for the Phantoms.
Conclusion
Much like the forwards, there is reason to be optomistic about the defense and goalies of the Phantoms. Unlike the forwards, there is no lack of size among the Phantoms projected defensemen, although there may end up being a lack of puck skills.
Because of their youth at both positions, Ron Hextall went out and signed Davis Drewiske and Jason LaBarbera to mentor the young players. But ultimately, the Phantoms success will be dependent upon these young guns.
If young players like Samuel Morin, Robert Hagg, Christian Marti, Anthony Stolarz, and Mark Alt can each take a significant step forward in their development, the Phantoms will be quite dangerous. If those players stagnate, then the Phantoms should have the depth to be able to at least stay competitive. Overall, it should be a fun year in Lehigh Valley.