Josh Leivo has been an interesting player to follow this year. He looked like he would be able to crack the lineup at the beginning of the season, but was sidelined because of an injury. After recovering from his injury, which seemed to suspiciously last longer than expected, he finally got to play. Leivo's first game back was on Dec. 19 and his second game was on Jan. 7.
This large gap in games shadowed the experience that Frank Corrado had with the Toronto Maple Leafs before being sent down to the AHL. They were both the extra player and they wouldn't get to play unless someone got injured. Corrado never got the chance to play consecutive games, but now Leivo has received his chance and he's making the most of it.
How Has Josh Leivo Played?
There wasn't much that was expected of Leivo when he finally got in the lineup against the St. Louis Blues. Nikita Soshnikov was injured with an upper body injury, and so it meant Leivo would be filling in on the fourth line.
Expectations weren't that high. The Leafs' fourth line, understandably, doesn't get much ice-time and doesn't add much offensively. This wouldn't give Leivo much of an opportunity to prove his worth to coach Mike Babcock. But with Soshnikov, injured there's wasn't any other option.
In his four games, Leivo has been a pleasant surprise for the Leafs. He's been great on the forecheck and has brought a degree of skill that the fourth line was missing. He was finally rewarded for his hard work with a three-point night in a 7-1 win against the New York Islanders.

He got his first goal of the season and added two assists; one of which was on the power play. Leivo's hard work resulted in getting time on the power play. Babcock has said all season that he rewards players that play well and take advantage of every opportunity they are given and Leivo seems to impress more and more with every opportunity he's given.
Josh Leivo has been great tonight. Three points. 73.7% possession. Only nine minutes ice time but still.

— James Mirtle (@mirtle) February 15, 2017
Leivo then added two assists to his totals in the 5-2 loss against the Columbus Blue Jackets. Babcock rewarded Leivo in this game with 14:53 minutes of ice-time and 2:09 minutes on the power play. That's a big show of confidence from Babcock after Leivo only had 9:48 minutes of ice-time against the Islanders.
With five points in six games, Leivo has been a great addition to the fourth line and has shown that he's a versatile player that can be trusted with power-play time. The question now isn't whether Leivo deserves to be in the lineup, but whether Soshnikov can take his spot back.
Josh Leivo vs Nikita Soshnikov
Now that Leivo is playing well, it could mean Soshnikov is the odd man out. Soshnikov has returned from his injury, but was a healthy scratch against the Blue Jackets with Leivo staying in the lineup. It will be hard for Soshnikov to get back in the lineup while Leivo continues to produce.
Leivo has shown more offensive potential in his six games than Soshnikov has shown all season. Soshnikov has just four goals and seven points in 43 games this season. Now, before getting into the differences between theses players, it is important to note the sample size. Soshnikov has played 43 games this season compared to Leivo's six games. Six games are enough to get a sense of what Leivo brings to the team, but these numbers could change given more games.
They look pretty similar on the surface. Similar average time-on-ice, about the same amount of shifts per game and the same for their shooting percentage. They both play a grinding style of hockey and have great shots. That's where the similarities end.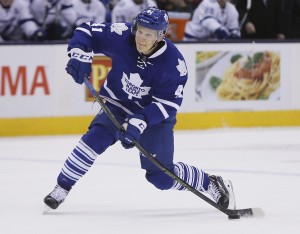 One of the problems with the Leafs fourth line has been their defensive play. Not only is Leivo better overall when compared to Soshnikov, but Leivo also makes the fourth line better when he plays with them. Leivo has a 63.9 Corsi For percentage compared to Soshnikov's 46.1. Corsi has to do with shot attempts. It involves all shots and shot attempts you make along with shots that were blocked. Essentially, it is a way to put a number to puck possession.
What this means is when Leivo is on the ice, he increases the Leafs' amount of shots and shots that the Leafs block from going to the net compared to Soshnikov. The second thing to look at is how each player affects their linemates of Ben Smith and Matt Martin.
Both Smith and Martin have poor Corsi For percentages, but they dramatically improve when they play with Leivo. Smith has a 40.9 Corsi For percentage without Leivo, but it goes up to 59.6 percent when he plays with Leivo. Martin is the same with 47 percent without Leivo and 56.1 percent when they play together.
The opposite is the case with Soshnikov. Martin has a worse percentage when he plays with Soshnikov of 45.3 percent compare to when he plays without Soshnikov with 50.4 percent. Smith only improves by one percent to 43.5 when he plays with Soshnikov.
So when comparing Leivo and Soshnikov, it is Leivo that makes the fourth line better. Having a better Corsi percentage means that the fourth line has better puck possession with Leivo. And naturally, if you have the puck more than your opponent, they are less likely to score. Leivo not only gives that line an offensive boost, but he also makes them better defensively.
An improved fourth line has been needed for the Leafs all season and with the way Leivo is playing, it is doubtful that Soshnikov gets back into the lineup anytime soon.

Toronto Maple Leafs contributor for The Hockey Writers.
I've been a fan of the Toronto Maple Leafs since I was a kid and have always had an interest in writing. At The Hockey Writers, I get to enjoy both of my passions as well as writing about small convoluted details in player contracts and stats.