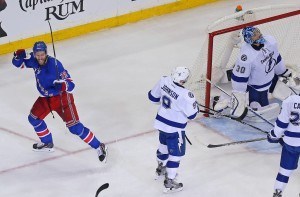 The Rangers have played an NHL record 15 straight one goal games after their 2-1 win over the Tampa Bay Lightning in game 1 of the Eastern Conference Finals. Through 13 games of the Stanley Cup playoffs, the Rangers have played a one-goal game every single time they've stepped onto the ice.
Over the course of New York's 10-4 record through the first 14 games of the postseason, the Rangers have allowed two goals or less 11 times while only allowing one goal eight times. Throughout the Pittsburg Penguins series, the Rangers played in five one-goal games to advance from the first round and seven one-goal games to beat the Washington Capitals in the second round. The Eastern Conference finals have picked up where the Rangers left off after a 2-1 decision against the Tampa Bay Lightning in Game 1.
The Rangers played in 38 one-goal games over the 82-game regular season, winning 24 of those outcomes. There has been a sum of 44 goals in the Rangers' 12 playoff games (3.67 per), compared to 62 in the Lightning's 13 contests (4.77).
Sweet Shin Music
There's nothing better than scoring the game winner, especially in the Eastern Conference Finals.
With just a little over two minutes left in regulation time of Game 1 of the Eastern Conference Finals, former Lightning forward Dominic Moore stood tall and crashed the crease, waiting for a deflection from any which way on the ice and that is just what he got. In an unorthodox method, Kevin Hayes took a bad angle shot that darted off Moore's right leg and into the net, giving the Rangers the 2-1 victory and a 1-0 series lead.
"The margins are so small," Moore said. "And they're not for the faint of heart, these games."
Credit given where credit is due. Hayes played a big part on the assist from Dom Moore's goal. Hayes plays on a line with Derick Brassard and Rick Nash.
"He was not (like) an 18-year-old guy coming in here," Nash said. "He had an older game. You can tell from his game how mature he is and how mature he is around the dressing room."
https://www.youtube.com/watch?v=-7vG4xnmmbY
Long Live The King
In 22 playoff victories since the start of last season's run Lundqvist had a 1.23 goals-against average and a .958 save percentage. Lundqvist ranks second in goals-against average (1.56) and save percentage (.945) in the playoffs this year – first in both if you don't count goalies whose teams were bounced in the first round.
Henrik Lundqvist, has 104 career playoff appearances and owns a staggering .944 save percentage and 1.60 goals-against average in going 8-4 this spring.
In the Rangers last 10 home eliminations games the team is 10-o, with the help of Lundqvist backstopping them with a 10-o record, 0.96 goals-against-average, .968 save percentage and 2 shutouts.
The Rangers have won 6 consecutive game 7s, tying the NHL record with Detroit and Boston.
Henrik Lundqvist has stopped 179 of 184 shots faced (.973 SV%) over his six straight Game 7 wins. Ridiculous. #NYR

— Pete Jensen 🏒 (@NHLJensen) May 14, 2015
Big Ben
Prior to Saturdays Game 1 at Madison Square Garden, Tampa Bay had outscored the Rangers 15-7, with goaltender Ben Bishop severely out playing Henrik Lundqvist to improve to 8-0 in his career against the Rangers (three of the wins came with Ottawa) with a 1.49 goals against average, a .946 save percentage and two shutouts.
https://www.youtube.com/watch?v=SDgmtoD_iFs
Defense Wins Championships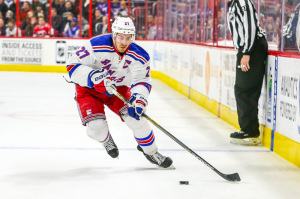 The Rangers are a strong defensive team, aided by their back checking forwards. The team limited Tampa Bay to 24 shots-on-goal in Game 1 with 15 blocked shots. The teams defensemen had a combined eight of the team's 30 shots and 22 of their 61 chances coming from their combined blocked and missed shots. The Rangers defense is continuing to contribute to the offense with Ryan McDonagh assisting on Derek Stepan's late goal in the second period of Game 1.
The Rangers have allowed two or fewer goals in 11 of their 13 postseason games, and just one goal in eight of those.
"I thought they were great," rookie right-wing Kevin Hayes said of the Rangers' defensemen. "The puck wasn't in our zone for a long time. There were a lot of one-passes and out of our zone. It just goes to show how good our 'D' corps is. We have an offensive guy in every single pairing. It helps the team win."
Black and Blue-shirt
Tanner Glass did not practice for the Rangers, taking  a "maintenance day." Glass didn't practice Friday, either, but played Saturday, and Vigneault said he expects him to play in Game 2 Monday.
Av told the media today "Yeah, he's fine" when asked about Glass' situation.
Mats Zuccarello remains out indefinitely and is slowly but surely working to get back on the ice.
When asked about Zuccarello prior to Game 2 at MSG, AV responded, "Yeah, he's just going through the process of getting healthy. He's skated a little bit on his own today, and I'm assuming that's going to get a little longer here as we move forward."
For Tampa Bay, former Rangers forward Brian Boyle, who was a surprise scratch in Game 1 due to an undisclosed injury, did not practice Sunday.
Looking Back And Moving Forward
If you can take anything from the 2014 compared to the 2015 Rangers, experience has been a huge factor to where the team is today.
"It was a pretty good ride last year and a pretty good team," Rick Nash said. "I don't know if I can think of one thing that's better other than experience. I think it's a huge thing that a lot of us have been through this whole run now before and I think it helps.
"I think we play similar to last year," Lundqvist said Sunday. "A lot of these guys have been part of so many things the last couple of years, you learn from experiences. We take that with us and move on. Every year you learn something about yourself."
#NYR @mooredom adds the 9th piece to the puzzle: https://t.co/8pfPhFQqGP

Full mic'd up video: http://t.co/3jCXnfcAiO

— New York Rangers (@NYRangers) May 16, 2015
.