General Manager Steve Yzerman made a signing of great importance yesterday by inking defenseman Libor Hajek (LEE-bohr, HIGH-ak) to a three-year, two-way entry level contract. With dust and cobwebs occupying the Lightning's defense prospect cupboard, this becomes an important signing for the Tampa Bay Lightning.
The Smrcek, Czech Republic native has put up good numbers with the Saskatoon Blades of the Western Hockey League (WHL) netting four goals and 22 assists. He has also set up a comfortable residence in the penalty box this season, spending 81 minutes there.
The Blades missed out on the WHL playoffs, which made Hajek available to sign his entry-level deal early and Yzerman jumped right to it. It's a very good signing for the Lightning GM and is another view into his plan for the club.
But who is Libor Hajek and why should Lightning fans be excited?
Hajek Background
Hajek was selected with the 37th overall pick by the Lightning in the 2016 Draft held in Buffalo, New York. But it was how he Lightning acquired the pick that is interesting. The Arizona Coyotes sent their second round pick to the Lightning in exchange for defenseman Anthony DeAngelo. DeAngelo was a first round pick (19th overall) in the 2014 draft and was lauded by Tampa's scouting department as having better offensive skill than Aaron Ekblad- the No. 1 overall pick in that draft.
Hajek, you might remember, was the player the #Bolts selected w/ pick acquired from trading D Anthony DeAngelo to Arizona at 2016 Draft. https://t.co/BvuGVGsIPp

— Bryan Burns (@BBurnsNHL) March 21, 2017
But that same department decided that DeAngelo's game was too one-dimensional and when Hajek fell to the second round, Yzerman traded up to select him and parted ways with a former first round pick.
The Lightning management liked Hajek's combination of skill on the offensive side as well as his size (6-foot-2, 202-pounds), something DeAngelo did not possess (5-foot-11, 184-pounds). The way he moved the puck and his propensity to find and get the puck was too enticing to pass on. His grit and tenacity is also something that sticks out. In his two seasons in Saskatoon, Hajek was assessed 157 penalty minutes. That intimidating presence on the back-end is something the Lightning have lacked.
Don't be put off by his minus-17 rating. Saskatoon was in the middle of a rebuild and Hajek logged a lot of minutes and was on the ice in all situations.
Hajek was selected second overall at the Canadian Import Draft in 2015 and is projected as a top pairing defenseman, so Yzerman and the Lightning scouting team were shocked to see him fall out of the first round and made the move to nab him.
What the Future Holds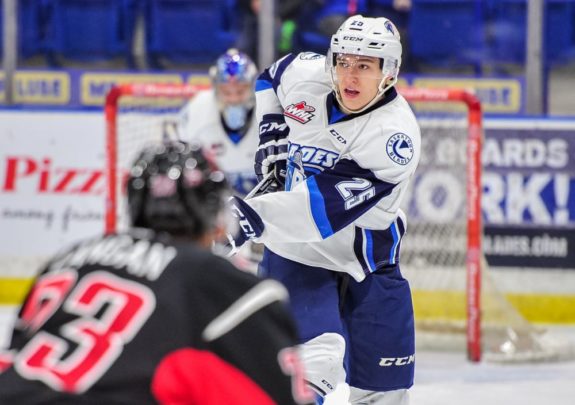 Hajek will report to the Lightning's American Hockey League (AHL) affiliate in Syracuse, where he will work under the tutelage of Benoit Groulx. There he will be able to showcase his unique puck-moving prowess and bring some intensity to Syracuse's defense. The Crunch are primed to make the Calder Cup playoffs and playing in some meaningful games will benefit Hajek's development.
As for his future in Tampa?
The Lightning have just four defensemen signed through this season, and you'd expect them to sign restricted free agent, Jake Dotchin. But with the Expansion Draft and the middling play of the team's defense as a whole, there will be a spot open for Hajek to win in training camp. The Lightning could shop for defensive help in free agency, but the pool is a bit shallow.
If Hajek impresses in a short stint in Syracuse and at Tampa Bay's rookie camp, Head Coach Jon Cooper may give the young Czech an opportunity in the 2017-18 season.
Graduated with a Bachelor's Degree in Journalism from Western Illinois University, where I also played 4 years of Rugby.