Let's get one thing clear, the Tampa Bay Lightning have one main goaltender: Andrei Vasilevskiy. He is a superstar talent, a once-in-a-lifetime player. However, he can't continue to play over 60 games in the regular season and expect to keep healthy and perform night after night.
---
---
The Lightning need a backup goalie plan, especially if the current backup, Brian Elliott, who is an unrestricted free agent, decides to retire or move to a new team.
The Multi-Goalie League
In the NHL, teams carry two, maybe three goalies, and play them in rotation. During the 2022-23 season, the Boston Bruins rotated between Linus Ullmark, 49 games, and backup goalie Jeremy Swayman, who started 37 games. Both players helped the team to a historic 135-point season and the Presidents' Trophy.
Another even more impressive feat is how the Vegas Golden Knights utilized their goalies. When it was announced that their starting goaltender Robin Lehner would miss the entire season due to hip surgery, it started a whirlwind of potential replacements. At one point, they started four different goalies on consecutive games and won all four, which set an NHL record.
Teams haven't always used multiple goalies. Even as recent as the mid-60s, one goalie handled the entire regular season – playing every minute. If a team had an emergency backup, he watched the game from the stands. A rule change was implemented for the 1965-66 season that required teams to carry two "game-ready" goaltenders on their roster. Currently, goalie tandems, such as Ullmark and Swayman, are becoming more common.
When ranking the goalie duos to start the 2022-23 season, The Hockey Writers' Eugene Helfrick stated, "If you have a good enough starter who can stay healthy, whoever is your backup won't matter. However, having depth is also important, as injuries happen and you need to have a player who is able to step in and win regular-season games to keep in the championship hunt."
Vasilevskiy's Dominance
Because Vasilevskiy has played so well throughout his career, the Lightning haven't needed to pair him with another netminder. At only 28 years old, he is a veteran of 535 regular and postseason games and a two-time Stanley Cup winner.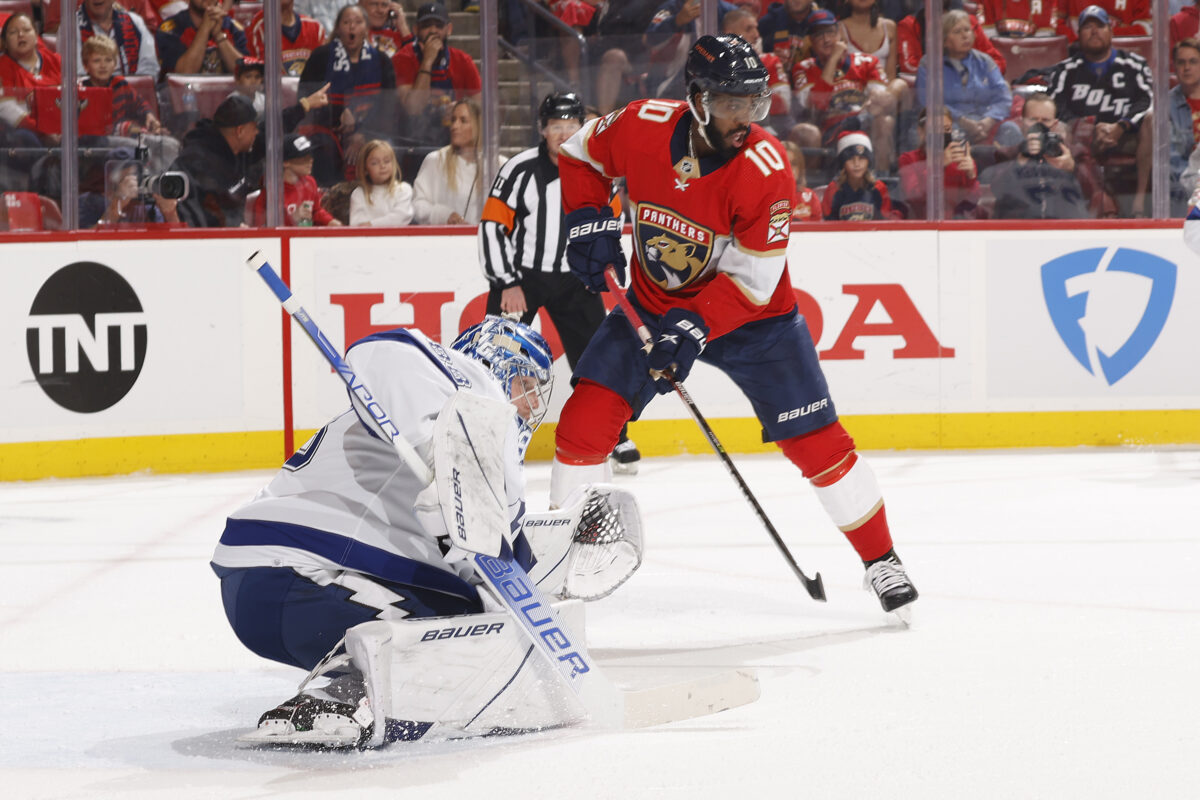 In 2021-22, he played 63 games, and this season, he started all but 22 games. During these two seasons, his backup has been Elliott, a veteran of 543 games. Although the 38-year-old enjoyed an 8-2 start to this season, he ended with a 12-8-2 record and his stats didn't invoke confidence with a 3.40 goals-against average (GAA) and .891 save percentage. With that being said, Elliott has been the most reliable backup goalie during Vasilevskiy's tenure. If he doesn't return next season, he will leave a void that will be hard to fill.
The Lightning's Goalie Options
After the Lightning were eliminated from the 2023 Playoffs, they signed goaltender Matt Tomkins to a two-year, two-way contract. The 6-foot-3, 194-pound native of Edmonton, Alberta, Canada was drafted by the Chicago Blackhawks in the seventh round of the 2012 NHL Draft, two years before Vasilevskiy. At 28 years old, he hasn't played a game in the NHL, but considering his success at Ohio State University, and impressive stints in the American Hockey League (AHL) and the Swedish Hockey League (SHL), where he's spent the past three seasons, he could be a future goalie option.
Related: Ranking the NHL's 32 Starting Goalies – 2022-23 Season
In addition to Tomkins, the Lightning are also high on Hugo Alnefelt, who turns 22 on June 4, 2023. When they drafted him in the third round of the 2019 NHL Draft, he was evaluated to be among the best goaltenders in that year's draft. A native of Danderyd, Sweden, he started his career in the SHL before moving to the ECHL and then to the Lightning's AHL affiliate, the Syracuse Crunch.
---
Latest News & Highlights
---
With Vasilevskiy secure in net, Alnefelt has had time to develop in the minors. If Elliott does not return next season, it's probable that the Lightning turn to a younger goalie to serve as their backup. If the team decides to pursue an experienced backup, The Hockey Writers' Jim Bay, who covers the Lightning, suggests the Buffalo Sabres' Malcolm Subban. "He does have some NHL experience and has played very well in Calder Cup Playoffs. He is a UFA and I would guess that he may want to look at other teams as he has little chance to see much time with the Sabres." Subban, who was a first-round draft pick in 2012, has 86 NHL games under his belt.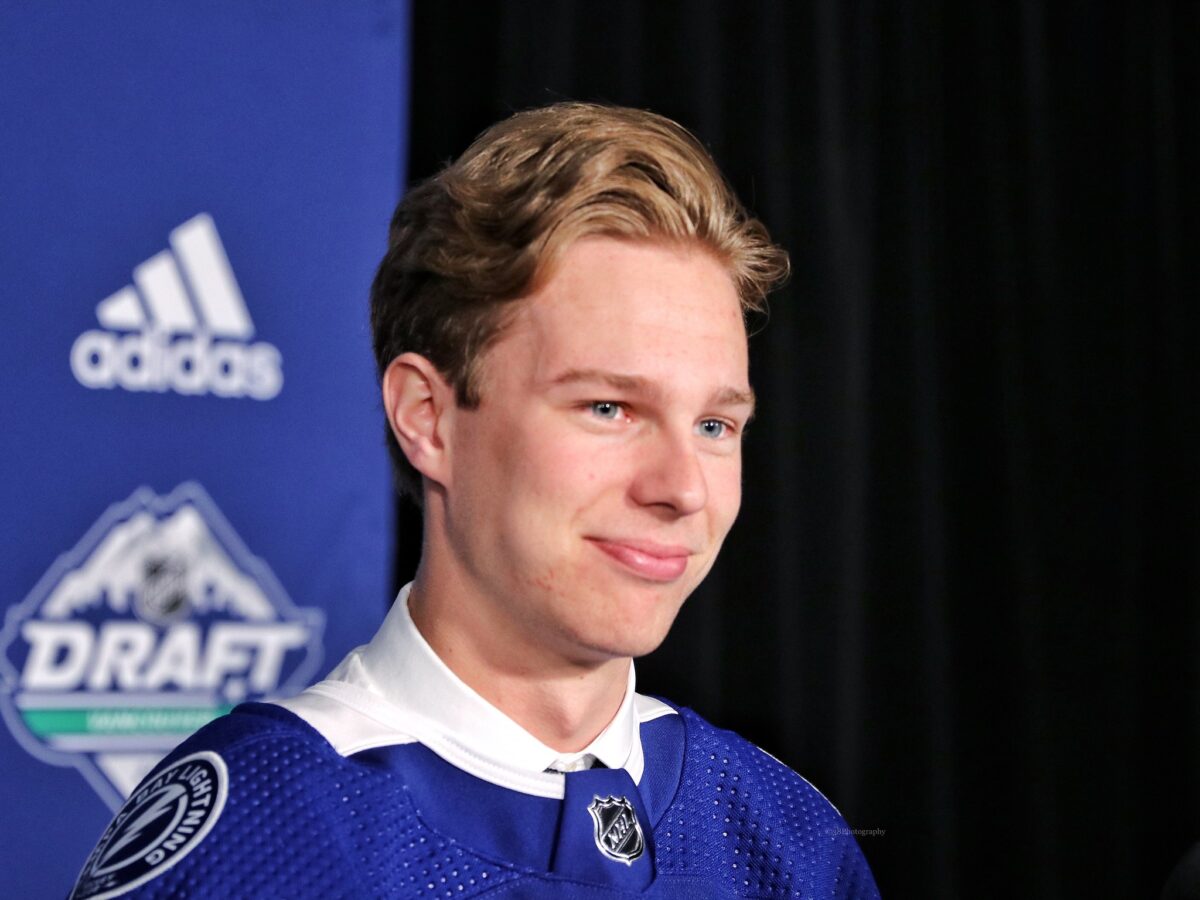 The goalie situation depends on Elliott, which should be settled soon. No matter what direction the Lightning take to shore up their backup goalie position, they may need to consider more than one player. This past season proved that Vasilevskiy is human and requires rest, both physically and mentally. With little wiggle room in the team's salary cap, signing an experienced goaltender may be a pipedream. If they can't, the organization has a proven track record of grooming players into NHLers.