Tyler Seguin wasn't the only former Bostonian at the Dallas Stars  game on Thursday night when they took on the Boston Bruins. When the 2016-17 schedule came out I circled March 30th. It had been a few years since my last visit to the Garden, so why not celebrate the old birthday taking in a Stars game in Boston. A Jet Blue flight sale and credit voucher sealed the deal. During the flight to Boston's Logan Airport, I watched "Manchester by the Sea." It was both entertaining and depressing at the same time. The latter is something Stars fans can relate to this season.
TD Garden in Boston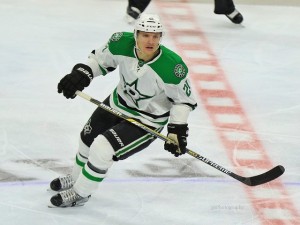 After spending a lot of time at the American Airlines Center and seeing Bruins, Blackhawks and Red Wings colors in droves. I was curious how the Stars fans would represent in Boston.
While TD Garden didn't have an overwhelming number of Stars fans wearing victory green, there were more than a handful of folks proudly representing. I thought it would be fun to connect with some of them. During pregame warm-ups, while sampling the concessions I spotted a young man wearing an Antoine Roussel jersey.
Stars Fans: Max & Taylor Raglin
The Roussel fan was Max, originally from Denton, Texas, at the game with his wife who is a New York Rangers fan. Max served in the military working with military dogs (no connection to "Max" in the military dog movie). He is going to school at Providence and typically catches some Providence Bruins games to get his hockey fix. He hopes to move back to Texas after completing school.
Next, I caught up with Taylor Raglin, a former THW peer who also covered the Stars. Taylor is completing his Master's degree at Boston University. Here were some of the highlights of our Twitter DM exchange:
THW: What have you enjoyed most about Boston University?

Taylor: I've really enjoyed getting to practice journalism in Boston and covering the hockey teams. Everyone is so passionate about it here, and the teams were a lot of fun to watch.
THW: What has disappointed you most about the Stars this season?
Taylor: This season was just a perfect storm of everything that could have gone wrong last season, but didn't. The goalies underperformed, or probably performed at a level closer to what they actually are at this point in their careers. The D corps looked awfully young and appeared to regress to what they probably should have played like last season. I don't like carrying eight defensemen, and I think it created some rhythm issues for a lot of guys. Then you add injuries onto the poor showing from those two areas, and you end up with the season they've had.
THW: What can Stars fans be optimistic about?
Taylor: There is absolutely still reason to be optimistic. I think there's still a lot of promising youth that will continue to mature and a winning core already in place. They need to buy out a goalie and acquire a younger one that's ready to be a No. 1. Settle in on a defense (that will include Julius Honka), and probably make a change behind the bench. If they can make a trade for a solid top-pair dman with some of the youth they have, even better. There's no reason they can't go right back to being a contender if they play their cards right during the offseason.
https://youtu.be/2VWAtMxXVCs
Remembering When it Felt Like 1999
After the final whistle blew the scoreboard read 2-0 Bruins. It was time to head towards the train. The TD Garden has several local train routes that drop off and pick up right at the arena. While waiting for the return train to arrive I spotted a couple of Stars fans wearing older Stars jerseys. I went over to commiserate.
I met Trey Peterson and his Dad. They are originally from the Wylie, TX area and relocated to Chelmsford, MA. Trey was born a month after the Stars won the Stanley Cup in 1999. Trey's Dad remembered catching a couple of the Stanley Cup Final games at the old Reunion Arena in Dallas. Mrs. Peterson wasn't thrilled with him going to the games, but hey it was the Cup, right?
In conclusion, while I'm sure Seguin's return to Boston didn't go exactly as planned, neither did mine. It's less than two days from the Red Sox home opener and it's snowing in Boston! That being said, it was nice to visit the old barn and catch up with few Stars fans who bleed victory green.
Special thanks to my great friend Delphine for coordinating the game tickets.
I have a Bachelor of Arts Degree is Sociology from Bridgewater State College. I have covered amateur hockey prospects with Texas roots for the scoutingreport.org, and I am a Dallas Stars writer for The Hockey Writers. I can be reached via Twitter @EdTexmass09.