While Interstate 5 is the fastest, most common way to drive between Los Angeles to San Jose, the Pacific Coast Highway offers a far more picturesque, less traveled connection.  In much the same way, as the Kings and Sharks whittle each other down this May, I'm reminded that there are other ties between these two franchises besides their statehood, Dean Lombardi, and Darryl Sutter.
It literally all starts with Jack Ferreira, 69-year-old Special Assistant to Lombardi.  In the mid-70's, Ferreira coached a teenage Lombardi in a pickup league.  In 1988, about to interview for the Minnesota North Stars General Manager position, he turned to law degree-holding player agent Lombardi to prep him.  Ferreira got the job and his first hire was Lombardi as Assistant General Manager.  Taking over the expansion Sharks in 1990, he brought his protege with him, and eventually, Lombardi grabbed his reins, while Ferreira became The Mighty Ducks of Anaheim's first GM.  About a decade later, the apprentice hired the old master to help him rebuild the Kings.
In 2006, Lombardi entered a Los Angeles locker room stinking with stale vets like Luc Robitaille, Jeremy Roenick, Craig Conroy, Mattias Norstrom, and Aaron Miller, and not enough world-class skaters, besides Pavol Demitra, Lubomir Visnovsky, and Alexander Frolov.  However, led by Frolov, Dustin Brown, Michael Cammalleri, Tim Gleason, and a pile of prospects, including Anze Kopitar and Jonathan Quick, Lombardi was inheriting a rich farm system.  In full demolition mode, he dumped the vets and pawned Demitra off.  Needing to fill the depth chart and realizing his wave of youthful talent was years away from cresting, he installed temporary "bridge players" who would set a positive example for the kids.  Lombardi had erected similar infrastructure when taking over the floundering Sharks in 1996, picking four ex-Kings teammates, Tony Granato, Kelly Hrudey, Marty McSorley, and Bernie Nicholls, to guide that re-build.  Now in LA, it made sense to go with who he knew, so he added old San Jose stalwarts Scott Thornton, Alyn McCauley, and Brad Stuart in successive summers.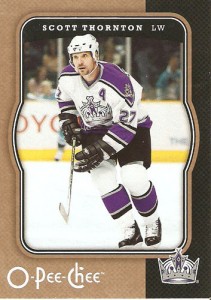 Thornton, who is San Jose star Joe Thornton's cousin, was coming off five seasons as a vital checking line cog for the Sharks; during the lockout year, a 17-year-old Kopitar was actually one of his teammates in Sweden.  Worn down after 15 tough years in the league, Thornton played sparingly with the Kings over two campaigns, but still inspired future Kings captain, Dustin Brown.  When Brown was awarded the captaincy as a 23-year-old in October 2008, he credited "Thorty":
"Last year, me and Thorty sat next to each other all year. He was pushing me to be more vocal. He said, `You play harder than anybody, but you need to be more vocal.' I said, `I don't think everyone in this room really respects what I do yet.' He was like, `Well, you have my respect.' He was an assistant captain and a big part of the leadership, and that really helped me. We had conversations about it a lot, and he played a big part in making me more comfortable."
McCauley was a cornerstone of Lombardi's last significant deal as Sharks GM.  In March 2003, as San Jose was about to miss the playoffs for the first time in six seasons, Lombardi put star Owen Nolan on the auction block and received a package that included McCauley, Brad Boyes, and a first-round pick from Toronto.  McCauley played parts of three seasons in the Bay Area and was nominated for the Selke in 2004.  Unfortunately, he managed just ten games with the Kings, despite a three-year deal, forced into a retirement by a recurring knee injury.  In 2009, Lombardi hired McCauley as Pro Scout, and he had his Day with the Cup last August.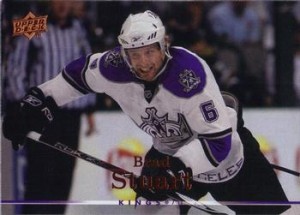 Stuart was drafted by Lombardi in 1998.  After six promising seasons as an up-and-coming two-way defender, he was dealt to the Bruins, along with Marco Sturm and Wayne Primeau, for Joe Thornton.  After stumbling in Boston and Calgary (then GM'd by Sutter), LA gave him a one-year flyer.  At the trade deadline, Stuart was sent to the powerful Red Wings for a 2008 second-rounder and a 2009 fourth-rounder.  He balanced Detroit's backend, a big part of their Stanley Cup championship that season; those picks led Lombardi eventually to Jeff Halpern and Brad Richardson.  Stuart returned to the Shark Tank this past offseason.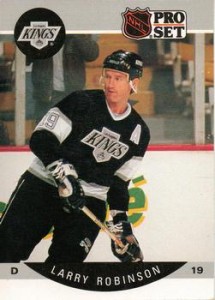 Sharks Assistant Coach Larry Robinson is the most decorated link between the Southern California and Bay Area teams.  A Hall of Fame defenseman with the Montreal Canadiens, he finished his playing career in Los Angeles, skating with Granato, Nicholls, McSorley, and Hrudey.  He was Head Coach of the Kings from 1995 to 1999.  To date, Robinson has raised nine Stanley Cups, six as a player for the Canadiens, and three as a coach with the New Jersey Devils, including one as Head Coach in 2000.
It was Wayne Gretzky's Kings, which boasted Granato, Nicholls, McSorley, Robinson, and Hrudey, that proved ice hockey could sell in fairer climates and essentially broke ground on establishment of the San Jose franchise.  The organizations have always had a big brother-little brother relationship, except it's been unclear who's who, as the Sharks were outperforming the Kings by just their third year and pretty much every season since, until last June.  LA was the embarrassing older brother who just won the lottery; San Jose the model son on the cusp of greatness…who just got old.
Back to the present, will Los Angeles continue this mid-life turnaround?  Or does San Jose make good before it's too late?