By Mike Miccoli
What happens when Milan Lucic wants to fight Gabriel Landeskog?
It's a weird question, right? Take a talented, young captain of an Avalanche team who is on the verge of winning their fourth-straight game to start the season under new coach Patrick Roy, and pair him with the Bruins' top-line winger who is no stranger to mixing it up with opponents.
So, who wins? Nobody, really.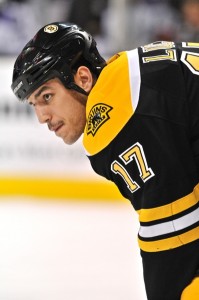 Late in the second period of Thursday night's 2-0 Avalanche win over the Bruins, Lucic appeared to be upset with Landeskog following a hit after the whistle, leading to exchange of shoves. Both players seemed destined to drop their gloves but it wasn't much of a fight, rather a lengthy exchanging of verbals that ultimately ended with Lucic shoving Landeskog in the face. And while the refs let this 'is-this-going-to-be-a-fight-or-is-this-not-going-to-be-a-fight' go on for a tad too long, it was Lucic that ended up with an extra infraction, a ten-minute misconduct, against that of Landeskog's two minutes for roughing once they stepped in.
It was a bizarre interaction to begin with. While Jarome Iginla and P.A. Parenteau were already heading off for matching roughing penalties in the scrum in front of Avalanche goalie J-S Giguere, four NHL officials would watch Lucic and Landeskog yell at each other. That's it. Just yelling.
Of course, the general consensus in the rough and tumble city of Boston would be that Landeskog backed down from a Lucic fight after he dropped his gloves. In reality, it was a smart move by the Avalanche captain, who does have a history of concussions, testing the thin patience of Lucic and knowing that it'd cost the Bruins. It did.
"The grab from behind, in the face," Lucic explained, was the tipping point for his engagement with Landeskog. "It's just an altercation, but I bet you if I would have pushed Bordeleau at the end of it, I don't get ten minutes."
After the game, it was evident that Lucic was upset at the call that cost him to miss more than 12 minutes of the third period with the Bruins down by a goal. He was even more angry at the type of reputation he seems to be gathering.
"If someone pushed me at the end of an altercation like that, I highly doubt they would have gotten ten minutes," said Lucic.
Bruins' head coach Claude Julien agreed with his winger that the call was a bit tilted.
"You're not going to win those wars anyway, whether you complain about it or not," said Julien after the game. "The other guy's still chirping him, he gives him a shot and the referees decide that he's going to be taken to ten. Certainly not what you want as a coach; an important player like that you'd rather have him on the ice.
"I thought it was a bit soft to be honest with you."
Naturally, his opposing counterpart had a bit of a different take on the situation. For Roy, having one of his best players in the box for an extended period of time with Colorado ahead just wasn't an option.
"We don't have anything to prove fighting with [Lucic]," said Roy. "I don't believe that fighting is that important in our game and at the same time, there's no reason for Gabe to go to the box for ten minutes. We need him on the ice. He's one of our best players."
While the top line of Lucic, Iginla, and David Krejci didn't generate many chances in the Avalanche zone, their best scoring opportunity came early in the third period when fill-in Daniel Paille couldn't bury a shot past Giguere. Paille was muscled off the puck easily in a prime example of where the Bruins could have used Lucic's skill and size.
"You want to be a part of it," said Lucic. "You want to be able to do whatever you can to help your team win. Unfortunately, it took me right out of the game. We were still able to generate more as a line and hopefully we can build off of that."
At the end of the day, it's not about being the toughest guy on the ice. It's about winning. Losing their top-line left winger for ten minutes in a game where they're behind by one goal ultimately hurt the Bruins.
Coward or not, reputation call or not, it's always about winning. The Avalanche did just that.
Mike Miccoli covers the Boston Bruins for The Hockey Writers and has been a credentialed member of the media for all Bruins' home games for the past five years. As a former player, coach and official, Miccoli has been around the game of hockey since the age of three. Along with his work on THW, Miccoli has also been published in the New England Hockey Journal, Improper Bostonian magazine and on BostInno.