He's one of many Edmonton Oilers who needs to return to form this season.
For a durable player who had consistently scored 20-plus goals and 50-plus points over the four seasons heading into the 2017-18 campaign, things couldn't have gone much worse for left wing power forward Milan Lucic.
The production spoke for itself. Lucic suited up for all 82 games last year and scored just 10 goals, including one goal in his last 46 contests. It was his lowest goal total since 2012-13, when he found the back of the net seven times. The former Vancouver Giant only appeared in 46 games for Boston that year.
As miserable as his season was on the ice, his contract made him a whipping boy for Edmonton's rabid fanbase. It was just the second year of a seven-year deal for Lucic that pays him an average annual salary of $6 million.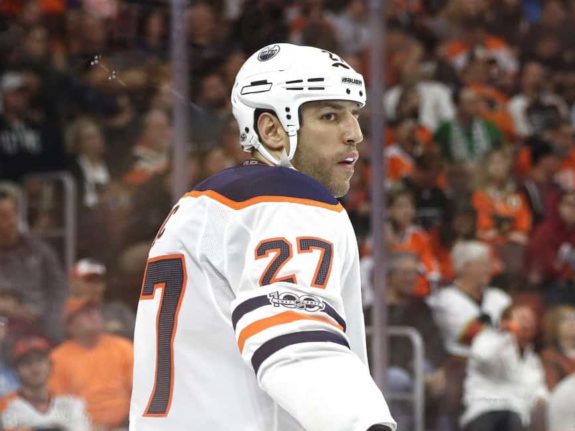 Oiler boosters might have been able to shake it off, if not for the trade of Taylor Hall to New Jersey for defenseman Adam Larsson. After Lucic was signed by the Oilers, the trade was interpreted as Hall for Larsson and Lucic by many hockey watchers, as the 6-foot-3, 236-pound winger was brought in to replace some of the offence that Hall provided.
Lucic did that in his first season as an Oiler, scoring 23 goals and 50 points while Hall potted 20 goals and 53 points. Edmonton's 47 wins and 103 points ended an 11-year playoff drought. Meanwhile, Lucic and Larsson were playing well enough to help get the Oilers into the postseason and no one was missing a former first-overall draft pick too much at that point.
Last season was a much different story. While Lucic was struggling to produce – his 34 points were his lowest total over a full campaign since his rookie season, when he posted 27 points over 77 games – Hall was having a career year with the Devils. Hall's 39 goals and 93 points helped lead the Devils to the playoffs and earn him the Hart Memorial Trophy, given annually to the player most valuable to his team.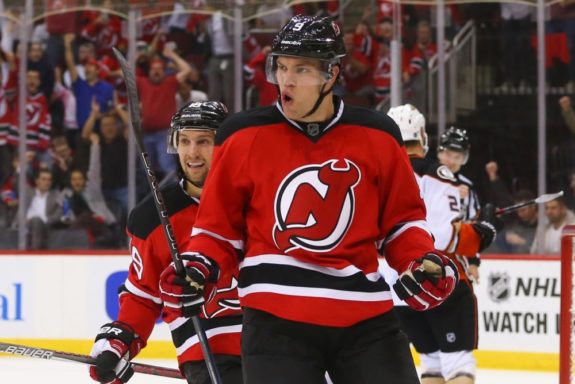 But that was last year. So, what can we expect from Lucic this season?
Giant Strides Throughout Lucic's Career
A look at No. 27's career production shows a player who is used to handling adversity. Dating back to his time in the Western Hockey League (WHL), Lucic was never an athlete who was an instant success.
During his rookie season for the Vancouver Giants, Lucic played 62 games and scored nine goals while notching 10 assists. He also displayed some of the trademark snarl that made him such an effective presence on the ice by racking up 149 penalty minutes.
It was his 2006-07 season that established the second-round pick of the Boston Bruins as a force.
Lucic followed up his 19-point rookie campaign with 30 goals and 68 regular-season points before taking the Giants to a Memorial Cup title. The playoff production from "Looch" that year made people take notice of what he was capable of – in the WHL postseason he produced 19 points in 22 games and then at the Memorial Cup tournament he put up seven points in five contests.
But it was The Shift in the championship game against the Medicine Hat Tigers in Vancouver that proved most memorable to hockey fans. That particular shift didn't end with a clutch goal or a thread-the-needle assist. It was three big hits, followed by a fight for a team that needed to send a message to a Medicine Hat squad that had defeated the Giants in the WHL championship. It was also part of the reason that Lucic was named the Memorial Cup's MVP following the 3-1 win over future Oilers' teammate Kris Russell and the Tigers.
While that season showed what Lucic could do after a year in which his offensive numbers were less than eye popping, it remained to be seen if the beastly forward could carry his goal-scoring touch to the NHL.
Shipping Up to the Boston Bruins
When Lucic took the next step, his rookie season in the NHL looked similar to his debut campaign in the WHL – it was decent but unspectacular. He scored eight goals and added 19 assists, while spending 89 minutes in the penalty box. Lucic received two Calder Memorial Trophy votes (finishing behind Edmonton's Sam Gagner, Andrew Cogliano and Tom Gilbert).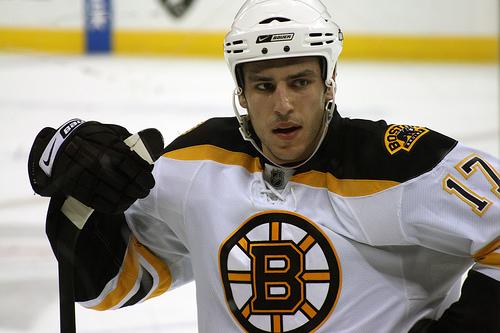 In his 72-game sophomore campaign Lucic showed improvement, doubling his goal output to 17 and upping his point total to 42. But the progress made by the Vancouver-born winger was delayed in 2009-10 by injuries. Lucic was limited to 50 games that season, scoring nine goals and 20 points.
Once again, the hulking forward would have to prove that he was capable of rebounding from a disappointing year.
Career Year and the Cup for Lucic
Lucic was still trying to establish himself as a consistently productive player when he entered the 2010-11 season. He responded with the best year of his career, scoring 30 goals for the first time since he was in junior. His 62 points and 121 penalty minutes also cemented Lucic as a star power forward in the NHL.
While his offensive numbers dipped in the postseason, Lucic remained an effective playoff performer. His five goals, 12 points and physical play helped the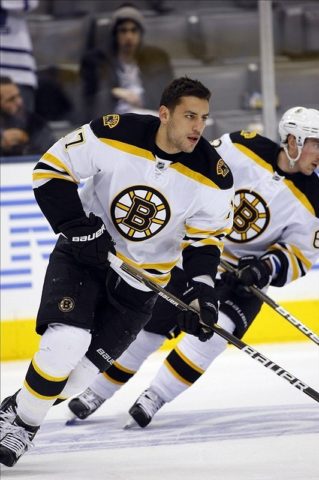 Bruins defeat the Vancouver Canucks in a seven-game Stanley Cup Finals that saw size triumph over skill.
Lucic continued his all-star calibre play the next season, once again topping the 60-point plateau and bulging the twine 26 times.
The lockout-shortened 2012-13 season slowed Lucic's offensive output – he only scored seven goals and 27 points during 46 games played and his points per game dropped from 0.75 the previous year to 0.59. Despite an average regular season, Lucic had the best offensive postseason performance of his career, registering 19 points over 22 games. The Bruins made it to the Stanley Cup Finals that year but lost in six games to the Chicago Blackhawks.
By this point, Lucic was a stable force in the NHL. The return of a full-length regular season in 2013-14 also meant a return to form for the former Coquitlam Express player. During 80 games, he scored 24 goals and 35 assists and he put up seven points in 12 playoff contests.
L.A. Story
The power forward's time in Beantown wound down unceremoniously. A model of consistency entering the 2014-15 season, Lucic watched his production decline to 44 points, 18 of them goals. Those totals were not terrible – they just weren't what Bruins fans had become accustomed to seeing from Looch.
After eight years with Boston, Lucic was traded to the L.A. Kings on June 26, 2015 for goalie Martin Jones, Colin Miller and the 13th overall pick in the 2015 NHL Entry Draft.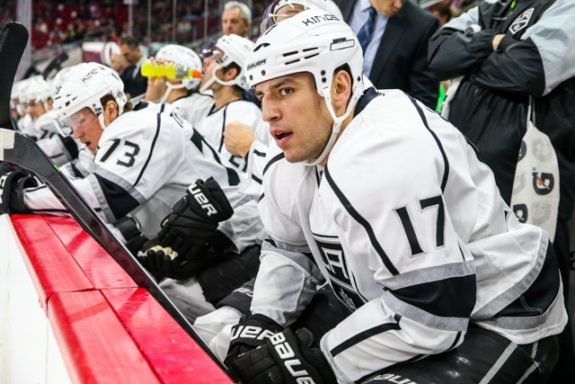 His on-ice response to the deal was another solid season. This time he buried 20 goals and added 35 assists for the Kings. The performance set him up for a big payday as an unrestricted free agent and Oilers' General Manager Peter Chiarelli opened the vault for Lucic, inking him to a seven-year, $42-million contract.
Welcome to Oil Country, Milan
The signing of Lucic was controversial from the start, with many fans thinking he was a poor replacement for Hall. But a 50-point season that included career highs in power play production – he scored 12 goals and collected 25 points with the man advantage – helped silence critics, as did the team's first playoff berth in over a decade.
And then the wheels fell off the big orange wagon.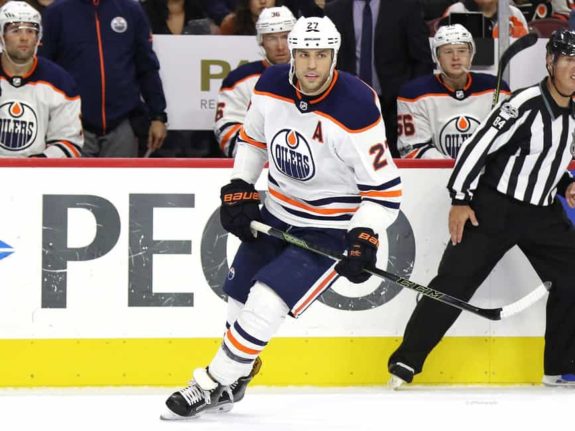 Lucic saw his game reach a new low – he registered a career-worst plus/minus of -12 and his shooting percentage plummeted to 6.8%, less than half of his typical goal-sniping average. He might have been able to fly under the radar if his contract wasn't so hefty and the team didn't see its season point total drop from 103 in 2016-17 to 78 in 2017-18.
The misery was contagious and after the players cleared out their lockers, rumours surfaced about Lucic requesting a trade. Whether that's true or not, it appears Lucic is back for the upcoming season and he's motivated to prove last year was an anomaly.
"Everyone starts with a clean sheet and you have to focus on what's ahead," Lucic recently told the Edmonton Sun.
"Guys have had tough years for decades and it's about how you bounce back. Clearing your mind and moving forward."
Don't Call it a Comeback
It's one thing to say all the right things, but is Lucic capable of bouncing back for the Oilers? Doubters point to the 30-year-old's age and lack of speed as reasons why he will continue to be the wrong kind of anchor for the Oilers.
But history tells us that Lucic is more than able to once again be a productive forward. Any turbulence in his game was often followed by offensive breakthroughs. For example:
19-point WHL rookie season was followed by 30-goal/68-point campaign for Giants
27-point NHL rookie season was followed by 17-goal/42-point year for Bruins
Stanley Cup & two best years of career followed injury-shortened, 20-point season in 2009-10
19 playoff points in 22 games after 27 regular season points in 46 games in 2012-13
20 goals/55 points in L.A. after 44 points with Boston in 2014-15
23 goals/50 points for Oilers first year after signing seven-year, $42-million contract
Adversity has found Lucic again with the worst season of his career in Edmonton last year. It is possible that age has caught up with him. It could also be that he is too slow in a league that seems to get faster and faster each season.
But if history tells us anything, it's that Lucic does bounce back from bad seasons. He has never had back-to-back lacklustre seasons at any point in his career. So, what can you expect from Lucic this year? Look for him to post 20 goals or more and upwards of 45 points in 2018-19. Of course, nothing is guaranteed, but Lucic has a proven track record of rebounding from poor campaigns.
Ian Wilson is a life-long hockey fan who was initially drawn to the sport by the Edmonton Oiler dynasty of the 1980s. He brings decades of journalism to the table as a former editor and reporter with the Calgary Sun.