Lukas Sutter THW Close-Up: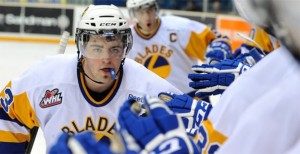 Date of Birth: October 4, 1993
Place of Birth: St. Louis, Missouri
Ht: 6-0 Wt: 199 lbs
Shoots: Left
Position: Center
NHL Draft Eligibility: 2012
The final member of the latest generation of one of hockey's greatest dynasties will likely be chosen in the 2012 NHL Entry Draft.
Born in St. Louis while his father, Rich, was toiling for the NHL's Chicago Blackhawks, Lukas Sutter soon relocated to Lethbridge, Alberta and began to ply his trade in the family business. Now that he's matured to adult-hood, he's poised to join his uncles, father and cousins in professional hockey after a couple strong seasons with the WHL's Saskatoon Blades.
In his playing style, Sutter resembles many of his family members. Not quite as poised or smooth with the puck as Brandon, Lukas' play more resembles that of Brett – a rough-and-tumble two-way player. However, Lukas has flashes of offensive brilliance, often due to opportunities he creates for himself (and his teammates) due to his physicality. Should that style translate to the professional level, Sutter could be a tremendously valuable second or third line player, devoted to creating time and space for his linemates and making life difficult for opposition defenders.
That said, Sutter's truculence has a few downsides. First and foremost, it can backfire on his team. While he can create opportunities for his teammates, it can also lead to him taking a bunch of penalties. In the 2010-11 season, he took 94 minutes in minor penalties (and was in 17 fights). This past season, he cut back to 9 fights…but also amassed 120 minutes in minors. That's a crazy amount of penalties. In Saskatoon's first-round loss against the Medicine Hat Tigers, Sutter gave the potent Medicine Hat offensive five power-plays and took 14 minutes in penalties in just four games. Secondly, it's unlikely that Sutter's body can hold up in the professional ranks if he's going to be sticking with this style of play for too long.
Despite taking way too many penalties, Lukas Sutter has been clutch for his team – especially this season. He scored 28 goals over the past year, seven of them being game-winners and nine on the power-play. He finds ways to help his team and he seems to becoming a bit more versatile. But he's got to stop taking penalties and find a way to play physical without destroying his body.
In short: Lukas Sutter is a project. If a good development coach can reign in some of his more wild on-ice tendencies, he could become a very useful contributor to a hockey club.
Scout's Honour:
"His tenacious forechecking causes numerous mistakes and turnovers by defensemen, and he has the vision to capitalize on those mistakes. If Sutter can pick up a half-stride on his skating and continue to improve his offensive skill set, we'll be hearing a familiar name called in Pittsburgh next June."
-Kyle Woodlief, Red Line Report
Statistics:
Bio/Interview(s)/Link(s):
International Tournaments:
Unlike the other Sutter kids, Lukas exercised his option to suit up for the United States in international competition. He represented USA Hockey on their selects team at the 2009 Under-17 Five Nations Tournament in Germany. The Americans finished third with a 2-2 record.
ETA:
2-3 years
Risk-Reward Analysis:
Risk = 2/5 Reward = 3/5
NHL Potential:
Third line agitator who can occasionally chip in key goals.
Strengths:
*See "THW Close-Up" section above.
Good at face-offs
Underrated offensive talent
Tenacious forechecker
Aggressive, heart and soul player
Flaws/Aspects He Needs To Work On:
Skating
Consistency
Needs to avoid penalties
Fantasy Hockey Potential:
Forward – 7/10
NHL Player(s) Comparison:
He's a Sutter. His upside is Brandon Sutter with less of a scoring touch and more physicality.
Off The Iron (Interesting Notes):
Ranked 39th among North American skaters by NHL Central Scouting.
THW's The Next Ones prospect profile template design architect: Chris Ralph