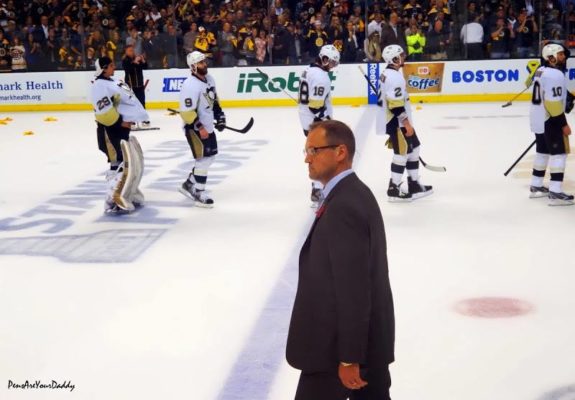 As I sit here, four days after the Penguins were ousted from the Stanley Cup Playoffs, the shock is beginning to wear off.
The wound however, is still very fresh.
In the hours that followed Friday night's Game Four loss to the Boston Bruins, and the final game of the Pens' 2013 season, I was adamant that head coach Dan Bylsma should be fired. To anyone who would listen, I tore apart his system, front to back, side to side, up and down. There was no way that I wanted to sit through another very promising regular season, only to reach the playoffs and have it crumble due to a scheme that just doesn't work at this time of year.
But now, I've had some time to reflect, some time to ponder. What would I do if I were in Ray Shero's position in regards to Bylsma? Would I have fired him Saturday, the day after the loss, as the New York Rangers did with John Tortorella? Or would I do what exactly what Shero is doing now? Being patient and not rushing a potentially franchise-altering decision. This is purely speculation on my part, but I'd like to think, since Bylsma's season-ending press conference on Sunday afternoon at Consol Energy Center, that he and Shero have been engaged in meetings, with Shero trying to determine if Bylsma has a plan to reverse his current team's playoff misfortunes.
Believe me, this is no easy decision. Shero believes in Bylsma. After all, he hired him back in February of 2009 after relieving Michel Therrien of his duties; and we all remember how that season ended. With Sidney Crosby becoming the youngest captain in NHL history to raise The Stanley Cup.
So let's take a look at the things that Mr. Shero should be/is contemplating:
The Argument For
No one can argue that Dan Bylsma is a good coach. His system is near perfect for regular season hockey. It's a fast-paced, "get north" system predicated on quick stretch passes out of the defensive zone, gaining speed through neutral ice, and maintaining puck possession once in the offensive zone. An aggressive forecheck and cycling while in the offensive zone are trademarks of the scheme.
It has served him so well in fact that he became the coach to reach 200 wins in the shortest amount of time. He is also the franchise's all-time leader in wins by a coach, and he won the Jack Adams award (NHL's best coach) in 2011 for surviving the final half of the regular season without Crosby and Malkin, both of whom were lost for the season due to injury.
His players love him. He's the prototypical players' coach. Bylsma doesn't yell or scream at his players. He gets the most out of them with positive reinforcement.
Bylsma is loved within the Pittsburgh Community. I linked to this article by Kevin Gorman of the Pittsburgh Tribune-Review in a previous post of mine, but it's worth noting again.
The fact is, if Bylsma is terminated by the Pittsburgh Penguins, he will not be long unemployed. Coincidentally, Larry Brooks of the New York Post believes that the Rangers would target Bylsma should he be sent packing.
There is certainly a lot working in Dan Bylsma's favor. But there is that ever-elusive second Cup.
The Argument Against
The simple fact here is that Dan Bylsma and his Pittsburgh Penguins have drastically underachieved in the past four seasons. After winning The Stanley Cup for the third time in franchise history in 2009, and in dramatic fashion at that, the Penguins have fizzled out, rather meekly, in the postseasons since.
During the defense of The Cup in 2010 (also the final season played at the old Igloo), Pittsburgh beat Ottawa in the first round (their third opening-round meeting in four years at the time) in six games. They met the Montreal Canadiens in the Eastern Conference semifinals where they quickly jumped out to a 3-1 series lead. But Montreal roared back, and in the final game ever played at Mellon Arena, thrashed the Penguins in Game Seven 5-2 to end their season, and the chances of a repeat.
In 2011, the Penguins lost captain Sidney Crosby for the season thanks to a concussion. Evgeni Malkin suffered a torn ACL and MCL and was also lost for the season. But Bylsma found a way to make it work, and the Penguins once again claimed the East's fourth seed. This time they would open with the Tampa Bay Lightning, and again would jump out to a 3-1 series lead. But Tampa Bay would not go quietly in Game Five back in Pittsburgh, where they absolutely throttled the Penguins and won 8-2. Without their two biggest guns, the Pens could muster zero offense in Game Seven, played at the brand new Consol Energy Center, and they lost 1-0. The second disappointing finish to a season in a row.
Then came last season. The Penguins met the Flyers again in the first round, and after going down 3-0 in the series, and eventually surrendering 30 goals in the six games total, lost again without so much as a sniff of The Stanley Cup.
When you examine last season's disaster against Philly, and this season's struggles with the Islanders in the first round, and the obvious debacle against the Bruins, it's quite hard to make a case for Bylsma keeping his job. Also worth keeping in mind is that in 2009, Bylsma hadn't had a chance to fully implement his system. All he was able to do was tweak Therrien's more conservative scheme, and simply opened the flood gates a bit.
At no point in these playoffs did the Penguins ever get to their game. Sure they were scoring nearly five goals a game, but those goals either came courtesy of a torrid power play against the Isles and Ottawa Senators, or on the rush 5-on-5. They were never able to maintain puck possession in the offensive zone throughout these playoffs. And its safe to say that had Islanders' goalie Evgeni Nabokov not played worse than Marc-Andre Fleury, Bylsma would have been out of a job a month ago.
In Summation
I don't believe that Bylsma will receive good news this week. Something has to change, and Shero can't fire 22 players. In no way, shape, or form do I believe that Bylsma has lost the locker room, the way Therrien did in '09. I firmly believe that he still has the backing and support of every Penguin (except for Vokoun, whose face he basically spat in Sunday afternoon).
But it has been proven that his system doesn't work in the playoffs, and he is seemingly unwilling to change it. Or at least make adjustments, when opponents make adjustments against him.
This franchise, at this point in their history, is about winning The Stanley Cup. Simply making the playoffs is not enough, and the way that the Byslma-led Penguins have exited the playoffs the past four seasons, well… It's gotten worse and worse every year. That simply won't fly with an organization that expects to be, at the very least, in The Cup Final more often than not.
So consider the last half of this article somewhat of an obituary for Dan Bylsma's tenure as head coach of the Pittsburgh Penguins.
Remember: the one constant in life, is change.
Shameless Self-Promotion
Please be sure to follow me on Twitter if you're not doing so already: Follow @TDT_Pens4Life
You can also email me at Pens.TDT@Gmail.com

Pittsburgh, Pa. Class of 2000 graduate from Robert Morris University with a B.A. in Mass Communications. Full-time objective sports fan.