With the Toronto Maple Leafs set to kick off their Centennial Season, there are a number of new faces on the roster to start the season. One of them is expected to be a franchise-type player when he steps onto the ice wearing the white and blue and at just 19 years of age, Auston Matthews will be the 16th player to don the number 34 in a Maple Leafs jersey.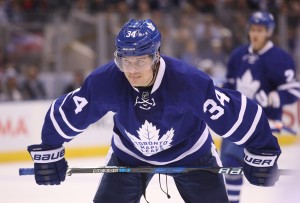 With that, let's take a look at the former 34s in Toronto's franchise history.
Leigh Verstraete, 1983
Drafted in the 10th round of the 1982 Entry Draft (192nd overall), Verstraete had a short NHL career. Over a span of three NHL seasons (1982-83, 1984-85 and 1987-88) he played eight games for the Leafs notching one assist and 14 penalty minutes.
Fred Perlini, 1984
Similarly, Perlini (who wore 34 from 1981 to 1984) played just eight games for the Leafs. He was drafted by Toronto in the 8th round (158th overall) in 1980.
Perlini, however, had a tad more success offensively. In his eight NHL games he recorded two goals and five points to go along with a minus-two rating. Not bad compared to Verstraete.
Wes Jarvis, 1986
Jarvis was originally a draft pick of the Washington Capitals in 1978. They took him in the 14th round and 213th overall. While he managed the most success with the Capitals, Jarvis eventually made his appearance in a Maple Leafs' jersey for 29 games to finish his career.
He finished his career with 31 goals and 86 points in 237 career regular season games with Washington, Minnesota, Los Angeles and Toronto. However, he only mustered one goal and two points in his 29 games with the Leafs.
Craig Muni, 1986
In 1980, the Leafs drafted Muni with the 25th overall selection. While he didn't play much with them, Muni did go on to suit up in 819 career regular season NHL games scoring 28 goals and 147 points with seven different teams.
With the Leafs, he played 19 regular season games and notched two assists over four seasons. He sat six minutes in the penalty box and finished his Leafs career with a minus-10 rating. He went on to be a part of three Stanley Cup winning teams with the Oilers in the late-80s.
Terry Johnson, 1988
Johnson had a short NHL career and an even shorter stint with the Maple Leafs. He played 285 career regular season games collecting 27 points over his career. He finished his career with the Leafs playing 48 games and collecting a single assist to go with 104 penalty minutes.
Ted Fauss, 1988
Fauss played parts of two seasons in the NHL – both of which were with the Maple Leafs. From 1986 to 1988, he played in 28 games recording two assists. He finished a plus-10 with 15 penalty minutes in his short NHL career.
Ken Yaremchuk, 1989
Having been drafted seventh overall in 1982 by the Chicago Blackhawks, you'd think that Yaremchuk had a relatively successful NHL career. While he did show some offensive prowess – notching 92 points (36g-56a) in 235 career games – he only played six seasons in the NHL.
After starting his career in Chicago, Yaremchuk finished it playing three seasons with the Leafs where he collected six goals and 19 points in 47 games. He also notched two assists in 12 playoff games for the franchise before heading overseas.
Darryl Shannon, 1989
Shannon was drafted by the Leafs 36th overall in 1986. He spent parts of five seasons with the Leafs on his way to an NHL career that saw him play in more than 500 NHL games.
With the Leafs, he played 98 regular season games and scored three goals and 16 points to go along with his minus-26 rating and 52 penalty minutes. While he never managed to garner overall NHL success, he did find a way to stay in the league until 2000-01 when he played seven games with the Montreal Canadiens.
Rocky Dundas, 1990
He has a great name for hockey. Unfortunately announcers and fans didn't get a good opportunity to get to know him.
After he was drafted by Montreal in 1985, Dundas played five games with the Maple Leafs (wearing number 34) in 1989-90 before moving on from hockey.
Jeff Serowik, 1991
Drafted by the Leafs in the fifth round (85th overall) of the 1985 NHL Entry Draft, Serowik played 28 games over his career with three teams. He played just one game with the Leafs in 1990-91 before heading to Boston where he also played just one game with the Bruins in 1994-95.
He had his best year (if you can call it that) in 1998-99 when he played 26 games with the Pittsburgh Penguins collecting six assists.
Rob Cimetta, 1991
An 18th overall pick of the Boston Bruins in 1988, Cimetta joined the Leafs in 1990 as part of a deal that sent Steve Bancroft the other way. He played 49 games for the Leafs over two seasons and scored six goals and 13 points over that span.
While he only lasted four seasons in the NHL, he spent half of his career wearing the number 34 in a Leafs jersey.
Jamie Macoun, 1992-1998
Probably one of the more well-known Leafs to sport the number 34 is Jamie Macoun. Originally signed as a free agent by Calgary in 1983, Macoun played 1,128 regular season games over his career with Calgary, Toronto and Detroit.
In 1992, he was traded to the Leafs along with Doug Gilmour, Ric Natress, Kent Mandeville and Rick Wamsley. Macoun played seven seasons with the Leafs recording 101 points (13g-88a) in 466 regular season games. He also played four playoff seasons with the Leafs with 13 points (2g-11a) in 52 games.
Bryan Berard, 1999-2000
He was drafted first overall by the Ottawa Senators in 1995. While he never played a game for the Sens, he was traded to the Leafs from the Islanders in 1999 as a part of the Felix Potvin trade.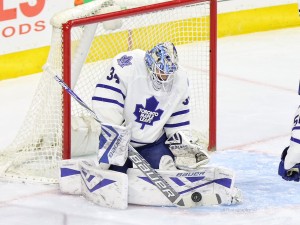 He played two seasons with the Leafs notching eight goals and 49 points in 102 regular season games. However, his time with the Leafs was cut short when an arrant Marian Hossa stick hit Berard in the eye causing serious damage to his vision.
He eventually made it back to the NHL and finished his career with 323 points (76g-247a) in 619 regular season games.
Maxim Kondratiev, 2004
Toronto originally drafted Kondratiev with the 168th pick in the 2001 NHL Entry Draft. He played 40 regular season NHL games for Toronto, New York and Anaheim over his short career recording just three points over that span.
His stint with Toronto – in 2003-04 – was short lived. He played just seven games for the Leafs that season with two penalty minutes to show for it.
James Reimer, 2011-2016
Most recently, the Leafs had a number 34 in net. Toronto drafted James Reimer in the 4th round (99th overall) in 2006. He spent six seasons with the Leafs before being traded this past year to San Jose.
Reimer backstopped the Leafs to their most recent playoff appearance in 2012-13 where they came within 11 minutes of beating the Boston Bruins. He played 207 games with the Leafs with a 85-76-23 record to go along with a .914 save percentage and a 2.83 goals against average.
He has 14 career shutouts (11 of which came in Toronto) and 91 wins in 215 career games. While he may possibly be the most successful number 34 in Toronto's history, chances are it won't be that way for long.
With the start of a new season – their centennial year – the Leafs will have a new number 34 on the roster. Matthews will be the latest Leaf to don the number 34 in blue and white and it will be exciting to watch him as he makes his debut with Toronto.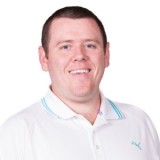 Andrew is in his 8th year reporting for The Hockey Writers covering the Toronto Maple Leafs. He began his broadcasting with CBC's Hockey Night in Canada team as well as being part of their coverage of the 2014 Winter Olympic Games in Sochi. He's the former play-by-play voice of the London Jr. Knights for Rogers TV and currently hosts the Sticks in the 6ix podcast. You can follow him on Twitter at @AndrewGForbes.