It's no secret the Toronto Maple Leafs have a weak right side of their defence core. This has been the case for a while but because no moves were made in the offseason or at the deadline, we're stuck with four right defenders who would probably all be on the third pairing on most good hockey teams.
With Hainsey jumping into a top-four role and Zaitsev a lock to play, the Leafs will need to decide whether they should play Carrick or Polak in the playoffs. Both have their upsides, but really, Toronto shouldn't keep a rotation going into the first round.
Why Play Carrick?
Carrick has shown in two full years with the team that he's a fairly reliable defenceman. He's nothing flashy and won't carry a rush, but he's able to get the puck on net from the point with traffic in front. He's a decent puck mover and is pretty sturdy in his own zone.
In addition, Carrick has given the Leafs a reason to play him recently. He has one goal and three assists in his last five games to go along with a plus-two rating. Though Carrick isn't likely going to reach a top-four role in his career, he could have a future with the team and if he's going to be around for a little while, it might make sense to play him in the playoffs to really see what kind of player he can be in important games.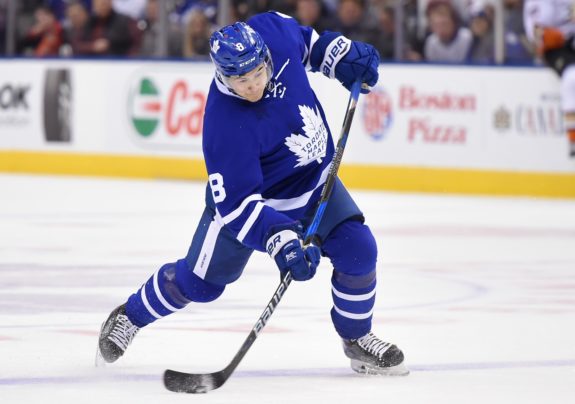 Why Not Play Carrick?
Carrick averages a total average ice time of just 15:13 minutes per game this season, which is the lowest among Toronto's defenders. In the playoffs last year, the likes of Jake Gardiner, Morgan Rielly and even Matt Hunwick all averaged over 25:30 of ice time per game. Carrick also played in all six playoff games, but averaged less than half of their total ice time at just 12:16 minutes per game in the series. He was pretty insignificant one way or the other in that time, with just three shots on net throughout the series. All other defencemen for the Leafs who played all six games had at least nine shots on goal throughout the series.
Carrick also isn't the most physical guy on the ice and in the playoffs, sometimes physicality can be a benefit. Not in a way where every defender has to be throwing hits left and right, but for a third pairing guy, it's a nice touch that Carrick lacks. Carrick has just 33 hits this season and averages 0.77 hits per game.
In the playoffs, each member of Toronto's defence core will be heavily relied on and for lack of a better term, will really need to play their role. For example, Gardiner and Rielly will be used on the power play and to produce offense and Ron Hainsey will be the anchor to Toronto's penalty kill. But there's no specific attributes that make Carrick's type of game a unique asset. He's a solid defender and can get the puck on net, so if that's what the team is looking for, he could be a good option, but it may require him playing a minimal role.
Why Play Polak?
Roman Polak has received a lot of criticism from the Leafs' fan base this year. Maybe it's because he returned to Toronto for the third time after fans thought they had seen the last of him. Maybe it's because he's one of the least capable defencemen in the league for creating offense. But overall, Polak has not been a liability this season.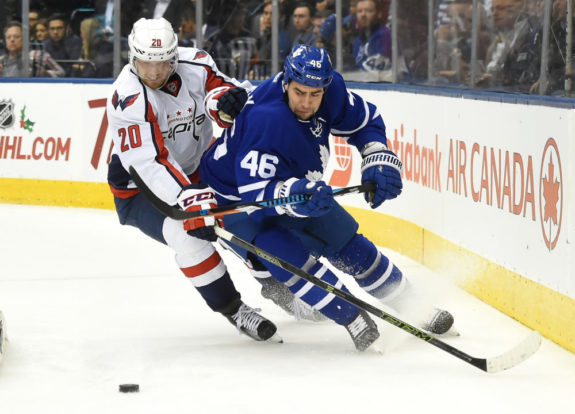 Polak adds a physical aspect to the team and could really help to set the tone of the series. He has 104 hits this season, averaging 2.31 hits per game. On top of that, he averages 17:32 minutes of ice time per game, meaning he can play a bigger role in the playoffs and can help to ensure that the likes of Gardiner and Rielly are not overworked. For a third pair defender, Polak knows what kind of game he needs to play and with Matt Martin presumably out of the lineup for the playoffs, Polak could be extremely useful in adding grit to the lineup.
Why Not Play Polak?
Everyone will have their reasons as to why Polak should sit. One would be that with all the hits he throws, the penalties seem to come right along with them. Polak has a bad habit of consistently taking avoidable penalties and making some not-so-brilliant decisions.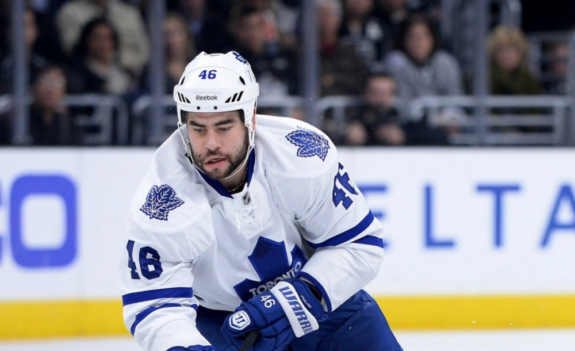 Another would be that he's a 31-year-old who really is only around to hit and is taking the spot away from younger players. He's only signed for this season and unless he makes yet another comeback to the Leafs, this season should mark the end of his time in Toronto.
Either way though, both Carrick and Polak are good enough to play third pair defence. Carrick brings a sturdiness to his game, but can't log a ton of minutes. Polak brings a physical game to the ice, but makes some bad decisions. Who knows though, maybe after everything we'll still just get a playoff edition of Toronto's defence rotation.
Ben is a journalism student at Ryerson University and covers the Toronto Maple Leafs.