It's been a busy couple weeks for Philadelphia Flyers general manager, Ron Hextall. Not only are the Flyers engaged in a battle for a playoff spot, Hextall has also been locking up future assets. The signings began with Maksim Sushko, and then continued with Carsen Twarynski.
The latest player to be signed to an entry-level contract is the other Strome brother, Matthew Strome. He is the fifth Flyers draftee to be signed out of the 2017 draft class.
Projected NHL arrival: 2020-21
NHL Upside: Top-six forward
Strome is Standing Tall in the OHL
Matthew Strome is a six-foot-four left winger that was drafted by the Flyers in the fourth round of the 2017 NHL Entry Draft. He is also the youngest brother of three to be drafted to the NHL. Brothers: Ryan Strome (Edmonton Oilers) and Dylan Strome (Arizona Coyotes) were both top-five picks in their respective drafts. Strome wasn't a first round pick but has shown that he has potential to be an impact player.
Since joining the Hamilton Bulldogs of the Ontario Hockey League (OHL), he has been a consistent contributor. Specifically this season, he has been an integral contributor for the team helping them to the top of the Eastern Conference with 93 points. For the second season in a row, he has eclipsed the 30 goal plateau scoring a career-high 37 goals. He has also followed that up with a career-high 31 assists and 68 points.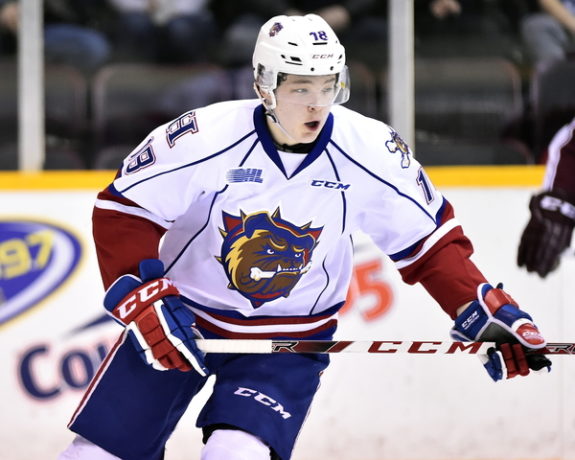 Strome is currently sixth in the OHL for goals scored which is an incredible feat for a fourth rounder. He joins fellow Flyers draft picks Morgan Frost and Isaac Ratcliffe in the top ten for goals. He is also third on the Bulldogs in points behind only Robert Thomas and Brandon Saigeon.
The upcoming playoffs will be a showcase of Strome's skills on the big stage. The Bulldogs have a dangerous team but their success will rely on players like Strome stepping up and embracing the opportunity. He was a point-per-game player in last years playoffs with eight points through seven games and should be even better this year. Tune into the OHL playoffs and watch this kid as he is going to be a very good player one day.
Strome Following in His Brothers Footsteps
It's rare to see brothers make the NHL and even more rare to see three brothers make it. Looking at a list of recent brothers the only three that have made it and made an impact are: the Staal brothers (Eric, Jordan, and Marc).
A lot can be said of the experiences that both brothers can share with him. They both dominated the OHL and were highly touted prospects but haven't quite lived up to their expectations yet. Adversity builds character and those kind of experiences will be helpful to Strome as he continues his journey towards the NHL.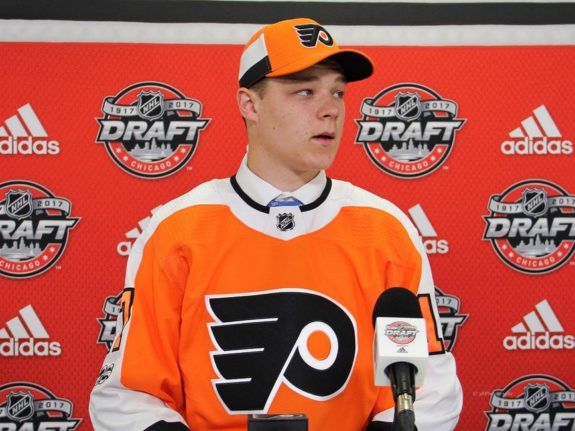 Strome will most likely join the Lehigh Valley Phantoms for a couple years of seasoning before making the jump to the NHL. The eldest brothers can share their experiences from the American Hockey League (AHL) to help make the transition smooth. Dylan in particular was expected to come out of junior and be dominant with the Coyotes but instead has had a lengthy stint with the Tucson Roadrunners.
The NHL is a very unforgiving league for rookies coming in. Having the comfort of knowing that your brothers are there with you, regardless of team, is reassuring and can go a long way. Strome is fortunate to have his brothers to look to for advice.
NHL Upside
My projection for Strome is that he will be a top-six forward and a regular on the power play unit. As a power forward, Strome will likely spend a couple years with the Phantoms to develop his skating and help with his transition to the professional rankings. Both Strome and Ratcliffe will provide the Flyers with options to replace an aging Wayne Simmonds as they are big bodies that can score and take away the goalies vision in front of the net.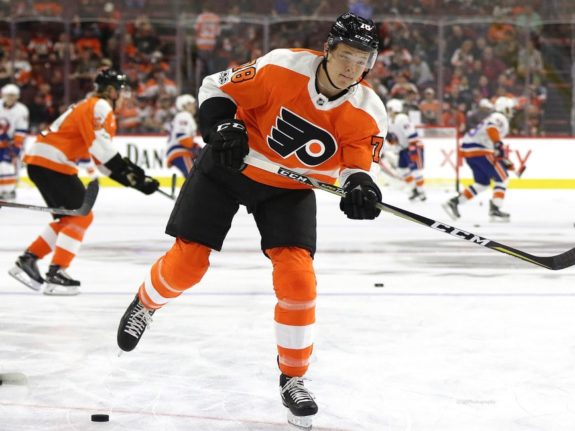 It will not be an easy road for him to the NHL and as is the case with most power forwards it will not be an immediate smooth transition. Strome will need to work hard, learn to make an impact at both ends of the ice, and get stronger if he wants to make it to the big leagues.
The future is continually getting brighter for the Flyers. They're going to be a team to watch over the next few years as this next wave of prospects begins to make an impact. The path is paved, he now needs to elevate his game and prove to Hextall that he made the right choice with the draft pick.