LEAFS DAILY:
The Leafs are about to play the back end of a home-and-home with the Islanders.  The first game was a nice little post-Christmas 3-1 victory that saw Nazem Kadri put another two points, and a strong performance from Jon Bernier.
Kadri in particular had himself a game, putting up 2 assists, a 63% possession rating, and leading the team in 5v5 ice time.
I also thought that the underrated Martin Marincin had a nice game on Sunday.  The win put the Leafs to 33 points, and while they maintain their low position in the standings, the statistics continue to suggest that they are a better team than their record.
The problem with that is that if you factor in their possession, their special teams, their coach, Kadri's rising shooting percentage, and the fact that they are almost guaranteed to receive better goaltending (on average) than they have so far, it means they have almost no chance at finishing low enough to get a high-end draft pick (without winning the lottery), but they also have almost no chance of jumping over the many, many teams between them and a playoff spot.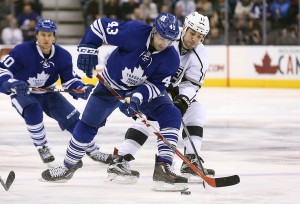 This means the Leafs most likely position is the no-man's land just outside the Playoffs, with low lottery odds and no top-ten pick, which is perhaps the worst position a team can find itself in. This is the cost of loading up with good players to cash in for picks (Brad Boyes, P.A Parenteau etc.) and entering your rebuilding season with too much depth.
So Underrated:
The Leafs remain underrated because people – at least the ones I read and talk to – have nowhere close to an accurate perception of how good players like Kadri, James Reimer and Jake Gardiner are.  Were they to bring up William Nylander and stop playing Matt Hunwick on the first D unit, they probably could make up the points between them and the Playoffs.
Conversely, they could start moving players out immediately and make it a point to stay near the bottom of the standings.  But, no matter what, it seems to me that the main question they need to answer is "Is this year one or four of a rebuild?"
Now, that may seem obvious, but Gardiner, Kadri, James Van Reimsdyk, Reimer, and Morgan Rielly is an excellent mid-twenties core of players, and they have Mitch Marner, William Nylander and Kasperi Kapanen on the way. They could have a team made up of first-round picks (mostly top-tens) that has a nice range of talents and ages before they even get to much of the "building."
Or they could swap out the guys in their late twenties: Leo (worst-nickname-ever) Komarov, JVR, Gardiner and Reimer would probably net the team an insane amount of prospect and draft capital.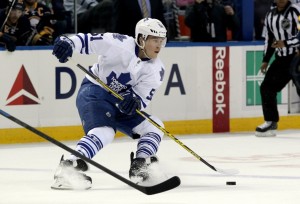 Personally, what I would do is re-sign Kadri, keep Gardiner and Reilly and move everyone else.  Can I get a stud defensemen for JVR? Can Komarov get me some kind of first-rounder or blue chip prospect? Can Reimer get me a second-rounder? If so, then adding that to the two picks they already have, plus their already close-to-the-best-in-hockey prospect system would possibly set the team up for years to come.
The Leafs play the Islanders again tonight and you have to think moves are coming soon. It will be very interesting to see what they decide to do.
Thanks for reading.