The Toronto Maple Leafs' season has come down to this upcoming weekend. No point in beating around the bush. After another impressive regular season, tallying 50 wins and 111 points, the relevance of all the Maple Leafs' accomplishments, not just from this season, but throughout the entire Auston Matthews era, will come down to Game 5 tomorrow, and if needed, Game 6 on Saturday and Game 7 on Monday. 
Ideally, there would be no use for a Game 6 or a Game 7. I'm sure the Maple Leafs would much rather spend this weekend preparing to take on the winner of the Boston Bruins/Florida Panthers series in Round 2. After a disastrous Game 1, they've fired back with three wins in a row, including two unprecedented comeback wins to sweep both road games in Tampa Bay. Now, they return home up 3-1 in the series, with not one, not two, but three chances to finally do what they haven't been able to do in seven years with this core, and close out a series.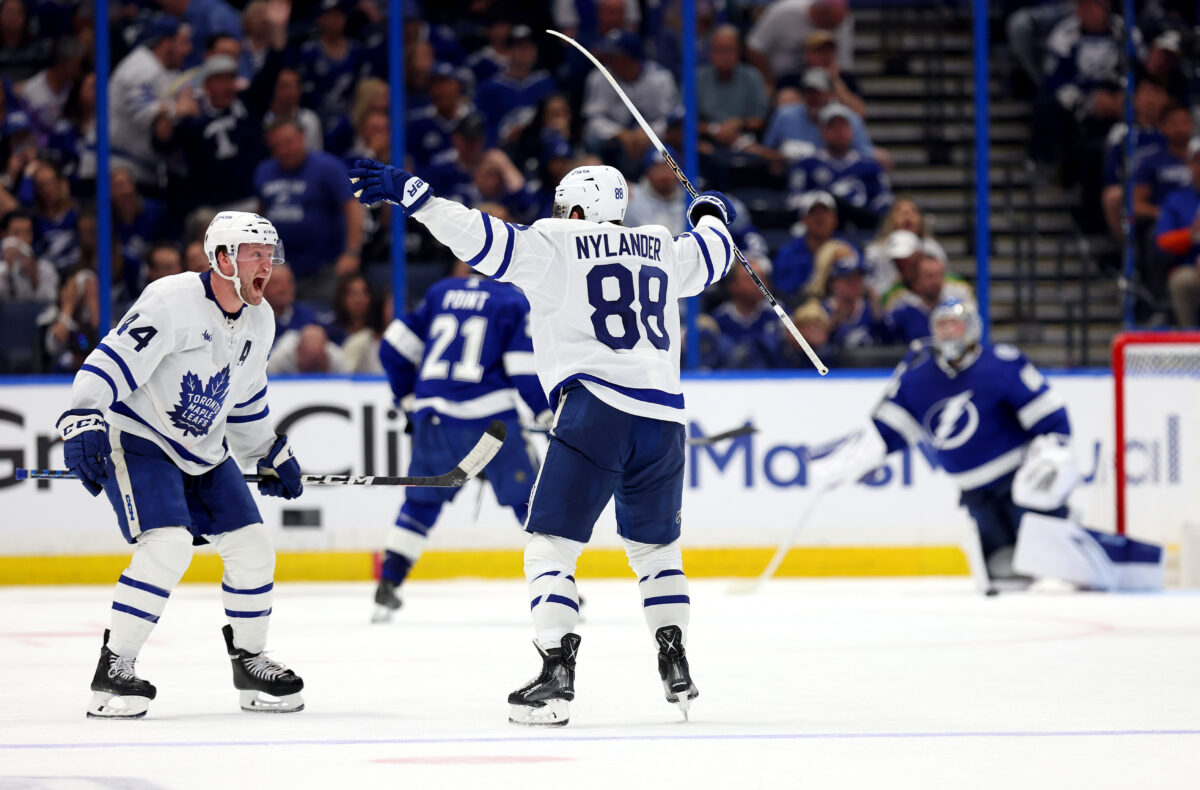 If this is any other NHL team, I'm feeling extremely confident about their chances. Not only do they only need one more win, but two of the three games will be in their own barn. That being said, we're talking about the Maple Leafs in this context, who have a reputation when it comes to choking away leads, whether that be in-game or in-series. And regardless of what happens this weekend, the direction of the franchise will steer one of two ways by next Tuesday morning. 
Maple Leafs' Stakes Have Never Been Higher 
It feels comical to say this, because I remember saying it last year, and the year before, and the year before. But here's the difference between all of those years and this season. Besides the extra weight the Maple Leafs are carrying this year due to having six first round losses to move on from rather than four or five, this is arguably the last time you can justify running it back with the core of this team.
---
Latest News & Highlights
---
Matthews and William Nylander both have only one more year on their contracts after this season, while Mitch Marner and John Tavares have two. Never mind that they'll already have to look at extensions for players like Michael Bunting and Ilya Samsonov, both of whom are free agents this summer. Unlike previous years, "running it back" isn't as simple this year, and if the Maple Leafs were to fizzle out in the first round, they would have to make a very tough decision regarding the foundation and the future direction of the team. 
It's also important to remember that the days of the Maple Leafs, Lightning, and Bruins running the Atlantic Division won't last forever. The Panthers have iced a competitive team for a few years now (including one that won the Presidents' Trophy in 2021-22), and teams like the Detroit Red Wings and Buffalo Sabres aren't far behind. That's not to say the Leafs won't be competitive after this season, but they won't have the luxury of having their core players locked up long-term like they have in past years. 
Maple Leafs Can Lose the Demons With One Win 
At this point, it feels pretty safe to say that Maple Leafs fans aren't going to be satisfied with one series win. With a team as talented as the one they have now, and six previous failed opportunities to do so, it feels like a proper Stanley Cup run is overdue for this team. But, as pathetic as it might sound to say, that one extra win in Round 1 is likely all this team (and franchise) needs to avoid a complete fire sale this offseason. 
On paper, sure, winning one round shouldn't be enough. This team has been golfing by early May every year since 2004, so it would make sense to think their expectations should be higher. That said, the narrative around the team right now is that they can't get out of the first round. If they do that, there's a massive weight taken off of the backs of the players, coaches, and management alike, and somehow, there may even be less pressure for them to keep things going if they advance. 
Related: 3 Takeaways From Maple Leafs' Stunning Game 4 Comeback Win
Think about it – sure, they still have the curse of no Stanley Cups since 1967, but winning a Cup is a hell of a lot harder than winning one playoff round. And if they break down that first door, all they have to focus on is winning hockey games. Granted, barring an earth-shaking choke, they would likely be taking on an old foe in the Bruins in Round 2, so they would be in tough. But, if they get Tampa Bay out of the way, there's no telling where that momentum could take them. 
What the Maple Leafs Have to Do to Close It Out 
They haven't won a round yet, but the Maple Leafs have already exorcised some of the demons that have haunted them in the past. They rebounded after taking a beating in Game 1 by returning the favour in Game 2, and as noted at the start of the piece, they managed to come from behind in both Games 3 and 4, something that they're usually on the other end of. The last time they had a 3-1 series lead coming home for Game 5 was in 2021 against the Montreal Canadiens, and we all know how that ended.
You May Also Like
Simply put, the Maple Leafs need to keep doing exactly what they've been doing in this series, with emphasis on the second half of games. They started slow in both Games 3 and 4, so they should be aiming to clean up that part of the game. But everything else, including their resilience, timely goals from core players and timely saves from Samsonov, are a must. Winning Game 5 is imperative for this team. Their odds will only shrink and the games will only get harder the longer it takes for them to wrap it up, so if they want to be playing Round 2 hockey for the first time in 19 years, it's best they don't drag it out any longer than it has to be.