Something feels different about the Toronto Maple Leafs this year.
There – now that you've got your laughs out of the way, let me address the statement. It's one that, if you're a hockey fan, you've probably been hearing regarding the Maple Leafs for years and years now. Every year, things are supposed to be different, and every year, it's the same old song and dance at the end of the year. They end up on the wrong side of the handshake line, once again mulling over what went wrong. 
Related: Bill Barilko, the Tragically Hip & the Most Famous Goal in Maple Leafs History
As someone who's been following the Maple Leafs for upwards of 18 years and writing about them for nearly ten, I feel foolish saying those words myself. That being said, I'm not going to say things ARE different until they win four playoff games and advance to the second round. But, for the time being, there's been a different feel around this year's series than there was last year or the year before. And it comes down to the physical game. 
Maple Leafs Keeping Up With Lightning Physicality So Far 
There was a very obvious theme in the way the Maple Leafs approached the trade deadline this season. If you aren't sure what that theme is, all you have to do is look up which category Noel Acciari and Luke Schenn finished top-10 in this season. While general manager Kyle Dubas has tended to focus more on underlying numbers and analytics in the past, he switched up the game plan at the deadline, and seemed to tailor his targets to fit a roster designed to match up against the Lightning.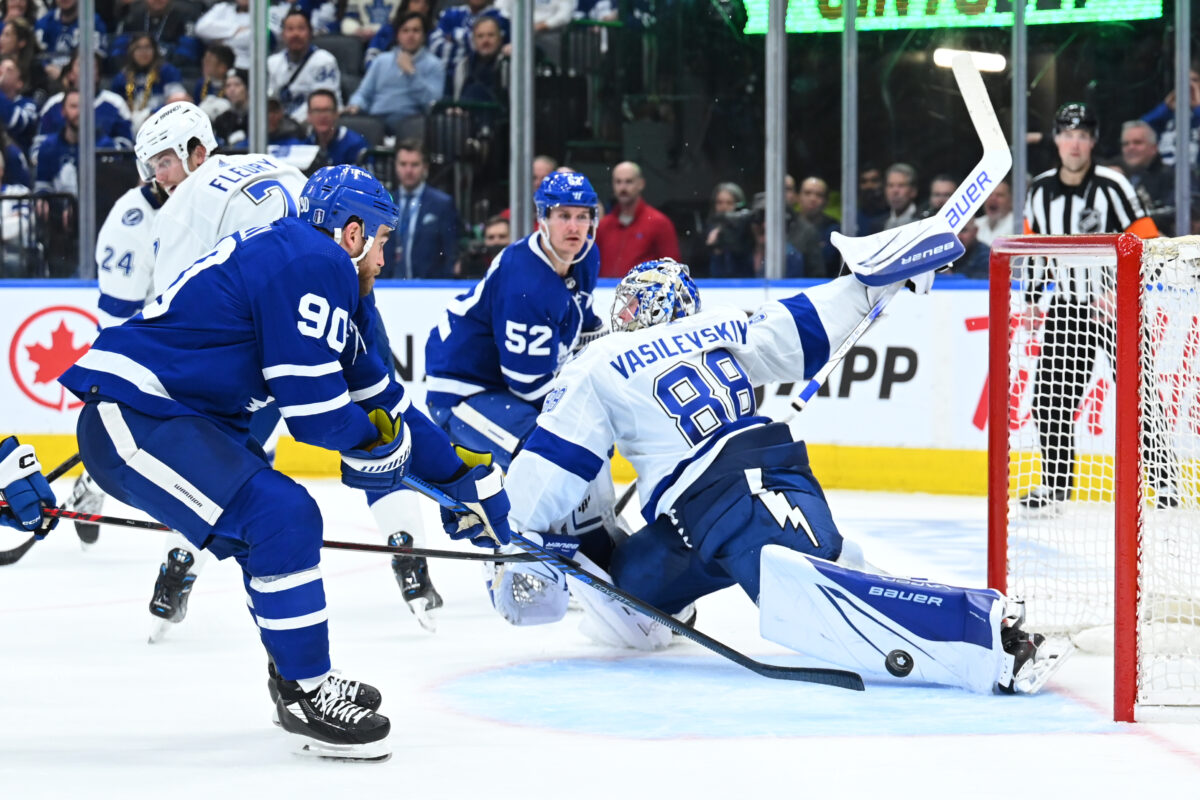 While physicality certainly shouldn't be the be-all-end-all focus on your team, there's simply no denying the impact it can have in the playoffs. Especially for the Maple Leafs, who don't have the familiar fists of Wayne Simmonds in the lineup this time around, having players who aren't afraid to throw the body around goes a long way when you're staring down the barrel of a roster that includes the likes of Pat Maroon, Corey Perry, and Tanner Jeannot. 

In the three games we've seen so far, with the Maple Leafs up 2-1 in the series, Tampa Bay is currently out-hitting Toronto by a slim margin of 153-145. For context, the hits in last year's series were 306-266 in the Lightning's favour, so you can see a noticeable difference so far. It's important to remember that if you're out-hitting your opponent, it likely means you don't have the puck as much. So, it's not so much the number of hits that should matter for them, but rather the quality and timing of the hits. Still, it's encouraging to see that they're not backing down from anything. 
Maple Leafs' Deadline Acquisitions Leading the Charge, Influencing Others 
By the end of last year's first round series against the Lightning, Auston Matthews was leading the Maple Leafs in hits with 32. This is great and all, but especially considering he's not known for his physicality, it's probably not ideal to have him shouldering the load in that department. I'm sure the team recognized this too, because while Matthews is still pulling his weight physically, this time around he's got a supporting cast of players who specialize in that area of the game helping him out. 
---
Latest News & Highlights
---
Matthews currently sits fifth on the team in hits with 11 through three games so far, and rounding out the top four are all new acquisitions, either at the trade deadline or in free agency last summer. Leading the charge is Acciari with 19, followed by Jake McCabe with 16, Zach Aston-Reese with 13, and Schenn with 12. And, it's not just the hits that are encouraging. It's just the general toughness of the team. 
You've been seeing it throughout the series, there's more pushback from the Maple Leafs. Schenn dropped the gloves with Jeannot, who's always a tough customer, in Game 2. Hell, even Matthews dropped the gloves with Steven Stamkos in Game 3, albeit not exactly voluntarily. I remember a very specific occurrence during last year's playoffs where former Leaf Pierre Engvall refused a fight from Brandon Hagel. While it may not have mattered at the time, those kinds of things have an impact on a series, and it's something you're less likely to see this season.
Maple Leafs Must Beat Lightning at Own Game, But Not Get Sucked Into Antics
The tough part about this season's series is that the Maple Leafs have to walk a very fine line if they want to get out of the first round. Tampa Bay's players are always going to throw their bodies, find that balance between physicality and penalties, and do everything they can to get under Toronto's players' skin. If the Maple Leafs want to play more than seven games in the postseason this year, they're going to have to find a way to match up against the Lightning without letting the games get away from them. 
We've seen examples from both sides of the spectrum in this series so far. In Tampa Bay's 7-3 rout over the Maple Leafs in Game 1, Michael Bunting got slapped with a three-game suspension after some boiled-over tensions resulted in a headshot on defenseman Erik Cernak. Subsequently, the Lightning found themselves on the other side of things in Game 2, with Pat Maroon and Mikhail Sergachev both getting game misconducts by the end of the game. 
You May Also Like
The Maple Leafs have been able to get the better of Lightning goaltender Andrei Vasilevskiy in this series so far, and while they may not have deserved the win in Game 3 on Saturday night, that doesn't matter in the playoffs. Teams who find ways to win games they don't deserve often make deep runs, and it will be no different for Toronto if they want to do the same.