It looks early in the season as if the North Division's race is between the Toronto Maple Leafs and the Montreal Canadiens. Right now, after the Maple Leafs' 7-0-1 record in its last eight starts, they are leading the North Division with 19 points. The Canadiens are second with 18 points.
Last night, led by Wayne Simmonds, Auston Matthews, Mitch Marner, and good goalie play by Frederik Andersen, the Maple Leafs beat on the Vancouver Canucks by a score of 5-1 (they had beaten these same Canucks two nights earlier by a 7-3 score). On Monday night the same two teams play again; and, although I'm not saying that the Canucks will win, I'm certainly looking forward to them putting together a stronger game.
Related: Maple Leafs Nylander Is Giddy About Simmonds' Partnership
In this edition of Maple Leafs News & Rumors, I'll share some commentary based upon what I saw during the game and the game's impact on the players and the team going forward.
Item One: Wayne Simmonds Scores Twice and Leaves Game
Perhaps William Nylander was right when he felt excited about Wayne Simmonds joining the second line with John Tavares and himself. Simmonds seems to have found a home with his hometown Maple Leafs and has rejuvenated his game. He scored twice in the game before he was forced to leave the game deep in the third period with a hand injury. Sadly, the latest report is that the injury might keep him out of the lineup for up to six weeks.
The two-goal game was Simmonds first since he played for the New Jersey Devils about a year ago. He had also scored two goals on Feb. 13 against the Detroit Red Wings. This was also Simmonds' first multi-point showing of the season wearing the Blue and White of the Maple Leafs.
Simmonds' first goal of the game – a power-play goal before five minutes of the game had passed by – got the Maple Leafs started. He also scored early in the third period. They were his fourth and fifth goals of the 2020-21 season. Sadly, for Simmonds and Maple Leafs fans, he had to leave the game when he got in front of a clearing attempt, took a puck off his hand, and wasn't able to finish the game.
This morning, as noted by Elliotte Friedman, the status of his injury is anything but good news for the team.
Item Two: Auston Matthews Is on a Roll, Scoring Twice to Become NHL Goal-Scoring Leader
Auston Matthews made it look easy scoring twice in Saturday's win over the Canucks. His first came late in the first period to push the team's lead to 2-0, and he scored an unassisted goal off a Braden Holtby miscue in the third. Because Brock Boeser's power-play goal made the final score 5-1 for the Maple Leafs, it also pushed Matthews' goal to the status of a game-winner.
Related: Maple Leafs' Forgotten Ones: Vincent Damphousse
The two goals were Matthews ninth and 10th of the season, and he now takes over the early NHL lead in that department. Currently, Matthews has scored an amazing 10 goals in his 11 games this season – almost a goal-a-game. The Canucks simply don't seem able to stop him, and he seems to be playing at a different speed that almost everyone else on the opposing team.
He's good and seems to be getting better. About the only aspect of the game where Matthews didn't shine last night was in the faceoff circle: he lost 11 of 20 draws.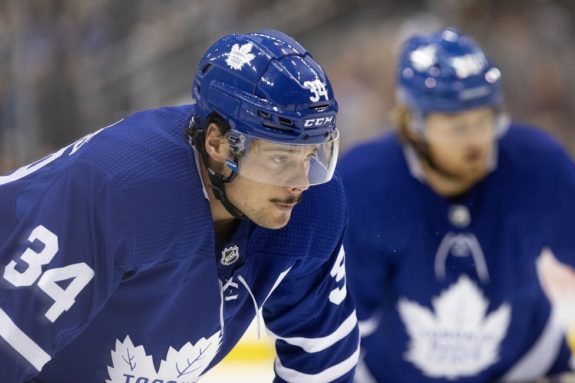 Matthews, who's no stranger to goal-scoring streaks, scored in six straight games to begin the 2018-19 season. He's the first Maple Leafs player to score goals in seven consecutive games since both Wendel Clark and Dave Andreychuk accomplished that feat in 1993-94. 
Item Three: Mitch Marner Has Become an Assist Machine
Mitch Marner is nearing rarefied air on the NHL's point-scoring leadership board with 20 points this season, approaching the likes of the Edmonton Oilers' Connor McDavid (26 points) and Leon Draisaitl (23 points). He added three assists in the 5-1 win over Vancouver. Interestingly, his three assists also came on the first three goals of the game.
Related: Val James: The Forgotten Trailblazer
To say Marner's on a roll might be a bit of an understatement. Over the last six games, he's scored 11 points (three goals and eight assists). He's also feasting on the Canucks and is averaging three points during the first two games of his team's three-game series after scoring a goal and five assists.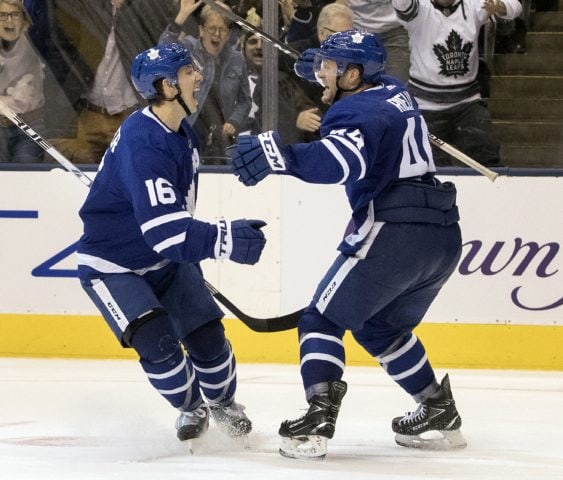 The 23-year-old Marner is off to a hot start to the 2020-21 season and has hit the score sheet in 10 of the 12 games he's played.
Item Four: Is Mikko Lehtonen Finding His Mojo?
What was I saying yesterday about Mikko Lehtonen feeling uncomfortable? Lehtonen added two assists and was a plus-3 in his team's 5-1 victory on Saturday. It was Lehtonen's fifth game of the season but his first multi-point game. Although he only played about 14 minutes, which was the least among all Maple Leafs defensemen, he had s strong offensive night.
Even if Travis Dermott's charley horse is ready to go for Monday's game, the 27-year-old Lehtonen might have earned another start in the rematch against the Canucks. He now has three assists on the season after his five games. (from "Matthews, Marner, Simmonds star as Leafs easily handle Canucks (again)," Terry Koshan, Toronto Sun, 07/02/21).
What's Next for the Maple Leafs?
One thing that seems to have flown under the radar this season is the play of the Maple Leafs' defense – and that's a good thing. There's little of the drama of the past few seasons, and about the only issue I note regularly is the ice time contest between Dermott and Lehtonen.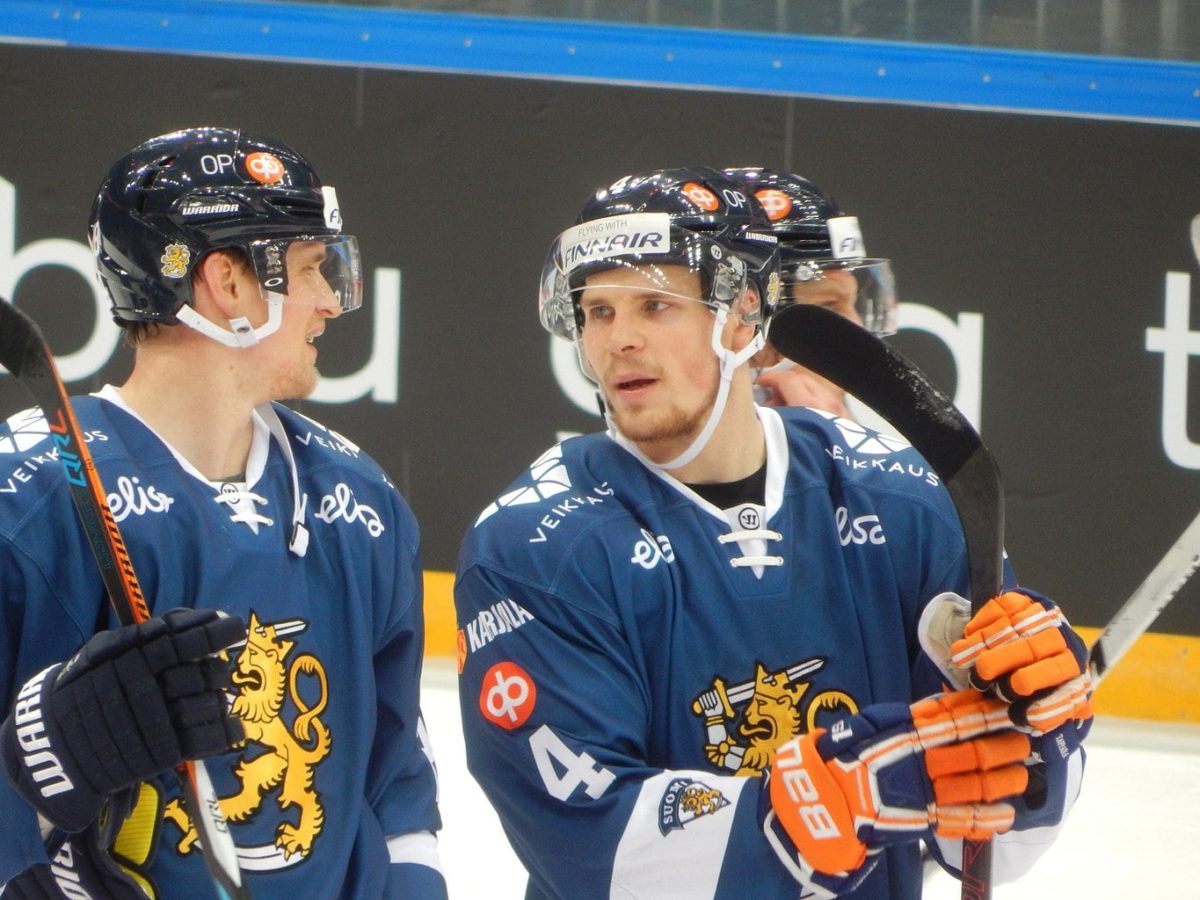 There seem to be good things happening without so much as a whisper. Morgan Rielly is a horse and played almost 25 minutes last night. Zach Bogosian and Justin Holl seem to quietly be doing their work. I see Jake Muzzin on the ice but he doesn't seem to be making many mistakes.
Related: Maple Leafs News & Rumors: Tavares Trade, Prospects, Muzzin & More
But the one player who now seems to have snuck completely under the radar is newcomer T.J. Brodie. Last night he played right at 20 minutes and, although I noticed him, I really didn't notice him. I think his game has come around a lot since the start of the season. That seems to be good news to me, and it can only spell better news for the Maple Leafs as they move forward.
Is it too early to suggest that the team's defensive woes might be a thing of the past?
---
---
The Old Prof (Jim Parsons, Sr.) taught for more than 40 years in the Faculty of Education at the University of Alberta. He's a Canadian boy, who has two degrees from the University of Kentucky and a doctorate from the University of Texas. He is now retired on Vancouver Island, where he lives with his family. His hobbies include playing with his hockey cards and simply being a sports fan – hockey, the Toronto Raptors, and CFL football (thinks Ricky Ray personifies how a professional athlete should act).
If you wonder why he doesn't use his real name, it's because his son – who's also Jim Parsons – wrote for The Hockey Writers first and asked Jim Sr. to use another name so readers wouldn't confuse their work.
Because Jim Sr. had worked in China, he adopted the Mandarin word for teacher (老師). The first character lǎo (老) means "old," and the second character shī (師) means "teacher." The literal translation of lǎoshī is "old teacher." That became his pen name. Today, other than writing for The Hockey Writers, he teaches graduate students research design at several Canadian universities.
He looks forward to sharing his insights about the Toronto Maple Leafs and about how sports engages life more fully. His Twitter address is https://twitter.com/TheOldProf