In this edition of Toronto Maple Leafs News & Rumors, I'll spend some time looking at what was a record-setting day for a number of Maple Leafs' players.
I'll also take a look at some of the highlights of the team's 3-2 victory over the Calgary Flames on Sunday early evening and analyze what these highlights might mean to both the players and the team as it moves forward into the future.
Related: Connor McDavid Predicts Jesse Puljujarvi Will Be Huge for the Oilers
Item One: Auston Matthews Returns to Lineup with a Goal
Auston Matthews scored in his return to the lineup during Sunday's 3-2 win over the Flames. During practice with the team, Matthews had been part of the line rushes with the top six so it seemed obvious the upper-body injury he suffered during Thursday's practice was only going to keep him out for a single game.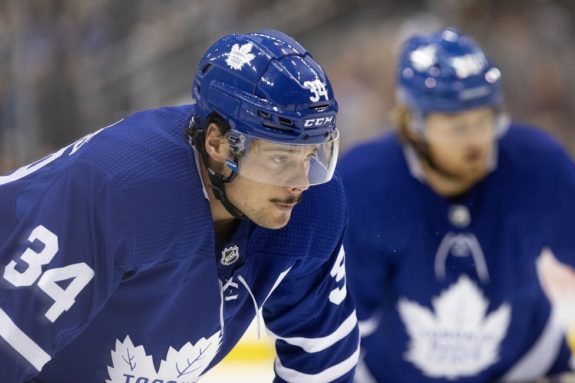 The 23-year-old Matthews had entered the game on a point-a-game streak, with five points in as many games. However, it was untypical that his goal scoring would be down at the start of any season. He showed no lingering effects of what was upper-body soreness and skated his usual minutes – logging 21.42 minutes of ice time during the game.
Matthews' goal was the eventual game-winning goal. It pushed the Maple Leafs to a 3-1 lead early in the third period. So far, in what would be a strong season for almost any other player but not up to Matthews' usual production, he's registered three goals and three assists in his six games this season. 
Item Two: Jack Campbell Has Another Solid Outing
Jack Campbell saw 33 shots on the evening, and stopped 31 of them. Campbell gave starter Frederik Andersen a rest by making his second start of the season. He had played against the Ottawa Senators nine days earlier (on Jan. 16) and tended the team to another 3-2 win when he stopped 17 shots. On Sunday, Campbell saw almost twice as many, but he still only let in two.
Related: Top-5 Players From France in NHL History
In truth, at this point in the season, the Flames are a scarier team than the Senators. They had come into Sunday's game ranked sixth in the NHL with an average of 3.67 goals-per-game and riding a power play that had converted 37.5 percent of its chances through the season.
Campbell came through yet again with his second win. His 31-save game also pushed his save percentage to .923. Although the Maple Leafs' next set of back-to-back games oddly doesn't come until the middle of February, given Campbell's success head coach Sheldon Keefe might just throw him into the mix more often as a way to help Andersen stay more rested. The season is shorter than usual, but it's still a grind.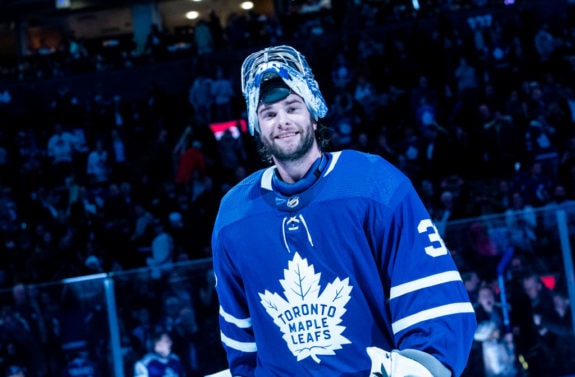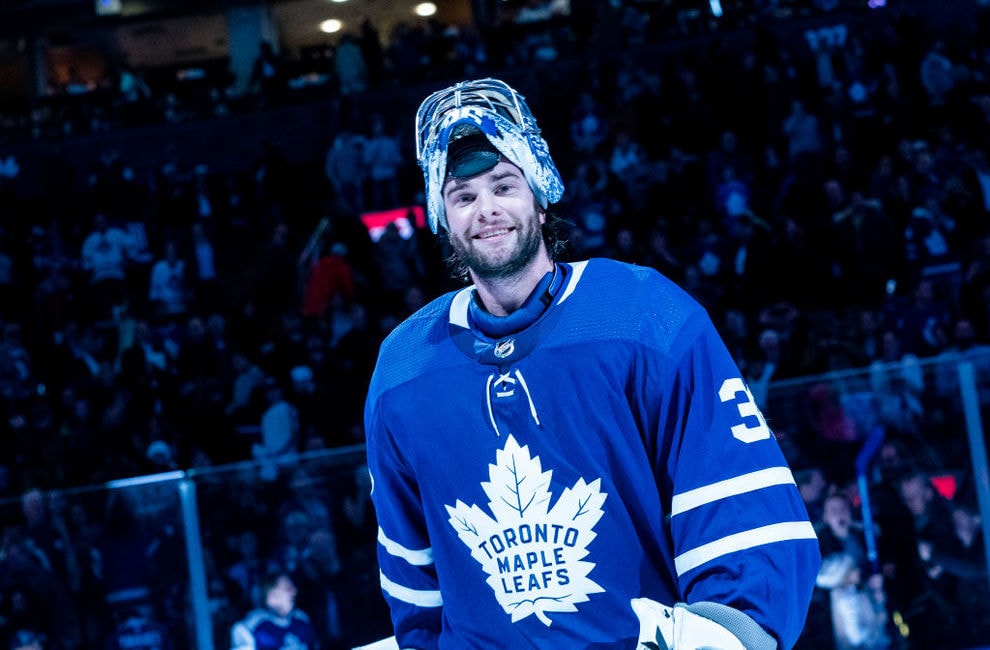 One note is that Campbell showed some signs of being hurt later in the game, but if he was he didn't fess up. After the game, when speaking to the media he noted: "I feel great." When asked, Campbell added that there "never" was a chance that he might come out of the game.
As is his way, he said nice things about his teammates after the game. "The boys played really well and it's just huge to come out of this barn with two points."
Item Three: Wayne Simmonds Scores His First Maple Leafs Goal
Wayne Simmonds stood tall for the Maple Leafs, or at least he stood still – as in, like a wall. As a result, he scored his first goal as a Maple Leafs player on Sunday. Simmonds' power-play goal was old school and gave the team a 2-1 lead late in the second period.
Watching the sequence on video, Simmonds simply took up residence in front of Flames' goalie Jacob Markstrom and simply wasn't movable. When the puck came into his area, his attempt to pass it pin-balled off his own skate and past Markstrom into the net. It was Simmonds 500th NHL point and his 100th career power-play goal. I can see why he's been so effective on the man advantage.
Item Four: Morgan Rielly Scores Three Assists in His Team's Victory
Although his scoring has been sporadic during the season, to my eyes, Morgan Rielly has looked strong all season. Against Calgary, he was part of every goal the team scored and collected three assists for his work. Each was a "hockey assist" – a secondary helper. And, he started the sequences that led to goals by Jake Muzzin, Simmonds, and Matthews during the game.
After scoring the game-winning overtime goal during the Maple Leafs' season opener to beat the Montreal Canadiens, he hadn't scored a point during the five games leading into the Flames' game. As I noted, scoring or not, I think his play has been stellar.
Item Five: Mitch Marner Adds Two Assists to His NHL Scoring Lead
Mitch Marner added two assists to his NHL-leading points total. The 23-year-old winger is on a nice scoring streak and has now had four multi-point gamed in his last five. For the season, Marner now has four goals and 10 points for the season.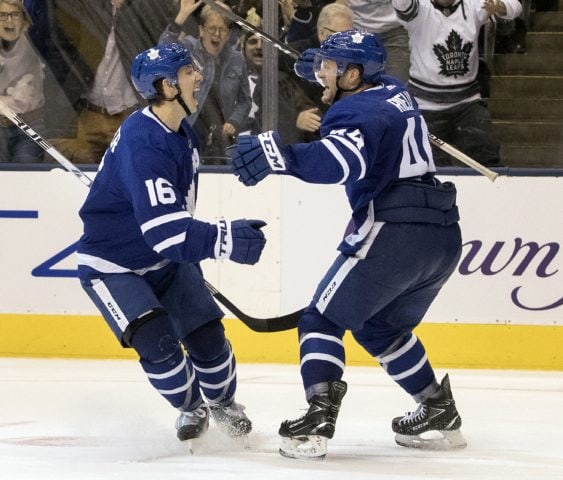 Marner's been a consistent point-a-game player for the past three seasons and is even approaching a point-a-game average over his career. He now has played 307 NHL games, and has scored 87 goals and 214 assists for 301 points – only needs to pick up six more addition points to make that mark. That's quite an incredible feat actually.
Related: Keefe Changes His Mind: Maple Leafs' Lehtonen Ready for Prime Time
The only two Maple Leafs players to ever need fewer games than Marner to reach the 300-point mark were Syl Apps and Charlie Conacher. That's lofty Maple Leafs' company.
 What's Next for the Maple Leafs?
With Matthews drawing back into the lineup, someone had to go and that someone was Adam Brooks. Brooks was one of the team's feel-good stories of the week when he scored his first NHL goal in Friday's win over the Edmonton Oilers. I hope he gets another chance to play soon, even if there's no injury to replace. 
---
---