With the NHL and Adidas coming to terms on a new apparel deal (starting in 2017-18), it seems almost inevitable that the NHL is moving closer towards having advertisements and corporate branding emblazoned on team jerseys.
While the topic is sure to stir up a variety of opinions and emotions for both casual and hardcore hockey fans, it's a logical way for NHL owners and players to generate a new source of revenue.
The deal itself is a win for the NHL and for Adidas.
With the Adidas brand, the NHL stands to double its annual profits compared to the current apparel deal with Reebok, as reported by TSN.
For Adidas, it was a significant deal in which they outbid Bauer Hockey and Under Armour.
History of Sports Jersey Sponsorship
There was a time, not all that long ago, when no professional sports teams anywhere wore corporate logos on their jerseys.
It's widely accepted that Uruguayan soccer club Peñarol was the first team to introduce the concept of jersey sponsorship in the 1950's, however the practice didn't become universally accepted by soccer teams across Europe until decades later.
In 1973 a German Bundesliga club, Eintracht Braunschweig, forever changed the way soccer jerseys were designed. The team was approached by German liqueur maker Jägermeister with a proposal to place the iconic logo on the Eintracht Braunschweig's jerseys in exchange for up to 800,000 Marks over five years. While the German Football Association initially denied the request, Eintracht Braunschweig players held an internal vote, and decided to replace the club's traditional logo for the Jägermeister crest.
While the practice of jersey sponsorship quickly caught on with soccer clubs across Europe, it seems as though European hockey may have actually gotten the jump on European soccer.
The year was 1921, in the town of Örnsköldsvik, Sweden. An athletics club was being founded; introduced as Alfredshems IK. In 1938 the AIK sports club formed an ice-hockey program, and in 1958 the AIK hockey team joined the HockeyAllsvenskan, Sweden's highest division at the time.
Five years after AIK made their debut at the height of Swedish hockey, a re-branding took place that would forever changed the history of both AIK and European hockey.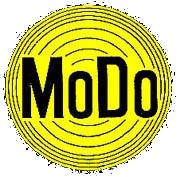 While its not completely clear what prompted a re-naming, in 1963, AIK officially changed their team name to Modo AIK.
The significance being "MO-DO" was actually a common abbreviation for their main sponsor, an industrial corporation called Mo och Domsjö AB.
Technically speaking, the club re-branded and renamed themselves, but the decision to do so (at least in part) was based on corporate sponsorship.
Remember, to the majority of the Swedish populous in the early 1960's, Modo would have been recognized as and associated with corporate advertising, not the newly adopted name of a hockey team in Örnsköldsvik.
So while technically speaking, Modo AIK was the team name, having the MODO abbreviation emblazoned across hockey jerseys in 1963-64 might actually be the earliest example of jersey sponsorship in professional ice-hockey.
It's also worth noting that jersey sponsorship has already occurred in the NHL, although on a much smaller scale. In the 1980's, the Chicago Blackhawks signed a sponsorship deal with Gunzo's, a hockey equipment retail store based out of Illinois. You can see images of the Gunzo name on the back of a Blackhawks jersey with a quick image search online.
How Adidas Impacts NHL Style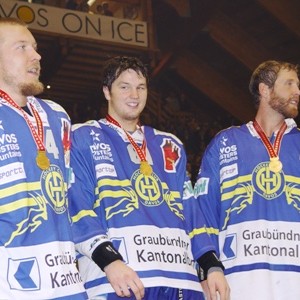 Adidas has been a global brand for decades, impacting fashion and popular culture through a variety of mediums, including the sports world.
People all over the world have an affinity for the classic three parallel bars that make the Adidas brand so recognizable.
It'll be particularly interesting to see how Adidas puts their branded touch onto an NHL jersey.
It seems highly unlikely that the Adidas and the NHL would take on a Spengler Cup style of jersey, plastered with logos and ads with little (if any) any sense of design or style.
That force-fed type of advertising on jerseys probably wouldn't go over well with fans here in North America, especially for the hockey-traditionalists.
Adidas has been known for producing timeless looks, so it would be a bit surprising if the global brand ordered a dramatic design overhaul of NHL jerseys.
Can Cash Convert the Critics?
We know of at least one current NHL player who's voiced his opinion against ads on jerseys:
An NHL uniform is a sacred thing and it's an honor to wear one. Putting corporate sponsors on the front would tarnish that. Don't do it

— Blake Wheeler (@BiggieFunke) August 18, 2015
Blake Wheeler of the Winnipeg Jets took to twitter to voice his displeasure in regards to the notion of jersey sponsorship in the NHL.
Wheeler is certainly entitled to his own opinion, but you have to wonder if individual players will be swayed to change their minds once the NHLPA presents them with a breakdown how each individual player will profit.
Some reports suggest that each NHL team could generate up to an additional $4-million per season from jersey sponsorship, with individual players pocketing upwards of $80-thousand.
It's hard to imagine any NHL player, regardless of their financial worth, passing up on that kind of newfound money.
What Ads Could Look Like on Maple Leafs Jerseys
Since the addition of corporate logos and advertisements to North American pro-sports jerseys seems inevitable, let's have a little fun and speculate what future Toronto Maple Leafs jerseys could look like.
Toronto Maple Leafs Home Jersey
Using Maple Leafs captain Dion Phaneuf's jersey as our model, here's a Toronto Maple Leafs home blue jersey, featuring logos and ads.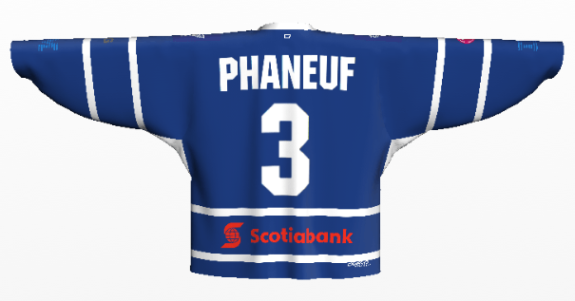 Unlike European hockey jerseys, you'll notice limited branding on the front of the jersey. Sponsors have the option of placing their logos along the arms and shoulders, in addition to the lower back.
Toronto Maple Leafs Away Jersey
The Toronto Maple Leafs away white jersey, is similar to the home sweater in both logo placement and design. The majority of the logos appear along the sleeves of the jersey and across the lower back.
With limited corporate branding on the front, there is the potential of sponsors entering into a bidding war with each other to secure the coveted space on the front of the sweater.
Toronto Maple Leafs Alternate Jersey
Major team sponsors like Scotiabank, Coca-Cola, Ford, Air Canada, and Esso would all likely have an opportunity to bid for the right to have their logos stitched onto a Maple Leafs jersey.
To maximize revenue from jersey sponsorships, it seems likely that the Toronto Maple Leafs (or any NHL team for that matter) could use different sets of sponsors for their home, away, and alternate jerseys.
When it comes to ads on NHL jerseys, there's not much point in fighting it; one day it will happen, and that day may not be too far away.
Nicco Cardarelli writes about all things Toronto Maple Leafs for TheHockeyWriters.com. Nicco has PxP & Color commentary experience calling IIHF, Hockey Canada, OHL and CWHL games. Follow Nicco on Instagram and Twitter @BroBehindTheMic.