Maple Leafs Panel is a weekly feature that is published every Monday here on The Hockey Writers. It is a feature where THW Toronto Maple Leafs correspondents Lukas Hardonk, Mark Ascione and Alex Mamalis answer three questions that concern the Maple Leafs each week. Lukas is away this week, so Alex and Mark will handle things. To catch up on previous editions, click here.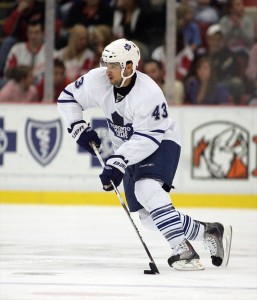 Question: Has Nazem Kadri shown enough to remain with the NHL club for the rest of the season and not be sent back to the Marlies?
Alex Mamalis: Definitely, Nazem Kadri has shown more than enough to stick with the club this year. Beyond that though, it gets sticky. Kadri evidently has elite vision and playmaking abilities on the ice, however he still struggles to maintain consistency offensively. For a forward who is already a liability defensively, he'll have to find his offensive game completely before Toronto assures he is part of their future. For the time being though, he's a forward who's done enough to stick around, as he adds a much needed element of creativity to the third line, but he's still on a try-out basis.

Mark Ascione: I think he has. As he said in the Toronto Sun "Fate is my hands, as long as I keep doing what I am doing." He knows being a first round pick guarantees him nothing, and I think he's worked hard to learn and get better. He showed skills and scoring touch with the Marlies. Ideally he should have played out the full season with the Marlies, but it would have been tough to keep him down, he deserved the call-up. He needs to shoot more, and I think Coach Wilson is trying to put him in situations where he can do that. In 16 games, he's got 4 goals and 6 points. TSN.ca puts him on pace for 16 goals in 51 games for the rest of the season, those aren't bad numbers. He's still young and developing, especially his defensively game. But at this point, it makes little sense sending him down (unless the Leafs are out of playoff contention, then send him to what would hopefully be the playoff-bound Marlies).
Question: Ron Wilson has put Phil Kessel and Joffrey Lupul on different lines. Is that a good move? Will it last long?
Alex Mamalis: The Lupul experiment had the potential to allow the Leafs to flourish into a more balanced, diversified squad. However, it also had the potential to blow up in Toronto's faces. Kessel has made Lupul better this year, and it's still unknown whether the forward can survive alone. Sure, he had 3 points against a struggling Wild team, but went invisible against Montreal the night after. I think this move was one of desperation from Wilson – to try and spark his club. Unless Lupul takes on the role of being an offensive catalyst successfully, expect a Kessel – Lupul reunion sooner than later.

Mark Ascione: It's a little dangerous. I understand the idea. Wilson is trying to a) make it more difficult for the opponents to shut down his offence and b) get his other forwards going. But, I have rarely seen that type of thing work as intended – I think it tends to upset the offensive aspects that were successful. I think the best course is sticking with what was working. Perhaps try Kadri with Kessel and Lupul. Maybe reunite the MacArthur-Grabovski-Kulemin line, as Grabo appeared to be heating up. There is always a danger of Kessel hitting a slump, that is his habit. He's producing with Lupul, splitting them up is less likely to ignite others. I don't think it's going to last too long, Wilson will put them back together sooner than later.
Question: What are the biggest obstacles facing the Leafs in their quest to make the playoffs?
Alex Mamalis: The biggest obstacle Toronto will face is the numbers game. Toronto will have to post a gaudy 21-14 or 18-11-6 from now on. That's no easy task considering there are more than the Leafs fighting for a spot. The Senators are on fire, Winnipeg is no slouch, Florida won't go down without a fight, and Pittsburgh and Washington can't stay down for too much longer. There's still hope though. At this stage, Toronto is still in a position where their destiny is in solely their hands. They're still in a position to decide if they want to make the playoffs or not – it's just a matter of going through with it.

Mark Ascione: The Leafs are a bubble team for playoffs.
Obstacle 1 is they are not much better than a number of teams fighting for the last couple playoff spots. They may simply run out of racetrack, sitting outside the playoff picture now, and with the unpredictability of 3 point games occurring.
Obstacle 2, they are not consistent. This week, Ottawa played the night before, and a 2-0 Leaf lead slipped away into a 3-2 loss. They dominated Minnesota, but let a Montreal team that played the night before take the game and a 3-1 win away. That's 3 home games, against teams they legitimately could have beaten. Instead of 5 or 6 points, they come away with 2. This kind of week is exactly what will keep them out of the playoffs, too many missed opportunities to grab points.