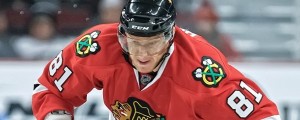 Rewind to Game 3 of the 2012 Western Conference Quarter Finals, Marian Hossa was coming off an impressive 77 points in 81 games. Hossa had been hit by the injury bug during his tenure in Chicago but had finally shaken it and led the team in scoring. Raffi Torres cut across leaves his feet and catches Hossa with his shoulder making direct contact with his head. Hossa suffered what has determined a severe concussion on the play and Torres was given a 25 game ban(later reduced to 21).
The Chicago Blackhawks received some good news earlier this week as Marian Hossa was cleared to play by the Blackhawks doctors. Hossa had been spending the duration of the lockout skating, working out and being monitored by the Blackhawks staff in Chicago.
Hossa had begun his recovery immediately following the incident in Chicago before flying back home to his native Slovakia for the summer to be with his wife and daughter. Hossa had used his time back home to take it easy and focus on recovering before returning to Chicago to start skating again.
Concussions are one of the most unpredictable injuries to gauge a players effectiveness following sustaining one, but the fact that Hossa has been cleared is encouraging.
How Hossa plays following this concussion remains to be seen but this is certainly a positive step forward for the power forward.  Of course, because of the NHL lockout we will have to wait and see how Marian Hossa rebounds from this injury.