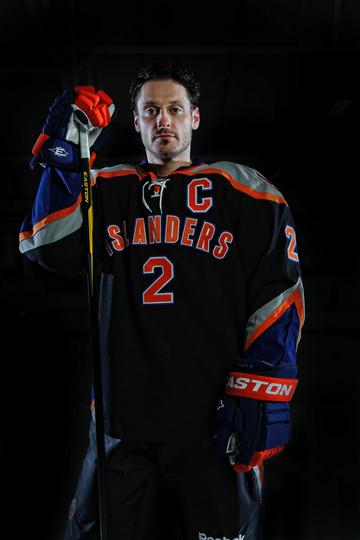 December 11th is Mark Streit's 35th birthday.  The final year of his contract with the New York Islanders, the captain has found you can go home again as he's kept himself in game shape by playing for SC Bern of the Swiss A league.
Originally from Switzerland, the offensive defensemen made a quite career as a dependable point man and leader.  He was named New York Islanders captain back in 2010 when he signed with the team after starting his career with the Montreal Canadians.
After signing with the Islanders in the summer of 2008, he quickly became the Isle's top defensemen, logging many important minutes including quarterbacking  the power play.  He was named the team's captain in 2011, after Doug Weight retired.  He was the team's lone All Star selection in 2009.
Early in 2010 he suffered an injury during preseason that kept him off the ice for the entire regular season.
2011-2012 was his first full season back with the team.  He was now team captain, yet he struggled to find his groove on the ice.   Many were looking towards his final contract year with the Isles, the 2011-2012 season to be his bounce back year, but he's been exiled to his homeland as the NHL and NHLPA continue to tear out the hearts of hockey fans everywhere with their ongoing Lockout.
At SC Bern this season in 26 games, Mr. Streit has continued his offensive spark with 6 goals and 16 assists for 22 points so far.
Here is a replay of his first Lockout tenure goal for SC Bern.  It's a familiar sight for New York Islander fans.
Mr. Streit also convinced Islanders budding superstar John Tavares to join him at SC Bern.  It's hard to not notice the connection between the two.   If there's no NHL season it will be a question as to whether Mr. Streit returns to the Islanders.  If he doesn't this may allow for John Tavares to step into the role of team captain.
While Islander fans are left to follow their prospects in Bridgeport of the AHL, the internet savy will find ways to watch telecasts of SC Bern games to see their two former All Stars play in probably the snazziest of European jerseys.  Yes, their logo is of a bear sticking out his hockey stick shaped tongue.  If it can't be the NY Islanders crest, Mr. Streit and Mr. Tavares might as well wear the hockey stick-tongue bear!