The New Jersey Devils, like every professional sports franchise, have undergone many changes in the past two decades.
Except for one: #30, Martin Brodeur.
It seems like ages ago when the Devils goaltender was a fresh faced rookie during the 1993-94 campaign, earning the Calder Trophy as the National Hockey League's best rookie. Looking back now, it was as if Brodeur was saying, "I'm just getting warmed up."
Goaltending has evolved since then, but unlike the majority of his peers Brodeur never fully adopted the butterfly style. He is a hybrid goalie who relied heavily on strong positional play, mobility and puck handling throughout his career. In fact, Brodeur began working on his mobility early on as a professional. In an interview featured on Brodeur's personal website, Devils goaltending coach Jacques Caron notes, "His greatest weakness early in his career was mobility. We worked on his style to enable him to correct this weakness and it has worked to strengthen his strong points."
Caron's approach worked. The pair continued to improve Brodeur's mobility, allowing him to work that into other areas of his game.
In 2005-06, 15 years into his professional career, the National Hockey League decided to implement a rule specifically designed to restrict Brodeur's puck handling ability. Many wondered how much that would impact Brodeur's overall ability as a goaltender.
For the first time since he began his NHL career, Brodeur had to make a significant change to the way he handled the puck.
The trapezoid
It's no secret that Brodeur was not a fan of the trapezoid rule. Puck handling skills are important for goaltenders. In minor hockey, some goaltenders begin working on clearing the puck out of their own zone or making crisp outlet passes  as early as Peewee. However, training and coaching goaltenders in this area has evolved because of the trapezoid rule.
As a goaltender, it is important to advance your skills in the right direction. Considering that the trapezoid is here to stay (for now), the focus has shifted towards working within that confined area behind the net. Just like the way he built a reputation as one of the best in the game at handling the puck in the pre-trapezoid era, Brodeur adapted his skills and demonstrates what it takes to be successful in the post-trapezoid era: quick decision making, the ability to handle the puck in a crowded space and learning how to make a strong plays on the backhand.
Equipment gets smaller, Brodeur still plays big game
Next, the NHL decided to limit the size of a goaltender's equipment, making it relative to their physical size.
Unlike the trapezoid rule, the new equipment regulations had little impact on Brodeur. The six-foot-two, 220-pounder may have never looked his size, but that's because he never wore over-sized equipment. His chest protector and pads were considerably small compared to the size of the equipment that he should have worn. To give you an idea, Patrick Roy is roughly the same physical size as Brodeur, yet looked much bigger in his gear.
While smaller equipment made him more mobile, it certainly did affect the way he used, or did not use, the butterfly. Since 2009, Brodeur has slowly increased the height of his pads. Not surprising, when he would elect to use the butterfly on low shots or through screens, his save selection looked more natural and complete – the ice was better sealed and his 5-hole was closed. This past February, Brodeur added another inch to the top of his pads, making them 37 inches in total length compared to the 35 inch length he wore for most of his career.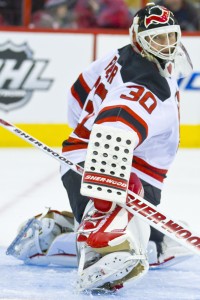 Heading into the 2009-10 season, and maybe even before that, there is no question that Brodeur began to show considerable signs of slowing down. What was once his greatest strength, now became the next question: how could the future Hall of Famer play among the best players in the world who are only getting younger and faster?
Once again, Brodeur had to adapt.
Realizing that he needed to improve his lateral mobility, Brodeur started to play closer to the top of his crease and less into the white paint. This allows him to make better use of his size if he has to make longer movements towards an in-tight situation, arriving more compact and not requiring him to stretch and/or contort his body. He became more economical and does not have to push his body to its physical limits night in and night out. The adjustment enables him to tap into whatever acrobatics he has left with the same kind of conviction he had as a rookie, if need be.
Despite all this, Brodeur still gives the Devils a chance to win a hockey game. He can be the difference, in any moment, and even his demeanour gives his teammates the confidence knowing that he can get the job done.
Brodeur's career is highlighted by many accomplishments: most wins all time (656), most regular season shutouts (119), three Stanley Cup rings, two Olympic gold medals, four Vezina Trophy wins.
Even as he approaches his 40th birthday this Sunday, he has proven that he can adapt and compete at the highest level.
Joyeux anniversaire, Martin.
Eli is an instructor and consultant with PRO Goaltending, providing top training programs for goaltenders at all levels including professional, collegiate and Major Junior. Eli brings passion and energy to The Hockey Writers where he offers analysis and insight to the world of goaltending. He currently works and resides in Ottawa.