Ironically, now that the Pittsburgh Penguins' blue line finds itself returning to health, the club is struggling to maintain leads and keep pucks out of its net.  Rob Scuderi and Brooks Orpik still don't look entirely comfortable following their respective returns from injury, Olli Maatta (while still playing inspiring hockey for a 19-year old rookie) has shown signs of fatigue and, if you put any stock into what you can find throughout social media, Kris Letang can be faulted for everything short of the recent polar vortex.
4 critics of #Scuderi's recent play, I agree – he's not @ top of his gm. But being out there w/#Letang now isn't helping a great deal either

— PensInsider (@ThePensInsider) January 12, 2014
The one constant everyone can agree on?  Matt Niskanen.  You know, the blue liner who would surely be traded prior to the 2013-'14 campaign, the "ideal candidate" to relieve G.M. Ray Shero's salary cap woes.
Well, as we all know, Shero ignored the masses and held on to the versatile Niskanen.  And, it's a good thing he did.
Matt Niskanen is Mr. Versatility
When the season began, Niskanen was considered a solid option for the Penguins' third pairing on the blue line.  Turns out he represented much more than that, though.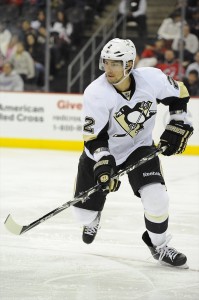 When the injury bug claimed Pittsburgh's top-four blue liners, Niskanen stepped up with rookie Olli Maatta to provide the club with a reliable shutdown pair, enabling the club to march on in their quest to make a mockery of the race for the Metropolitan Division's initial crown.  Anchoring a blue line with virtually no NHL experience, "Nisky" served as a veteran presence for the surrounding youngsters as the Penguins simply kept winning.
On an almost nightly basis, Niskanen seemed to set a new career-high in terms of time on the ice.  What's more, the transition to a heavier workload didn't phase the blue liner as his game seemingly grew stronger as the Penguins asked more of him.  Need someone to step up on the penalty kill?  He could do that.  Looking for someone to fill in on the point with the top power play unit?  No problem.  Simply put, Niskanen did it all.
Then, the blue line finally started returning to health which, for Niskanen, meant less ice time.  The diminished role, however, hasn't impacted the defenseman's game.  In fact, Nisky has posted points in six of his last seven games, registering three goals and three assists.  He's still solid in his own end, too, as illustrated by the fact that he hasn't been a minus player since a December 27 contest against the Carolina Hurricanes.
For the season as a whole, Niskanen sits at a league best +24, an indication of his superb play at both ends of the ice.  But it's his versatility, his ability to play anywhere throughout the Pens' defensive depth chart that has truly proven invaluable to Dan Bylsma and the Penguins.  And, without that, who know if the Penguins could have opened up such a significant lead within the Metropolitan?
Mr. Clutch
As if his solid, two-way play weren't enough, Niskanen appears well on his way to setting career-highs for goals (7) and points (35).  Currently, his 23 points pace all Pens' blue liners in scoring as he continues to produce from the back end.
More importantly, though, Niskanen continues to come through in the clutch.  Of his six goals this year, five have been game winners, a single-season record for Pittsburgh blue liners.  Between that timely production and his steady play, some are even wondering if Nisky should have been included on the U.S. Olympic team.
While his ticket to Sochi might be a stretch for some, there's no denying the steadying presence Niskanen has provided on the Pens' blue line.
"Right from the beginning of the year, he stepped in with the absence of some of our defense. His (Niskanen) numbers are fantastic, his plus-minus, the roles he's played — he's stepped up on the top power play and done not just an admirable job, he's done a very good job." – Dan Bylsma, on Niskanen's game this year
As a result, Nisky has emerged as possibly the Pens most steady defenseman in the 2013-'14 campaign.  Not bad for a guy that virtually all of Pittsburgh thought would be on his way out of town before the season ever started.