Brian Gibbons had to start at the bottom to make a name for himself.
In his first two seasons with the Wilkes-Barre/Scranton Penguins of the AHL, the undrafted winger quietly had 30 points each year. While he could produce offense, he was known more for his small stature than his play. He didn't appear to be a real standout in Pittsburgh's system, especially with a forward prospect in Beau Bennett receiving more attention.
How quickly things change.
Gibbons earned his first call-up this season after scoring 14 points with the Baby Penguins in October and had 22 points when he went to Pittsburgh on November 18. He played that night against the Anaheim Ducks and tallied his first NHL goal to break a 0-0 deadlock in the third period. That eventually helped the Pens win 3-1.
Since then, Gibbons, who stands at 5'8", has impressed with his blazing speed, physical play with the puck and his ability to set up goals for his teammates. He still leads WBS with 34 points despite having played 13 games with Pittsburgh from November through January 11, where he has six points. His early season play in Wilkes-Barre/Scranton also helped him earn a spot in the AHL All-Star Classic, which will be held from February 11-12.
It seems everything is finally coming together for the third-year pro, and he has the stats and the praise from his coaches to back it up.
In an interview after Gibbons was recalled, WBS head coach John Hynes pointed out that when Gibbons first came to the pros, he wasn't as consistent and focused in his game and didn't get involved in physical play that much. He said that he is "a much grittier player than he was his first two years" and that his focus on the ice has gotten better.
It used to be that Gibbons didn't finish scoring chances and seemed on fire in some games, but nearly invisible in others. Now, he scores with confidence.
For example, when Pittsburgh played the Vancouver Canucks on Wednesday, Gibbons scored in the second period by fighting off Jannik Hansen, who was trying to poke the puck away as he went up ice. However, Hansen was unsuccessful and Gibbons put the puck right between goalie Eddie Lack's legs.
Back in November, on that first big-league goal, Gibbons showed great positioning in front of the Penguins net. Evgeni Malkin fed him a clean pass, which he slapped home to put Pittsburgh on the board.
Hynes and Pittsburgh head coach Dan Bylsma agree with Gibbons that his best asset is his speed.
"Brian's last four games have been different," Bylsma told the Pittsburgh Tribune-Review prior to Friday's game against the Edmonton Oilers. "He's been a factor with his speed. It's been evident. That's something he has to bring."
Before the Penguins met the New York Rangers in December, Gibbons weighed in on his skill, saying, "I have to continue to play my game…just use my speed and try to create some offense."
Gibbons' NHL stats may not be blowing other rookies out of the water, but he's obviously impressed enough to be a starter and earn time on the Penguins' first line with Sidney Crosby and Chris Kunitz now that Pascal Dupuis is out with a torn ACL. In addition to his goal against the Canucks, he had an assist on Crosby's second-period tally against the Oilers.
He showed excitement about his new linemates, saying they are "two great players and they have such good chemistry together," and that "You know where they are. You know what to do. You know what they're going to do before you're going to get the puck and you have an advantage over the defensemen there."
Still, he didn't forget his own role, as he understood that he would have to try to get Crosby and Kunitz loose pucks and keep things simple so two of the Pens' top forwards could keep scoring.
With about a month of play left until the Olympic break, Gibbons still has chances to impress, especially if Bylsma leaves him on the first line. Being in a locker room with stars such as Crosby, Malkin and James Neal will help him continue refining his game, as will the faith that his coaches on both levels have put in him. He isn't flashy or the biggest player on the ice, but he does have what it takes to keep the Penguins on top of the NHL's Eastern Conference.
Furthermore, his presence in Wilkes-Barre was part of the reason why WBS remains competitive in the AHL's East Division. This was especially true when he was teaming up with Jayson Megna, also currently with Pittsburgh, to score goals on almost nightly basis. Megna also struggled with putting up points in his rookie season and credited Gibbons with some of his success.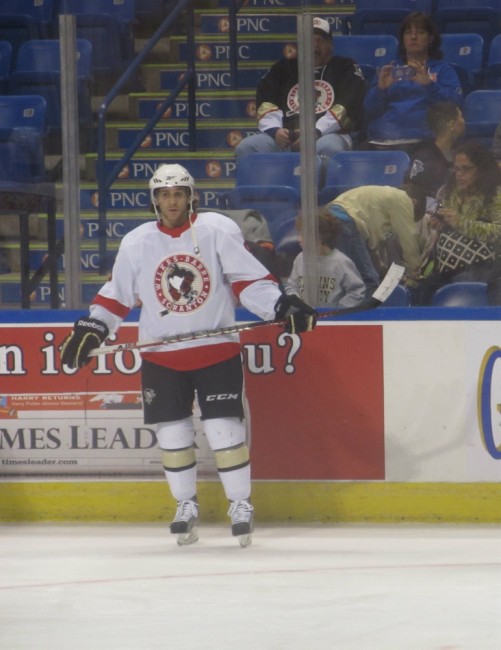 "I wasn't burying them for him last year," Megna said after an October game with the Adirondack Phantoms. "He's still feeding me. Finally, they're starting to go in. I'm happy for him."
If this keeps up, the AHL All-Star Game will mark the last time Gibbons is seen in a WBS jersey. In St. John's, he will have the chance to showcase his skills against other AHL stars like Travis Morin of the Texas Stars. It's not going to be an important game, but it's a good chance for anyone who wants to see exactly why he has made an impact with Pittsburgh.
There's no telling if Gibbons will stick in the NHL for the rest of the year, as Bylsma has not gone on the record about that.
Gibbons doesn't like to get ahead of himself either. He said after the Anaheim game, "I usually don't show a lot of emotion, but on the inside I'm pretty happy."
Hynes reiterated how far Gibbons has come:
"He's come together and now you see the complete package."