The Philadelphia Flyers were playing perhaps their best hockey of the season entering Saturday's matchup against the Tampa Bay Lightning.  Winners of nine of their last 11, the Flyers have proved to be one of the league's hottest teams as of late, especially at home – winning 10 straight at the Wells Fargo Center, dating back to Nov. 9.  However, that all came to an end during the afternoon bout.
After a high energy first period resulted in a one goal deficit, the wheels fell off for the Flyers and their defense in the second period, allowing four goals, two of which came after erasing a two goal lead the Lightning built up early in the second stanza.  While the first two goals Steve Mason let in were soft, he was hung out to dry on the other four, whether it was because of open ice passes or poorly-defended odd man rushes.  It was unclear if coach Craig Berube would send Mason out for the third period, or try to stop the bleeding.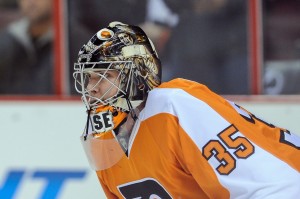 And as the players came out and prepared for the third, it was backup Ray Emery in net.
"I wasn't very good," Mason admitted.  "I wasn't able to come up with any big saves.
It was the worst loss of his career, which spans 41 games, since coming over last year from the Columbus Blue Jackets.  Allowing five goals on 17 shots is uncharacteristic of Mason, who has put together an excellent season – 18-11-4, .918 save percentage and 2.46 goals-against average.But after the game, fans and some media outlets alike wanted to place the blame on Mason – the Flyers players felt otherwise.
"We made a lot of mistakes," Flyers captain Claude Giroux said after the 6-3 loss.  "We left [Mason] out to dry a little bit.
Giroux finished the day with two assists, looking like a man-possessed in the first period and a half.  That might have been because he wanted to prove himself to Lightning GM Steve Yzerman, who just so happened to snub the 26-year-old on Team Canada, but the Flyers needed both offense and defense and the team really started to get away from the latter and its fundamentals.
"If you're not responsible defensively it's going to hurt us, hurt our team," he added.  "If we play good defensively, that's when we get our chances."
Other players shared similar sentiments to Giroux, believing that it wasn't fair to put the loss on Mason's shoulders and that the team needs to play better in their own zone.
"Well, we didn't help him," Wayne Simmonds admitted after the game.  "I think we played like garbage defensively.  We just have to get that defensive game back, back tight.
With back-to-back games this weekend, Berube decided to start Emery for Sunday night's nationally televised game in New York against the Rangers, though it didn't go quite as planned, with New York getting out to an early three-goal lead.  The short time off could give Mason a chance to put the disappointing performance behind him and instead focus on what is ahead, a stretch of four very winnable games against Buffalo, Nashville and a home-and-home with the New York Islanders.  Thankfully he'll soon have a few weeks off.