Death, Taxes, and Matthew Tkachuk finding himself apart of another controversy. It's no shock to Calgary Flames fans to see him in this position, but once again he will likely come out of it without a meeting with the NHL's Player Safety department. As soon as Toronto Maple Leafs' goalie Jack Campbell looked to be laboring it quickly became an issue of was it, or was it not a dirty play.
In the late stages of Calgary's 3-2 Sunday afternoon loss to the Maple Leafs, Tkachuk found himself in a scrum in front of the net and appeared to injure Campbell. He was battling for position in front when the Flames had the extra attacker on the ice, once the puck was covered he appeared to hit Campbell in the head with his knee.
Tkachuk is well known by players and fans as a pest in the league but that hasn't stopped him from playing the game he has become famous for.
The Reputation He's Built
If there is a scrum in front of the net it's probably a fair assumption that Tkachuk has started it or is right in the middle of it. He is one of a few players in the league who consistently plays on the line physically and it has both worked in his favor and not.
In the past, he has been rightfully suspended for dirty plays where he absolutely crossed the line and has injured other players. He was suspended for two games for his vicious elbow to the face of L.A. Kings defenceman Drew Doughty.
Tkachuk has also been suspended two other times in his career for stick infractions against the Detroit Red Wings and the Maple Leafs. Then who could forget last year's Battle of Alberta where the feud between him and Zack Kassian boiled over.
The moment became notorious after Tkachuk "turtled" on Kassian when he wanted to fight, but Tkachuk wanted to draw the penalty and get the power play, in which the Flames ended up scoring on. That's just a few of the antics that Tkachuk has found himself in over his career aside from the many net-front scrums after the whistle.
Even dad Keith Tkachuk has gone on the record of saying that oldest son Matthew has a "punchable face", adding to his pest-like characteristics. The role of the agitator is one Tkachuk has relished since he entered the league in the 2016-17 season. He has continued to be a pest on the ice but at the same time has been one of the Flames' top forwards. Since his rookie season, he only trails Connor McDavid in penalties drawn while being 20th in the league for penalties taken.
It's a Non-Issue if it's Anyone Else
"Are we really talking about this? Seriously?" head coach Geoff Ward asked during his postgame availability. "If that's anybody else, we're not even talking about it. Because it's Matthew Tkachuk, now it's an issue." Ward is right here, if it had been Andrew Mangiapane or Sean Monahan this whole debate on whether it was a dirty play or not probably doesn't happen.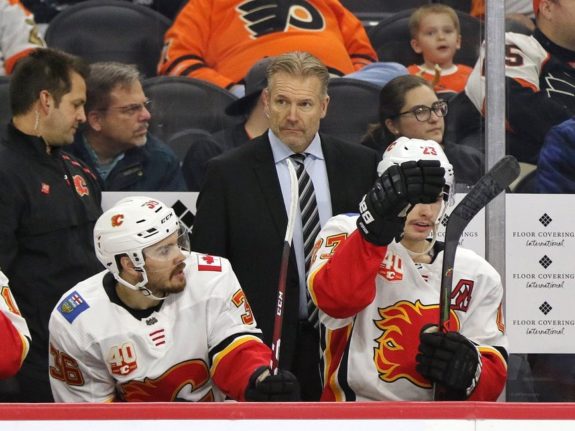 As soon as viewers saw a 19 in red falling on Campbell and him seeming injured, all preconceived notions were that there was intent to injure on Tkachuk's part. Any review of certain plays when slowed down can skew one's opinion.
Many fans were watching what Tkachuk's knees were doing but not many seemed to point out that he was battling with Leaf defenceman T.J. Brodie. Brodie seems to get under Tkachuk and throw him off balance where he ends up standing on one foot and then falling on Campbell.
Could he have tried a little harder to avoid the head area? Absolutely. Did it look like he had the intention of hurting Campbell in the final minute of Sunday's game? Absolutely not. "I didn't take it as anything really," Leafs' head coach Sheldon Keefe said. "I haven't thought about it or discussed it. It's a non-issue for me." (from Tkachuk, Flames deny ill-intent over play involving Leafs goalie Campbell, 01/26/21 Calgary Sun).
Tkachuk Not Fazed By the Critics
Questions came quickly after the game for Tkachuk, but he was quick to brush off any online debating of the play. "It's a good thing I don't listen to it. I just get asked about it from other people. Thank God I don't go on my phone too much after games, otherwise, it would drive me crazy. I know my parents do and it drives them crazy. It's just classic." he said postgame. Probably all for the better that he avoid the social media fanatics.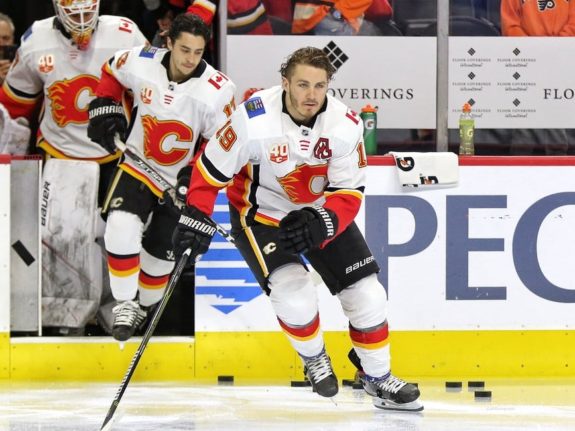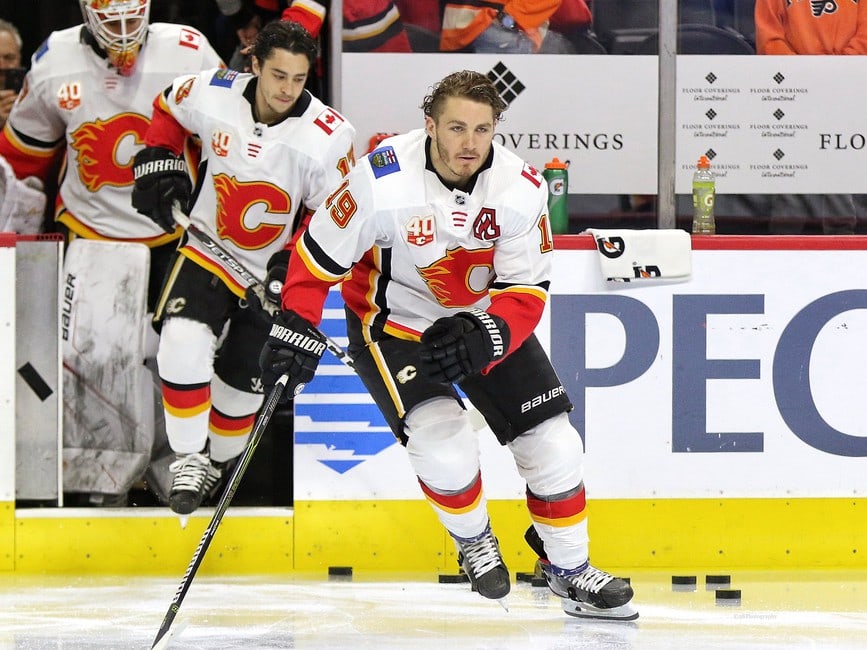 The comments made from both sides after Sunday's game indicates that there probably won't be any retribution from the Leafs on Tuesday night. The Flames will be looking to get back into the win column after coming up short on Sunday. Tkachuk will be looking to get into the Leafs' face and continue his superb performance since the beginning of the 2020-21 season.
---
---