The Minnesota Wild's goaltending situation has been a roller coaster ride the last few months. Before the season started, things looked good, their starter Alex Stalock looked poised for a great season. They had also locked up veteran Cam Talbot to a three-year contract back in October.
The Wild had two veteran goalies to rely on and all was well. Then in December, their plan started to unravel. It was announced on December 20th that Stalock had an upper-body injury and may miss the beginning of training camp.
In case he did have to miss training camp, the Wild jumped on the chance to sign another veteran goaltender, Andrew Hammond. Everything seemed stable once again but it wouldn't remain that way.
Talbot Out Equals Kahkonen In
The season began well with Talbot starting and young goalie Kaapo Kahkonen providing backup. Then just five games into the season, Talbot was injured during the first period of their first meeting with the San Jose Sharks. He did finish out the period and tried to come out to start the second but decided to sit it out which meant Kahkonen was in.
Thankfully for Kahkonen, he had the chance to get a game in when he started against Anaheim just two days before Talbot's injury. He snagged the win in that game and he was also able to seal the win when he came in cold for Talbot.
Kahkonen Proved His Worth
He first demonstrated his potential in the American Hockey League where he had two great seasons prior to joining the big leagues of the NHL. He was awarded the Aldege "Baz" Bastien Award for the AHL's most outstanding goaltender with 25 wins and a .927 save percentage in 34 games in 2019-20.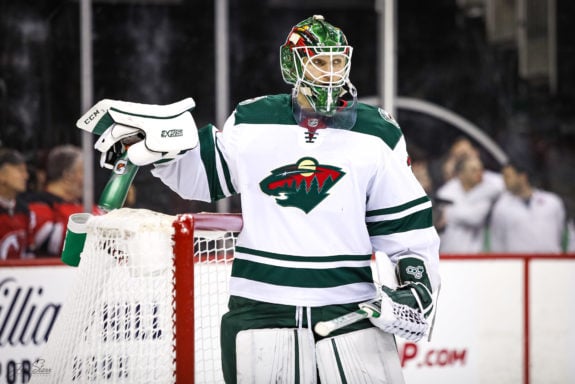 In the middle of his award-winning season, he got to dip his toes in the water at the NHL level when former Wild goaltender Devan Dubnyk had to take care of a family matter. He ended up playing in five games over the following few weeks including two games in a row.
Out of those five games, the Wild won three, lost one in regulation and the other in overtime. He made a total of 157 saves over those five games with an average of .913 save percentage. In the Wild's game against the Florida Panthers in December of 2019, he made an impressive 46 saves only letting in two goals. The Wild went on to win that game 4-2.
Temporary Starter Status
Performances like that are why the Wild were comfortable with having Kahkonen be the next starter with Stalock and Talbot out for an unknown length of time.
This season he's two and one in the three games he's played in. He's made 70 saves so far, almost half of what he did last season. Despite the 5-3 loss on Sunday against the Sharks, Kahkonen made 31 saves and kept his team in the game as best he could.
The 35 shots he faced from the Sharks are the most he's faced so far this season. He's at an average .921 save percentage, up slightly from his five games last season as well. He'll have even more chances to prove himself unless Talbot returns soon, which seems unlikely after the Wild called up taxi squad goaltender Hammond to be Kahkonen's backup. Depending on his next performance, he may be here to stay.
Kahkonen: The Next Niklas Backstrom
Wild fans remember Finnish goaltender Backstrom who swiped the starting spot from Manny Fernandez after he was injured back in the 2006-07 season. Backstrom became one of the best goaltenders in Wild history. Kahkonen hopes to follow in his footsteps and become the next great Finnish goaltender in Minnesota.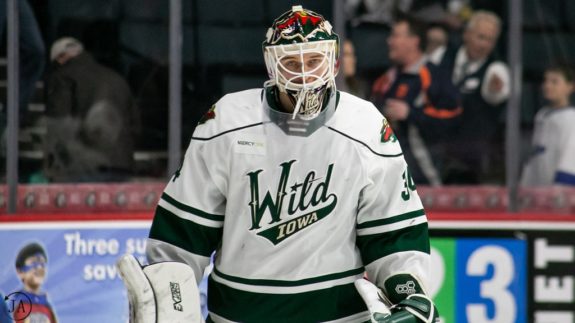 His story has started out similar to Backstrom's with Talbot going down with an injury and he came in hot with a win. To top off the win, he managed to shut out the Sharks, stopping all 17 shots he faced.
However, the following game once again facing the Sharks turned out a disappointing loss. Kahkonen will get a chance to redeem himself however with plenty of games in the near future and Talbot's return unknown at this time.
Final Thoughts
As disappointing as it is to lose Talbot this early in the season, and no one knows for how long, Kahkonen is capable and has proven himself in a short time. Despite the recent loss, he made some good saves early on. The defensive breakdowns in the second period made the game difficult.
Hopefully, he can shake the loss off quickly and be ready for his next start. The Wild begin a two-game series against the LA Kings on Tuesday. The Wild won the first two games of the season series in overtime but they can't underestimate the Kings.
---
---
Mariah Holland is a contributing Minnesota Wild writer for THW. She's been covering the Wild at THW since October of 2020 and specializes in game takeaways and weekly check-ins. She is always looking for different angles to cover the Wild and dig deeper into the stories surrounding the team to help fans connect on a more personal level and to keep an eye on the latest follow her on Twitter @MariahEStark.