Los Angeles Kings captain Anze Kopitar is a fantastic hockey player. He's a two-time Selke Trophy winner, a two-time Stanley Cup champion and a former Lady Byng recipient.
Related: Kings' Kopitar Aiming for Milestones in 2020-21 Season
Kopitar is mainly known for his two-way prowess, however, he's kicked off the 2020-21 season with a bang, playing at a similar level offensively to his fantastic 2017-18 season, where he finished third in Hart Trophy voting.
Offence
Kopitar has been simply incredible offensively this season. Although his lone goal came only recently, as it took place in the Jan. 24 drubbing of the St. Louis Blues, he has simply excelled offensively.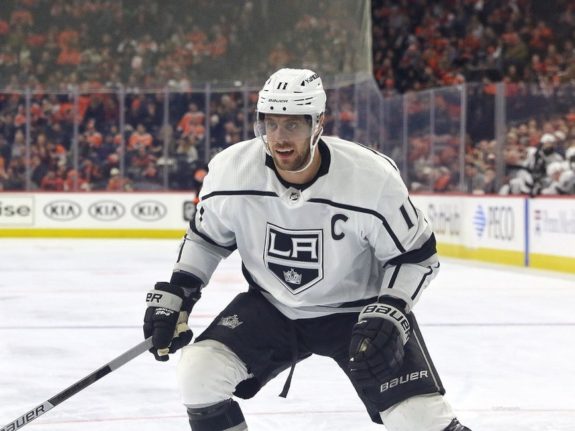 Kopitar's biggest asset has been his passing and vision through six games, as he currently has a league-leading nine assists. Buffalo Sabres' phenom Jack Eichel ranks second in the NHL with seven apples, although he has better linemates (Victor Olofsson and Taylor Hall) to dish the puck to than Kopitar.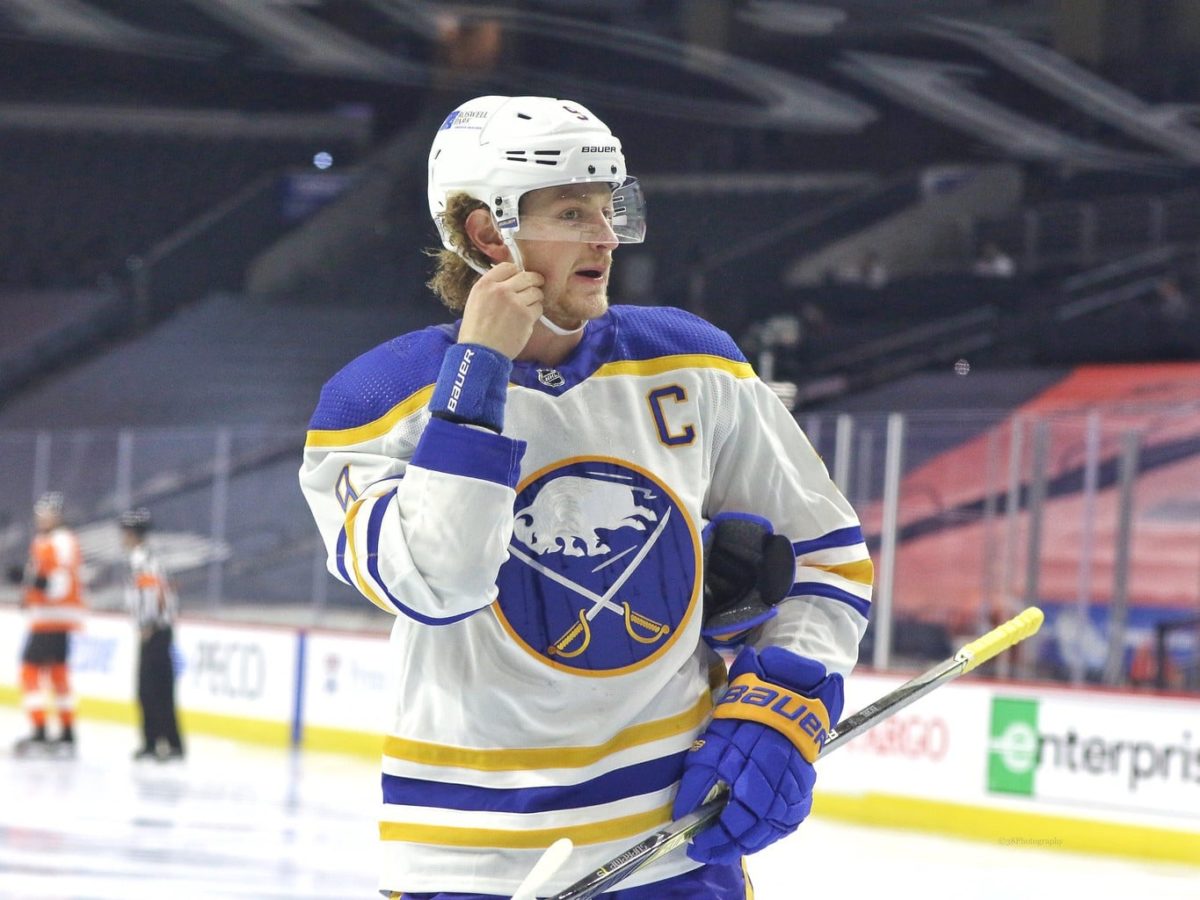 Kopitar's 10 points in six games played is tied for tops in the league. This is a three-way tie, which also includes Mitch Marner and Connor McDavid.
All three collected their 10th point on the same day (Jan. 24th). Marner was the first to do it, Kopitar was second to hit the mark and McDavid was the third; This reflects the order of the teams' games, as Toronto's game started first and Edmonton's was last.
Related: LA Kings Captain Anze Kopitar Adds an Emmy Award to His Trophy Case
Despite it being a tie for first, when you look at the caliber of each player's teammates, Kopitar's total is hands down the most impressive. McDavid is the best player in the world, but he has the benefit of skating with a superstar in Leon Drasital (who has nine points), along with having other first-line caliber players in Ryan Nugent-Hopkins and Kailer Yamamoto (both have six points) on the team. Marner is surrounded by talents such as John Tavares and William Nylander (both have seven points), along with superstar Auston Matthews (six points).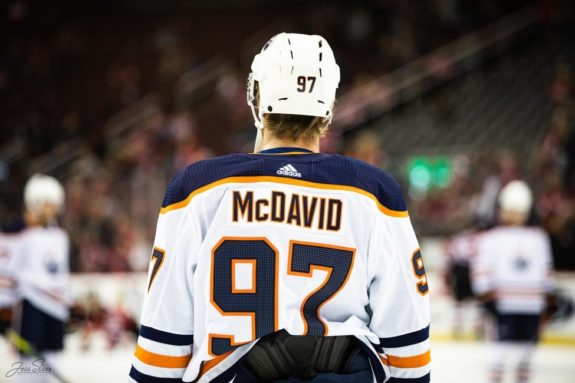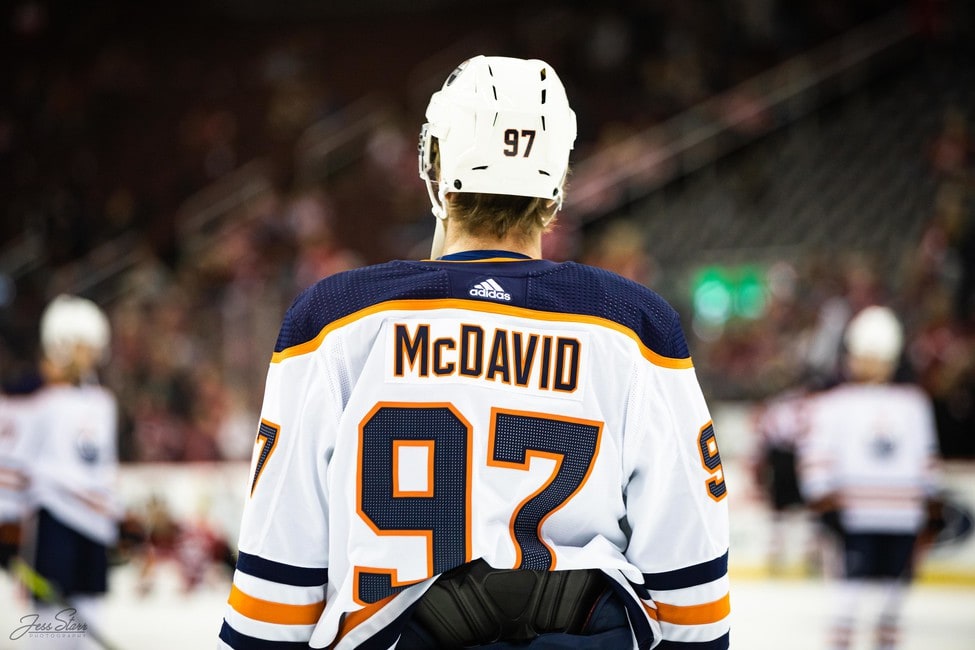 Meanwhile, Kopitar's next highest scoring teammates are Adrian Kempe and Jeff Carter, both of who have five points. Out of the league's top three point-scorers, Kopitar has been the most impressive. The only player who has been better offensively is Joe Pavelski of the Dallas Stars, who has an outstanding seven points in just two games played.
Defence
One of the hallmarks of Kopitar's game is that he personifies how a forward should play inside their own-zone. He uses his size to both get in the way of shots and to crush the opposition with jarring hits. He also is a face-off wizard and steals the puck often. For the most part, this aspect of his game has remained untouched.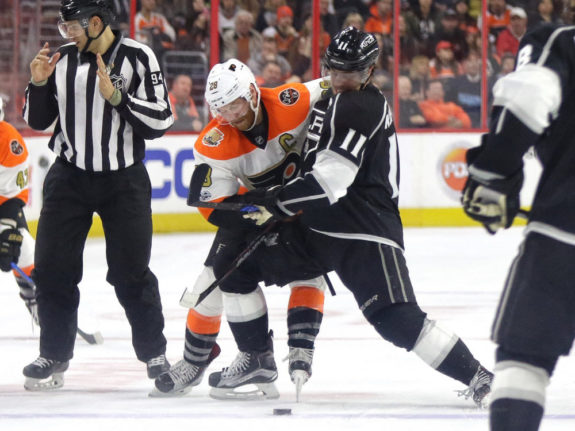 Kopitar has been blocked four shots in 2020-21. This is equivalent to 0.67 blocks per game, which is on par with his career average. His four blocked shots are currently tied with Mark Stone and Ryan O'Reilly, who are two of the league's other premier two-way forwards.
Related: Anze Kopitar's Ranking on the Top 20 Centers (Part 2)
Kopitar's hitting is actually well above how often he typically hits. He has thrown a punishing eight hits this season (1.33 per game), a much superior number to his career average of 0.95 hits per game.
His face-off wizardry has continued to impress in 2020-21. Kopitar has taken 130 draws so far this season; the sixth most in the league. His face-off win percentage (FO%) of 56.15 ranks 20th in the entire NHL. However, only two players (Sidney Crosby and Bo Horvat) who have lined up at the face-off dot have a higher FO% than Kopitar.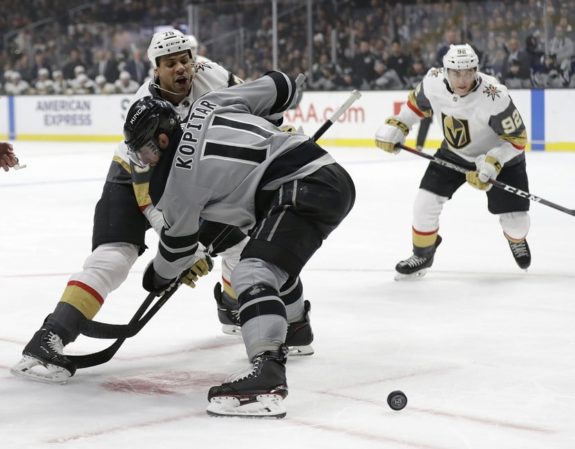 The only part of his defensive game that has taken a backward step is his takeaways and giveaways. Currently, he has six giveaways or one giveaway per game. The last and only time he's ever done this was way back during his sophomore season (2007-08). Additionally, he has a measly one takeaway (0.17 per game), a steep drop from his career average of 0.60 takeaways per game.
Underlying Numbers
Kopitar's underlying numbers are also extremely impressive. At even-strength, LA has a goals for (GF%) of 85.71% while he is skating, meaning they have scored 85.71% of the total goals during his time on ice (they have six GF and one against with him at even-strength). They also maintain a strong shots for (SF%) of 54.88 and a scoring chances for (SCF%) of 50 while he is playing.
Unsurprisingly, LA's power play has been devastating the opposition while Kopitar is on the ice. It has an 85.71 SF% and a 93.94 SCF%. This is much better than when he's not skating on the powerplay. The team's power-play totals are an 80.56 SF% and a 93.18 SCF%; meaning Kopitar's presence vastly improves the power-play unit.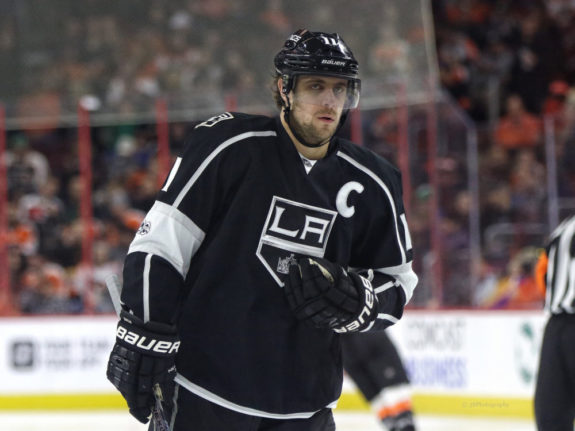 The penalty kill is where Kopitar has struggled the most. The unit has generated literally zero offense, having a zero in SF% and SCF% with him on the ice. It has also given up three goals with him on the ice.
Although it's not the penalty kills job to score, ragging the puck in the offensive zone can be an effective way to kill a penalty. However, LA hasn't even done this with Kopitar on it, as they have a Corsi for of 0%. Corsi measures any shot attempt including misses and blocks, meaning LA hasn't attempted a single shot with him on the penalty kill.
A Scorching Hot Start
Although Kopitar has struggled on the penalty kill along with his takeaways and giveaways, overall he has had a fantastic start to the season. He has been tremendous offensively, is playing well defensively, and expertly has controlled the pace of the game on both the powerplay and at even-strength.
Stats per: Natural Stat Trick, Hockey Reference, and Puck Base.
---
---
I am a lifelong hockey fan who will be covering the Los Angeles Kings and Vancouver Canucks here at The Hockey Writers. Before joining The Hockey Writers I spent two years blogging about hockey.
Feel free to follow my Twitter @TheRoyalQuinn or on Insta @thw_quinn for updates on when my newest articles are published.