Just 123 games into his young career, Matthew Tkachuk has 29 goals, 82 points, and 147 total penalty minutes. The sixth overall pick in the 2016 NHL draft has just eight less penalty minutes than the rest of the top 10 picks of that draft combined. Tkachuk has been coined a 'pest' by many around the NHL, but he is so much more than that.
Best of the Pests
As of January 24th 2018, Tkachuk has drawn 31 penalties this season. That's the top total in the league. Since the start of last season, he's drawn 78, also tops in the NHL. This season he ranks 49th in total penalty minutes with 42. But, if you look beyond the penalty minutes, the bumps behind the play, the chirping, Tkachuk is a highly skilled player. Many believe that Tkachuk is one of the most complete young players in the game. Tkachuk has it all in his toolbox. He's got grit, skill, great hockey sense, and plays with a wicked edge.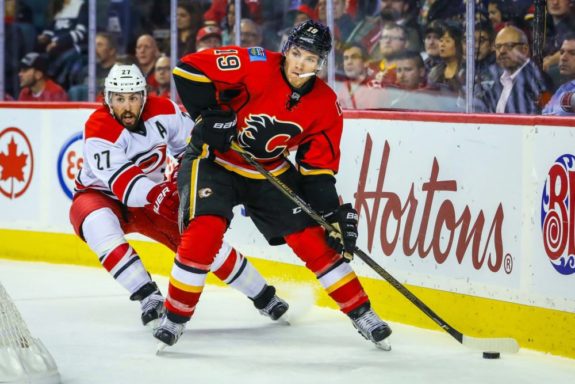 Tkachuk is a big part of the Calgary Flames organization, and has really started to make his mark in the league in just his second year. He has been a very stable piece on the Flames second line and has started to excel there, without the pressure of being a 'top line forward.'
Throughout the years, Tkachuk has always received high praise from former coaches and teammates about his grit and his skill set. Auston Matthews of the Toronto Maple Leafs, told Scott Wheeler in a post in The Athletic NHL,
"He's a pest but he brings a lot of skill to his game. He can make plays all over the ice, he's good in front of the net, and he's not afraid to go to the net which you see him capitalize on a lot," Matthews said of his former national program teammate. "He's just a guy that brings it every game. He's not somebody you have to worry about." _(from 'Flames' Matthew Tkachuk is more than a pest — he's also on his way to becoming a star', The AthleticNHL – 12/07/17)_
Tkachuk has played with plenty of players around the league in junior and at international competitions,  and many re-iterate what the Leafs centre has said.
Dating back to his two-goal night on New Year's Eve, Matthew Tkachuk has eight goals. Only William Karlsson/Evgeni Malkin (10) and Patrice Bergeron (9) have more. This while being an emotionally-invested, cantankerous pest every shift whose give-a-crap meter runs at 15 out of 10.

— Darren Haynes (@DarrenWHaynes) January 26, 2018
Tkachuk opened up about his aggressive play with Scott Oake and Louie DeBrusk on CBC's After Hours. He talked about lessons from his dad (former NHL'er Keith Tkachuk), battling hard and sticking up for his teammates, but not wanting it to takeaway from his offense. Still 2, 072 penalty minutes behind his father, Keith, Matthew has quite a bit to go.
Tkachuk vs Doughty
This is a very intriguing battle that has been going on for a while. As seen in every game between the Los Angeles Kings and the Calgary Flames, Drew Doughty does not like Matthew Tkachuk, and Matthew Tkachuk does not like Drew Doughty.
Tkachuk, a second year player, who started bugging Doughty as a rookie, has managed to get under the skin of one of the league's best defenseman. That is very impressive for a 20-year-old. Doughty was asked after their most recent battle if he thought Tkachuk was the most hated player in the NHL,
"I'm pretty sure he might be," said the Kings defenceman in a one-on-one interview with Sportsnet's Eric Francis late Wednesday. "I have lots of friends on other teams and they don't love him either. But whatever, that's how he plays.. "I have lots of friends on other teams and they don't love him either. But whatever, that's how he plays."
Getting under the skin of a divisional opponent, and a key piece to his respective team, is a great idea. Every time you play him, he's already on edge, and let's face it, the battle makes for must-see TV. The rivalry gives the team a spark, especially when the two start the game off with a big collision.   
Tkachuk is only at the beginning of what is sure to be a great career. The combination of grit and skill is one that not many possess, and one that gets lost is this era of the NHL. This combination is one of Tkachuk's keys to success now, and in the future.