We are just two little weeks away from the NHL Draft.
It's time to make our annual prediction as to who the steal of the draft will be. This season marks our fourth attempt at trying to identify the prospect that will go later than he should but will produce more than what's expected.
How have we done in our first three tries? It's a mixed bag. Our debut piece pegged Travis Dermott as the steal of the 2015 draft. That's looking pretty good to this point. He most recently cracked the Maple Leafs lineup in the playoffs and has been a cog in the Marlies lineup as they play for a Calder Cup.
In 2016, Will Bitten was our choice. He has signed with Montreal. He and the rest of the Hamilton Bulldogs won the OHL before losing a tough game at the Mastercard Memorial Cup. He's on a good path to eventually reach the NHL.
Last season, Markus Phillips was our choice. He helped Owen Sound get to Game 7 in the second round before losing an insane 9-7 decision to Sault Ste. Marie. Phillips put up a line of 10-29-39 while playing all 68 games, but his numbers decreased from his draft season. He currently remains unsigned after the Los Angeles Kings took him in the 2017 draft.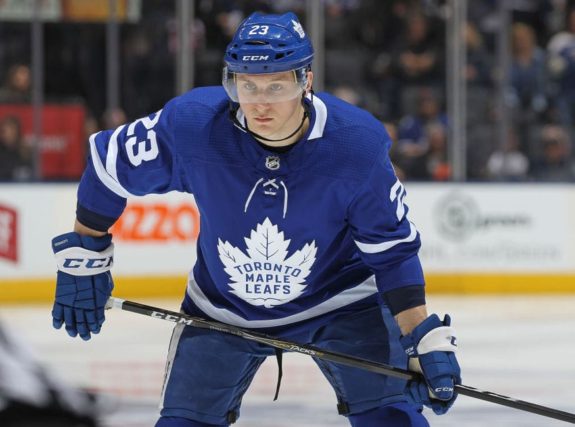 The Steal of the 2018 Draft
So onward we go. This season, I've identified a player that is getting very little press. He is a first-time draft eligible who was part of a trade midseason. The Owen Sound Attack needed a boost in their lineup. They completed a trade with the North Bay Battalion in order to get that boost. Overage center Brett McKenzie went to Owen Sound in the deal that saw our steal of the draft go to North Bay.
In reviewing our steal's profile and watching him live, I'm not sure why he's ranked so low. He's got a good set of tools that translates well to the next level. But what stands out to me is his primary point production.
Thanks to the CHL visuals developed by Colin Cudmore, I was able to confirm what my eyes saw. Our steal scored a bunch of primary points. In fact, he scored more primary points at 5-on-5 (32) than guys like Barrett Hayton (26), Akil Thomas (31), Ryan McLeod (27) and Ty Dellandrea (24), all of which could go in the first round. Who is our steal of the 2018 draft? Meet Matthew Struthers, ranked 124th on Central Scouting's final list.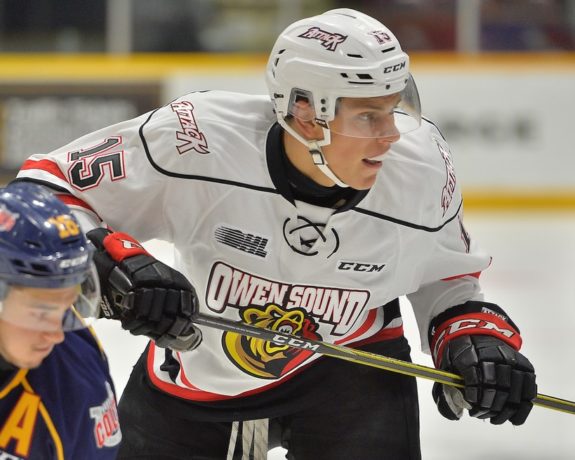 Scouting Matthew Struthers
So why did we settle on Struthers as our steal of the draft? Most mocks I've seen, including from our own Larry Fisher, have Struthers going in the very late rounds. For someone with his size, 6-foot-2 and 192 pounds according to Elite Prospects, he's a solid two-way center.
Immediately after the trade, Struthers went right to the Battalion top line. So he consistently saw the opposition's best every night. For the most part, he did well with it. Take a look at his final overall numbers.
With Owen Sound, Struthers finished with 9-9-18 in 32 games. After the trade to North Bay, Struthers improved his numbers ending with a line of 14-13-27 in 30 games, scoring a goal on average once every other game. Where he got my attention was in the playoffs.
Although his numbers weren't eye popping by any stretch, he finished with six points in five games against Kingston. What's even more impressive about his playoffs was that he finished +5. For a top-line center on the losing end of a 4-1 series, this is impressive especially against the talent Kingston had. This points to strong play at even strength. In fact all 23 of Struthers' goals came at evens this season, not a single power-play goal scored.
Struthers is a decent skater who isn't afraid to battle anyone. He's good at being in the correct position especially on the defensive end. He's dependable. Offensively, Struthers isn't afraid to drive the net and will find pay dirt in the form of greasy goals. But if he has to, he is a good passer.
Struthers can play in all situations including both special teams units. Where he does need to improve is faceoffs. He finished at 45.9% this season on over 900 draws. I certainly envision this being a point of emphasis next season.
In Conclusion
If I've learned anything over the years watching the OHL, it's that Stan Butler is an amazing coach that gets the most out of his players. Butler is a defense-first coach. You can count on Struthers getting even better on the defensive end while rounding out his overall game. Want an example of a player in the NHL who played for Butler who went later in the draft? See Amadio, Michael.
We're not talking about an early pick here. We've got a player who's projected to go late that I think is an NHL player eventually. If you get an NHL player at the cost of a sixth or seventh, you got a steal. It's for these reasons Matthew Struthers is our 2018 steal of the NHL draft.