This season Alexa Aramburu is one of two players (Rebecca Morse) on the Metropolitan Riveters from the state of New Jersey, but it wasn't exactly a dream of hers growing up to play for a pro team in her home state. The 23-year-old from Glen Rock dreamed of playing in another league simply because the NWHL was just getting started while she was at the onset of her collegiate career at SUNY Oswego.
But she definitely had aspirations of continuing to play the sport she loves once her time in college was done. "Yes, I did. Originally I had dreamed of going to play in the CWHL for Toronto and I wanted that since my sophomore year," Aramburu told The Hockey Writers following a recent Riveters home game.
Aramburu's Achievement
"That was just my goal, that's where I wanted to go. So last year when I tried out for Toronto and I made the team everyone was like: why aren't you playing for the Rivs (in NJ)? Why are you up here? And I told them that my goal was to play in Toronto, and then the NWHL had started up but I still had my mind set on that goal. So I had to do it, I had to complete it. That's why I ended up in Toronto because that was just something that I felt that I had to do and I had to prove to myself that I could do it."
Here are all 13 players we selected in the 2017 #CWHLDraft. Looking forward to starting the season in our quest for the Clarkson Cup. pic.twitter.com/LeXRmq9kws

— #StickTogether (@TorontoCWHL) August 20, 2017
She certainly achieved that goal, playing in 28 games for the Toronto Furies last season. Now six games into her NWHL career one thing Aramburu has noticed is that the competition inside of the two professional leagues isn't much different at all.
"I think it's going pretty well," she replied when asked how her first season in the NWHL is going. "The leagues are pretty similar so in that regards it was an easy transition I'd say. The competition is all very good, you're going to have a tough game no matter who you face. No matter how prepared you are, you just have to grind down and get to it. It's been easy transitioning, but it's still tough."
"It was kind of a challenge at first (adjusting to new teammates) but we've gelled pretty quickly. I work (a day job) with a couple of my new teammates so that helps, being with them outside of hockey. Practices, late nights together — we're all kind of close as a team so it's good and that helps off the ice. On the ice we just have to transition that and come together, I think we'll get there," said Aramburu.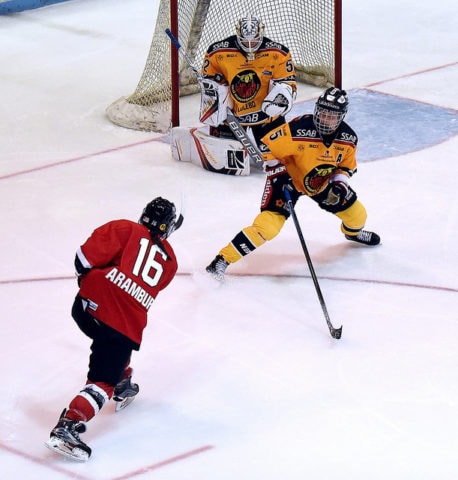 Memories and Making Friends
Most, if not all of the Riveters (and women throughout the NWHL) have jobs outside of the rink. It's hard to imagine any others have a job as unique as Aramburu and her teammates Kristin Lewicki and Audra Richards do. The trio all work at Bury the Hatchet, a place where people pay to throw axes at targets in New Jersey. "It's been fun," Aramburu said while laughing. "It's obviously different, so it took a little while to learn the technique but it's fun. It's a good time."
Last season with Toronto, Aramburu go to know her teammates pretty well as they had a trip to China to play games against the newest CWHL teams early on in their season. Talk about a team bonding trip! Sometimes hockey takes you places that you never planned on traveling to.
"It was interesting. The travel there took like 26 hours, the time change is like a half of day ahead, so it's like 16 hours on the plane," she said. "Everything was different there, almost no one spoke English so it was tough. But it was really fun to kind of figure things out with your team – a huge team builder, it helped us a lot."
Alexa Aramburu puts the Lakers up 1-0 over Cortland. pic.twitter.com/t4MpsR6GbP

— WTOP-10 TV Sports (@WTOP10Sports) November 13, 2016
Finding food that was familiar wasn't too much of a challenge as Aramburu explained to us. "They did have a McDonald's, probably not the healthiest choice but you could always count on it," she said with a grin. "They actually made meals for us at the hotel – stuff like pasta, salads, and that kind of stuff. When they didn't have that they had a breakfast buffet so we got to choose what we wanted. There was always some type of rice, bread, eggs; that kind of stuff. We were able to pick what we wanted. They did have some wacky stuff that some people did try, but I stayed away from it."
"They did have McDonald's though and we went there a couple of times."
She really enjoyed her time in the CWHL, and not only for the on-ice experiences but for the friends she made off the ice. Friends that she'll always have a bond with. Something that she is in the process of duplicating while playing in her home state for the Riveters.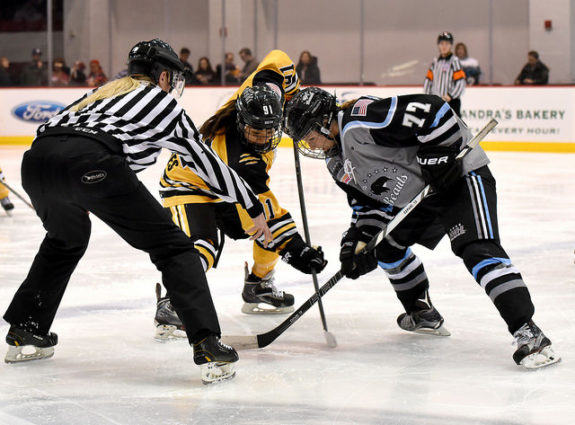 "It was great playing for Toronto. I lived in Buffalo during the season and I had a teammate, Hayley Williams, that also lived there and we commuted together the hour and forty-five minutes to Toronto and back. That was good and we became really close friends because that was a lot of time in the car together," Aramburu said. 
"Our very first road trip with the Marlies at the beginning of the season was to China, that really helped us gel as a team. After that trip, we were a family right away and that helped build our team chemistry a lot. It was kind of the same thing here with the Riveters first road trip opening weekend to Minnesota, and with a slow start to get our season going, so I'm familiar with it."
Proud Riveter
The Riveters are obviously coming off of a championship and Aramburu is trying to blend in seamlessly to the culture that they have established. She said it wasn't awkward at all watching them raising their championship banner during the first home game this season. Just the opposite in fact.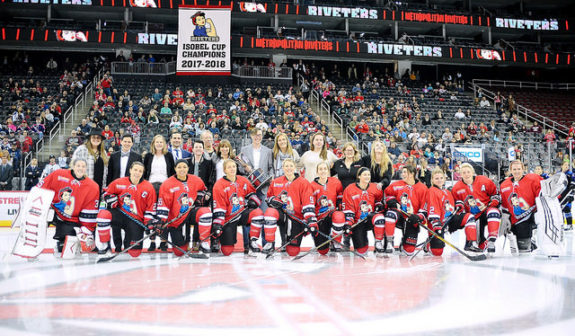 "I think since I was in a different league I was kind of just proud," she admitted. "Proud to wear the jersey that they won in last year. They showed so much heart and it continues on into this year, even though the results aren't going as well as we had hoped. But I think we still have time to turn it around and have a great season."
One of the adjustments when a player starts playing professional hockey is seeing fans walking around with your name and number on their back. Family members probably expected, but total strangers? That's a different ballgame for players like Aramburu as she told us.
"It's amazing. I love seeing that someone went out of their way to buy a shirt with your name and number on it. That's just a great feeling and really cool to see. I've never really thought of having fans who would buy that and not even know me. It's a new feeling, it's cool though. I like it," she said while grinning ear-to-ear.
Jersey Strong
Like most hockey players, Aramburu's career path has been influenced by her older sibling. "I have an older brother (Stephen) so I started playing because I wanted to be exactly like him when I was younger. I asked to get put in skates and started playing because of him," she explained.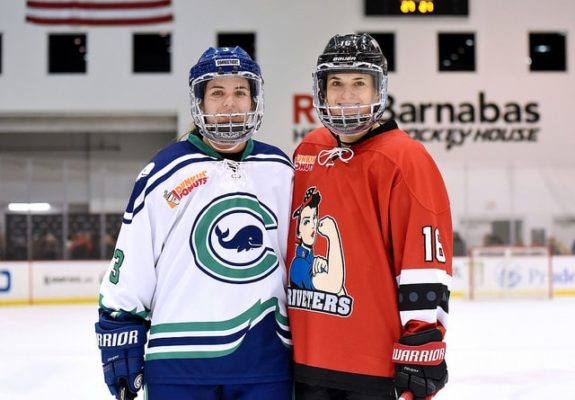 "My dad has coached me through every sport that I've played off the ice. I've had other coaches on my teams but he's always been my coach off the ice. They put me on skates, coached me up and I stuck with it up til now obviously. I grew up playing with Kayla Meneghin (from Clifton, New Jersey/ now plays for the Connecticut Whale), when we were 10-years-old I think, we got on to the same team and it's been a ride with Kayla, which has been nice. Now we're in the same league!"
Meneghin and Aramburu played their first game against each other as professional players on November 18 and the following weekend Meneghin scored her first pro goal in New Jersey. Aramburu was pointless for the Furies last season but picked up her first pro point/assist on October 21, also a game in New Jersey.
For Aramburu it's not all about points though. It's about effort, and never giving up. Something she learned at an early age and has carried with her ever since. "In college, my main thing was just to win battles and work really hard in the corners. Try to get pucks to the net. I think I grew from college until now, always working on that in practice, trying to win those 50/50 battles," she told us.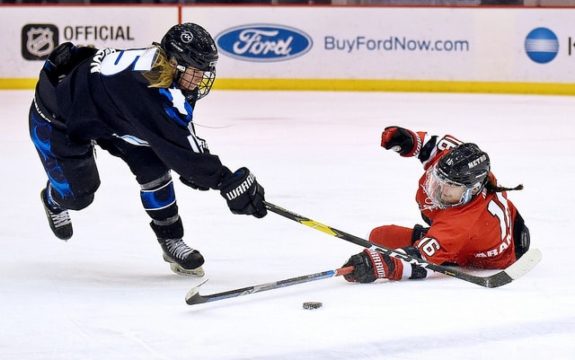 "Trying to play as hard as I can all the time, no matter what. Doesn't matter the score, doesn't matter anything; if you go out there and give it your all, then you're going to be successful. I have always played by the quote from my dad who says: treat every practice like a tryout, you never know who's watching. I just go out there and do that all the time and I've progressed from club hockey to college until now by doing that."
It's been an interesting journey but Aramburu is back home in New Jersey now, playing for a professional team. Something that wasn't possible a handful of years ago. Now she's inspiring others who may follow in her footsteps and become NWHL or CWHL players someday.