The 2014 NHL offseason was the start of a new era for the New Jersey Devils. With franchise goaltender Martin Brodeur left unsigned, Devils management focused on adding offense to their arsenal. After retaining future Hall of Famer Jaromir Jagr for another season, general manager Lou Lamoriello brought in San Jose Sharks castaway Martin Havlat, feisty winger Jordin Tootoo and two-time 80-point scorer Mike Cammalleri.
New Jersey's additions became part of a roster that boasted 14 players who are 30 years or older (became 15 players with Scott Gomez aboard). It was a veteran-laden team that pretty much left little to the imagination in terms of production output.
However, the Devils have left more to be desired this season. A lack of scoring (average of 2.18 goals per game; third-worst in the NHL) and a barrage of shots against (average of 30.6 against per game; eighth-worst in the League) have led to the Devils sitting nine points out of the final playoff spot with just 20 games to go. The lost season has made the Devils sellers, as they have already moved Jagr to the Panthers for some draft picks.
The team's biggest trade chip may still be on the roster, though.
Cammalleri, 32, reached the 20-goal plateau for the sixth time in his career when he tallied two goals, including the game winner, on Feb. 20 against the Vancouver Canucks. He scored another two goals just three days later in a 3-0 victory against the Arizona Coyotes.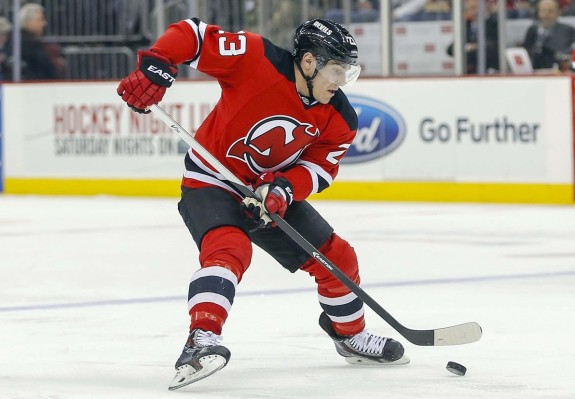 Doug Stolhand of the Puck Podcast, the highest-rated hockey podcast on iTunes, probably said it best.
"All (Cammalleri) does is score goals consistently," he said on the Feb. 24 episode. "If somebody doesn't make a move to get him at the deadline, they're idiots. He would be a perfect addition to any playoff-caliber team."
The Richmond Hill, Ontario native has four years and $20 million remaining on his current contract ($5 million cap hit). Judging by others in his price range, Cammalleri would provide any buyer with a bargain. The only worry for teams, though, is if he will remain as consistent in four years time.
Where does Cammalleri fit?
Several teams would love to add a scoring left winger into their mix. As Lyle Richardson of The Hockey News suggests, the Nashville Predators could use a top-six winger to bolster their lineup.
Cammalleri would add some major depth to the top team in the Central Division. He could slide in on the team's second line, bumping Craig Smith to his more natural right side with Mike Fisher remaining as the pivot. Matt Cullen could drop to the team's third line and battle it out with Colin Wilson, Calle Jarnkrok and newcomer Mike Santorelli for a steady position in the top-nine group.
However, David Boclair of the Nashville Post suggests that Nashville general manager David Poile is "done" after the big trade with Toronto two weeks ago. An opportunity to land someone of Cammalleri's caliber would no doubt throw a wrench into that stance, though.
Another trade partner could exist in the Boston Bruins. Having lost first-line center David Krejci for up to six weeks, the Eastern club that's clinging onto the final playoff spot could use some help up front. Although he doesn't provide the same tenacity as Krejci, his scoring touch and ability to control valuable power-play minutes would be a plus to the Bruins' offense.
[See related: David Krejci's Injury: Rallying Cry or Death Knell?]
Let's not forget the Minnesota Wild. Scraping together points in 14 of the last 16 games, the Wild have changed their destiny as of late as they have moved from outside of the playoff discussion to right to the thick of things (currently holding onto the final playoff spot). Adding another player who can fill in on the first or second line could secure a postseason berth to cap off an amazing end-of-season run.
The money works out, too, as Cammalleri's cap hit ($5 million) fits well beneath the Wild's ceiling (about $5.7 million remaining).
However, given his current contract, the Devils could decide to hold onto Cammalleri, the 49th overall pick in the 2001 NHL Entry Draft. If the Devils believe playoffs are in their not-too-distant future, he would be a valuable asset going forward.
Lamoriello has just over 24 hours to decide on Cammalleri's future.
I am a former NHL media member and reporter for the St. Louis Blues, working for various media outlets. Currently, I am an NHL News Writer and Editor for The Hockey Writers. I live in St. Louis and work as a freelance copywriter in numerous industries.