It feels like it has been raining in Minnesota since about mid-December. The old adage that 'when it rains, it pours' just doesn't quite cover it when it comes to the way that the Wild's season has gone. It's been monsoon season ever since December for this franchise, but there is hope, that the parallel will hold, and that this team will be re-invigorated with new life before they take the ice in 2012-13. Charlie Coyle and Mikael Granlund have both enjoyed excellent seasons and could be contributors in the NHL as early as October. Matt Hackett has made excellent progress, and has impressed in his brief NHL appearances, and the blue-line is generally young and developing. Minnesota is a hockey market, and it's about time that this organisation started to exploit it. One immediate, and potentially important decision for GM Chuck Fletcher to make is what to do about Josh Harding. Fletcher surprised many by not trading his cheap, pending UFA goaltender. This article will argue that he now has little choice, Minnesota should re-sign Harding.
Firstly, it may seem overly gloomy to be talking about next season already for the Wild. However, a quick glance at the NHL standings tells the whole story. The Wild may only be seven points off the pace, but eighth place has two games in hand, and they will need to overtake five strong teams in a span of 16 games if they are to make the postseason. It is extremely hard to see a team that is dealing with key injuries to top forward Mikko Koivu and top goaltender Niklas Backstrom pulling that off.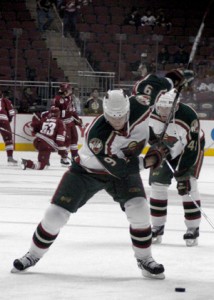 Minnesota's incredible slide from mid-December onwards should have given Fletcher all the evidence he needed that this team just wouldn't be able to compete for a playoff spot. The offense has seriously struggled and despite coach Mike Yeo's best efforts, it is has been clear for some time now that this roster just doesn't believe that it can win on a regular basis. It is surprising then that Harding wasn't traded. The 27-year old has been enjoying arguably the best season of his career posting a .912 save percentage and 2.78 GAA. It's quite possible that he will get over-paid on the free agent market, and the Wild may not be able to find common ground for a player, who probably won't be a full-time starter in the NHL for an extended period of time. Harding is a good goaltender, but he doesn't have the raw talent to start 60-65 games per season for a successful NHL team. The problem is that he will want a big raise on his current $750,000 salary. It's difficult to take, but Minnesota should re-sign Harding.
This franchise cannot afford to let such a potentially valuable asset walk away. Fletcher will know that Hackett is this team's goaltender of the future, but there is no need to rush one of the organisation's top prospects. Backstrom and Harding have shown that they can be an effective tandem, and it's quite possible that in that role, Harding could maintain his value and be a trade asset in the near future. Equally, the team may consider trading Backstrom down the line if it has confidence in a Hackett-Harding duo.
Minnesota should re-sign Harding because it is incredibly bad practice to waste assets, and it is a bad practice that this organisation has been all too often guilty of. Harding was the Wild's first goaltending draft pick selected in the second round in 2002. The franchise has groomed him and developed him slowly and he clearly likes the city and the organisation. Fletcher missed a good chance to acquire value for his asset at the trade deadline, though the back-up's own injury won't have made that any easier. However, now that the goaltender is still with the team, Minnesota should re-sign Harding. There is nothing wrong with making Hackett work very hard for his opportunity, and when he earns it, the Wild want to be in a position where they have a choice of goaltenders to move. Allowing Harding to walk will seriously damage this team's ability to do that. The salary cap is an ever present shadow looming over GMs all around the league, but it's still hard to imagine Harding demanding the sort of raise that would leave Fletcher completely hamstrung.