Last season, the Minnesota Wild finished fourth in the Central Division and had their second-best season in franchise history. The Wild advanced to the second round of the NHL playoffs for a second year in a row.
Unfortunately, the Wild would lose again in the second round of the 2015 Stanley Cup Playoffs to the eventual Stanley Cup champions. Wild fans were disappointed with the way the season ended.
Disappointing finish aside, there's a lot to be positive about.
Moving into the 2015-16 season, some questions still remain for the Wild. Due to the Wild's precarious salary cap situation, they didn't add any high-priced free agents during the offseason.
Offseason additions or not, there's no need for Wild fans to panic.  With the Wild's returning players and the prospects in their system, the Wild should be fine in 2015-16. The Wild's lineup is made up of exciting young, talented players ready to break out and play a bigger roles in 2015-16.
Moving forward, the Wild suffered their share of adversity during the 2014-15 season and they need to avoid the midseason melt down if they want to remain near the top of the Western Conference standings. Based on their returning players, the Wild should be solidified in all three zones on the ice.
2014-2015 RECORD: 46-28-8 (.609) 100 points
NHL: 11
Conference: 6
Central Division: 4
KEY ADDITIONS:
D Mike Reilly
D Tyson Strachan
KEY LOSSES:
F Matt Cooke
F Chris Stewart
F Kyle Brodziak
FORWARDS:
Projected lines: 
Zach Parise – Mikael Granlund – Jason Pominville
Jason Zucker – Mikko Koivu – Thomas Vanek
Nino Niederreiter – Charlie Coyle – Justin Fontaine
Ryan Carter – Erik Haula – Jordan Schroeder
Looking at the Wild's forwards, they're a talented, disciplined group of forwards that like to dictate the pace of the game with their up-temp style of play.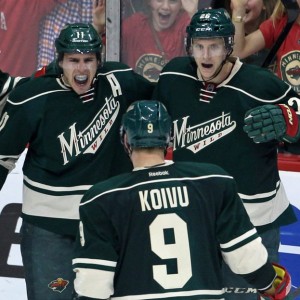 Veteran forwards, Mikko Koivu, Zach Parise, Jason Pominville, Thomas Vanek lead the Wild's forward group. All are healthy and expected to be ready to go at the start of training camp.
The Wild use a relentless, fierce forecheck to take away their opponents time and space away.
This style of play fits the Wild's younger players like Jason Zucker, Charlie Coyle, Nino Niederreiter. This trio of players could be the key to the Wild's success in 2015-16. All three players are fast skating, offensive-minded players that cause havoc when they get behind the opposition's defenders.
All three forwards are coming off career years and could be ready to take the next step and play bigger roles. Wild GM Chuck Fletcher thinks that their younger players are ready.
"There's no sense boxing these young kids out, they're ready," Fletcher said. "They all deserve an opportunity to grab more ice time and get a bigger share of the pie."
DEFENSE:
Projected pairings:
Ryan Suter – Jonas Brodin
Marco Scandella – Jared Spurgeon
Mike Reilly – Matt Dumba
Nate Prosser – Christian Folin
One of the Wild's main strengths is their team defense. Based on their team statistics. The Wild are one of the better defensive teams in the NHL. Last season, the Wild finished sixth in the league in goals against and goals against per game. That wouldn't be possible without the Wild's solid goaltending and defensive play.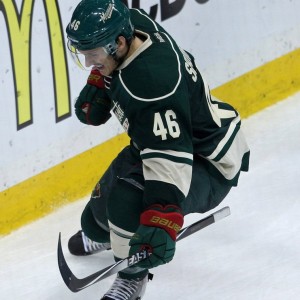 The Wild defense gave up the fourth least shots in the NHL averaging 27.6 shots against per game. Two of the teams that finished ahead of the Wild were in the Central Division (Chicago and St. Louis).
The Wild 's d-core has a fair amount of depth. Last season, not a single Wild defenseman played in every game. During the 2014-15 season, the Wild used nine different defensemen. Defensemen Ryan Suter 1653 minutes and Jonas Brodin 1404 minutes chewed up the majority of the minutes for the Wild. Jared Spurgeon and Marco Scandella were the second most used pairing.
One area of excitement, Matt Dumba, who emerged as one of the Wild's up and coming young defensemen. Dumba is an offensively gifted, electrifying defenseman that can help lead the rush up ice. In 58 games, Dumba scored (8g-8a—16pts).
Newcomer Mike Reilly, Nate Prosser and Christian Folin should challenge for time as the Wild's sixth defenseman in their third pairing.
GOALTENDING:
Devan Dubnyk
Darcy Kuemper
Niklas Backstrom
The Wild start the season with three goalies on their roster. Devan Dubnyk who went (27-9-2, 1.78 GAA and .936 SV%) for the Wild last season was re-signed in the offseason. Dubnyk is expected to be the Wild's starting goalie during the 2015-16 season.
Fourth-year goalie Darcy Kuemper is expected to be the Wild's backup goalie in 2015-16. While Kuemper (14-12-2, 2.60 GAA and .905 SV%) started last season hot, he was erratic at best during the middle of the season.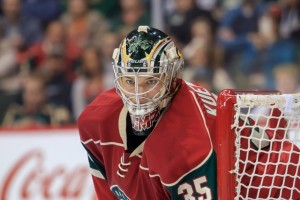 Even with the erratic season, the Wild still have high expectations for the 25-year-old Saskatoon, SK, native and are also comfortable with him in the backup role.
Minnesota Wild General Manager Chuck Fletcher is standing behind his young goaltender.
"He's a young man, and two seasons ago he had a tremendous year," Fletcher said. "Last year, he was certainly more erratic. He started well and had a tough stretch in the middle of the year… "But he's just turning 25, he's got great size and athleticism, and we feel he's a guy that can win games in this league. He has won games in this league. He won a playoff series against Colorado where he was the No. 1, goalie."
Veteran goalie Niklas Backstrom suffered an elbow injury last season and had offseason surgery to repair it. The Wild were going to buyout Backstrom's contract, but couldn't because he was injured. Backstrom isn't expected to see a lot of ice time for the Wild this season.
Backstrom has since recovered from his offseason elbow surgery and is healthy going into training camp. Further complicating the Wild's goaltending situation. There're not a lot of options for an oft-injured goalie that's due to make 4 million this season. Backstrom's future is still up in the air, but things should become clearer as we get closer to the start of the season.
BREAKOUT PLAYER:
As I mentioned in another post, Mikael Granlund is a dynamic, offensively gifted young player. Last season, Granlund set a career high in points (8g-31a—39pts), that was good for fifth overall in team points for the Wild.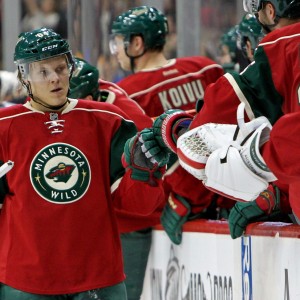 Durability has been Granlund's problem. The Oulu, Finland native has missed 33 games the past two seasons due to injury. Granlund started the 2014-15 season slowly, but caught fire later in the season. Granlund scored 9 points in his final 12 games. If Granlund can stay hot, and stay out of injury trouble, he could have a breakout season.
PLAYER WITH MOST TO PROVE:
The 2014-15 season was not kind to Wild captain Mikko Koivu. It was a season he would probably like to forget.  Koivu was plagued by inconsistent play and was up and down season. Koivu started the season slowly, scoring (2g-1a—3pts) in his first 15 games.
From January 15 – February 18, 2015,  the Wild began their mid-winter resurgence, Koivu would score 13 points in a 13 games. Later in the season, Koivu would go seven games without logging a single point.
When Koivu was struggling and going through a rough patch, some Wild fans suggested having his "C" removed from his uniform.
During the 2014-15 season, Koivu scored (14g-34a—48pts). Koivu's (.60) points per game average were the lowest since his rookie season (.32) in 2005-06. In his previous nine seasons, Koivu averaged .78 ppg.
Koivu ended the regular season with a bit of a cold spell. During the last six regular season games, Koivu scored (0g-1a—1pts).
During the 2015 Stanley Cup Playoffs, Koivu didn't play much better scoring (1g-4a—5pts).   Much like his teammates, Koivu was ineffective and failed to produce in the series against the Blackhawks scoring (0g-1a—1pts). Based his play last season, Koivu has a lot to prove this season. Look for Koivu to improve on last season's numbers.
SEASON OUTLOOK:
The Wild are a team on the rise. While the Wild didn't add any high-priced free agents during the offseason, they return a majority of their core players that went 46-28-8.
The Wild's promising young players are another year older and ready to make a bigger contribution to the Wild's offense. If the Wild's younger players can increase their contribution to the Wild's offense they can improve on last season's 12th ranked offense.
Last season, Dubnyk rescued the Wild's 2014-15 season. During the Wild second half resurgence, Dubnyk started 38 games in a row. If the Wild are going to be successful in 2015-16, they're going to need one of the two remaining goalies to step up and play 20-30 games. Dubnyk can't play every game, the Wild need to find a suitable backup, goalie.
Most likely, that goalie is Kuemper, who was erratic at times, but did show us glimpses of greatness. Dubnyk can't play every game. If Kuemper can develop into a reliable backup, it would give Dubnyk needed time off.
If the Wild want to take their game to the next level, they're going to need to improve on the power play. Last season, the Wild's power play was ranked 26th overall in the NHL. If the Wild can improve on their power play numbers, they would go a long way in proving they're an elite team ready to break out.
Eric is a 1996, 1999 graduate of the University of North Dakota. Eric covers the University of North Dakota Hockey and Division I college hockey. Eric is the Contributing Editor for Inside Hockey.