Since their typical first-round exit from the playoffs this season, the Minnesota Wild have been quiet. There has not been a single signed player or trade announcement even though between the NHL and American Hockey League (AHL) teams the Wild have eight restricted free agents (RFA) and ten unrestricted free agents (UFA), with only 15 players on their NHL roster for next season. 

While a large chunk of the UFAs are not expected to be returning next season, many of the RFAs are, and a lot of fans thought some of the bigger names would be signed by now (looking at you Filip Gustavsson). A recent interview with Judd Brackett, the Wild's director of amateur scouting, may have provided some insight into their philosophy heading up to the draft. He had this to say:
Trade up, trade back, where the markers are on our list. Which player we'd consider moving up for? Which player (do) we want to hold out for? If we feel we exhausted a strong top tier of our list, maybe we'll move back. We have to play it all out…It's an exciting week, and the more scenarios we walk through, the more prepared we are.

– Michael Russo and Joe Smith, The Athletic, Judd Brackett Q&A: On Marco Rossi, moving up in NHL Draft, past Round 1 picks, search for elite centers, 21/06/2023
The way the Wild appear to be looking at it, in this draft year especially, anything is in the realm of possibility. The sheer bulk of talent available means that they could be moving up, moving down, trading RFAs, trading picks, and maybe even trading roster players depending on which of their projected scenarios plays out. By pushing signings back until after the draft, they leave all those windows open.
Wild Love Making Picks
As of right now, the Wild hold a total of six picks over the course of the seven rounds, a first, two seconds, and then nothing until the fifth, sixth, and seventh rounds. Despite having one of the best prospect pools in the entire NHL, the Wild are not one to trade away picks. They have made at least seven selections in four of the last five drafts, with three of those years actually being eight picks total.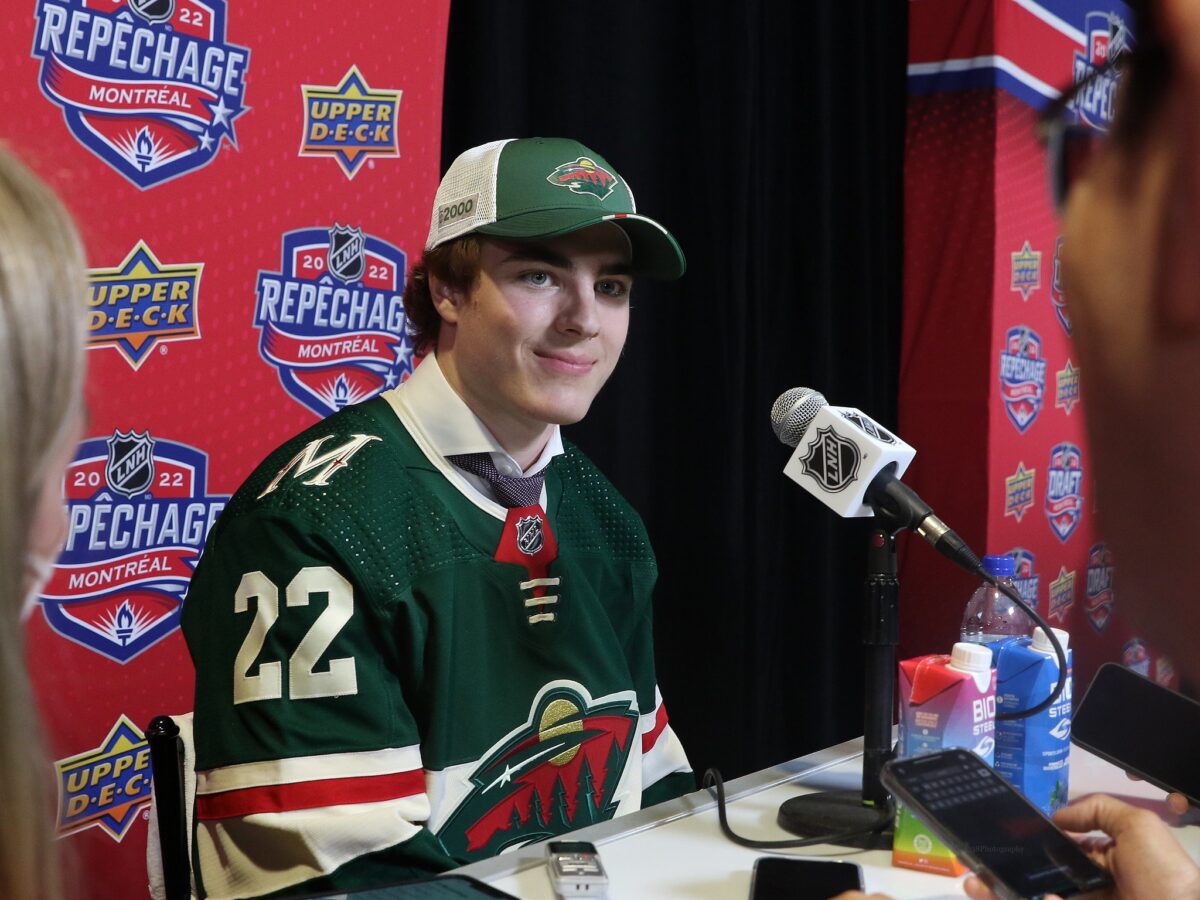 By now it has been said countless times that this draft class has the potential to be one of the best to ever exist. It is incredibly deep, so Brackett and the Wild are no doubt clamouring to try and collect as many picks as they can. It should come as no surprise if they start moving around the board and making trades to try to get on the clock a couple more times.
Related: Wild's 1st Round Needs & Targets at the 2023 NHL Draft
---
Latest News & Highlights
---
While the prized players are obviously going to be taken in the first or second round, don't discount the Wild's ability to mine some absolute gems with those late-round picks. Just last year they managed to select David Spacek and Servac Petrovsky in the fifth and sixth rounds respectively, while past years have provided some depth like Marshall Warren and Simon Johansson.
RFAs and Prospects Could Be Packaged
The Wild currently have the problem of possessing too many good young players that all slot into bottom-six roles, and there just isn't enough room on the roster for them all to play. Despite five of their RFAs playing in the NHL last season, it appears like Gustavsson is the only one guaranteed to return to the Wild's roster next season. Even someone like Brandon Duhaime, who embodies the Wild's gritty style, could be moved.
Other players like Calen Addison and Sam Steel are both guys that were relied upon in the regular season, and in an ideal world would be brought back, but if the Wild are feeling good on draft day a second-rounder and Addison could give the Wild another pick in the first round. Steel on his own might not move the needle for many teams, but if a prospect on the Wild's radar falls into the later rounds he could be packaged with a fifth and a sixth, or one of their lower-tier RFAs like Damien Giroux to jump up into the third round.
Roster Player Trades Give Picks and Cap Space
The Wild only have 15 roster players currently signed to contracts for next season, but with prospects like Marco Rossi, Brock Faber, and Adam Beckman in the AHL banging on the door it wouldn't be surprising to see a couple of roster players bandied about in hopes of creating some more cap space. The most obvious one is veteran defenseman Alex Goligoski.
With a single year remaining at a $2 million cap hit, Goligoski is a hard player to get a read on. He obviously wasn't happy playing only 46 games last season, and he only produced six points in those games, but his veteran status of over 1,000 games in the NHL is a valuable commodity on its own, providing leadership and knowledge to the next round of young defensemen. It seems to be his decision on whether he stays or leaves, but trading him may give the Wild a pick in the fourth or fifth round.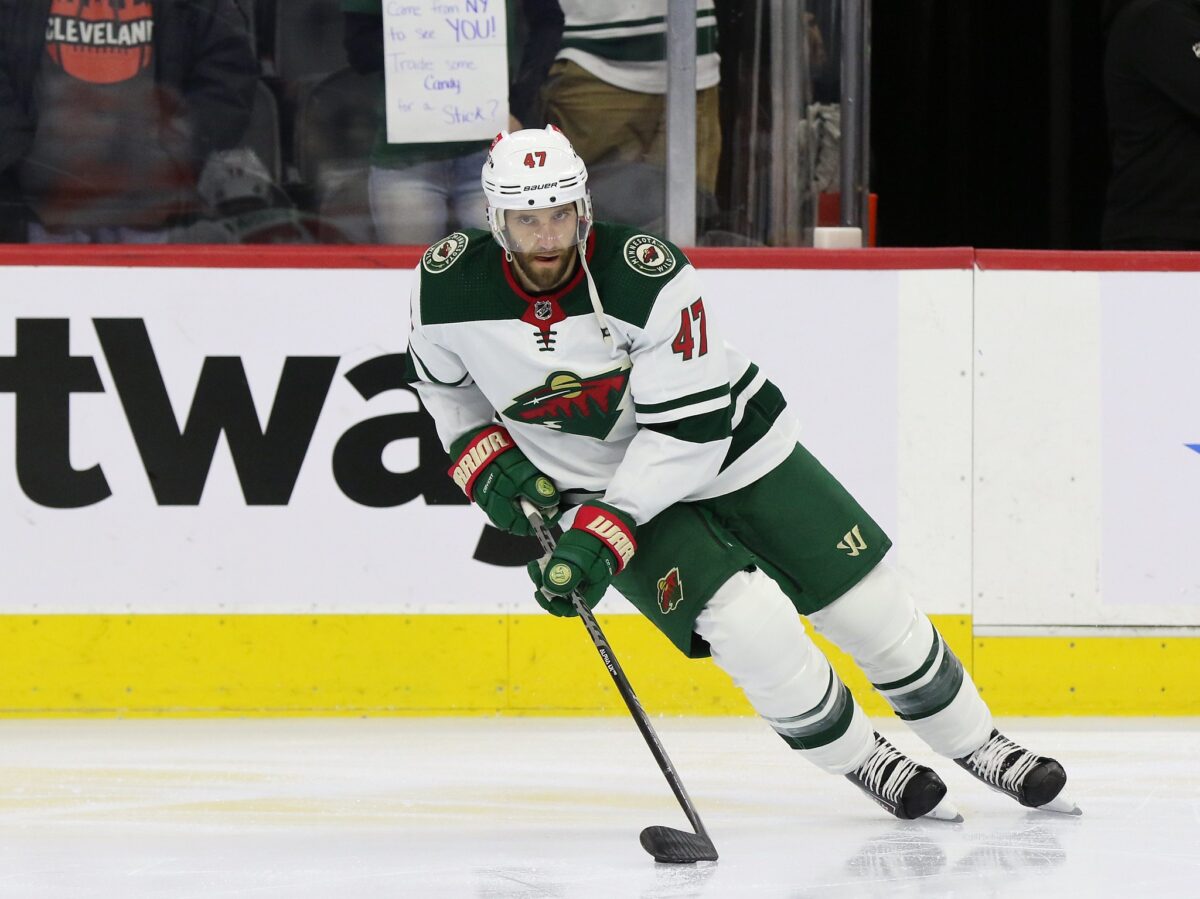 A more controversial player to move would be Marcus Foligno. He has one year left at a cap hit of $3.1 million. He didn't have a great season in 2022-23, but he is a vocal leader, an energy producer, and a strong player. A trade involving Foligno would have to be a big one, such as moving up closer to the top 10, but at the same time, it also provides the cap space needed to bring back both Brandon Duhaime and Ryan Reaves, who fill those gaps left by moving Foligno.
Options Are Endless
The Wild have left themselves wide open to basically anything and everything that anyone can think of. They are aware that the next two years are going to be difficult with the buyouts restricting their cap space, but the entry draft opens opportunities for trades that just don't happen any other time of the year. We saw that just last year when Cam Talbot was moved after everyone thought he was basically locked in for the season. The pace of the day combined with the ease of access for the general managers makes the NHL Entry Draft one of the best days on the hockey calendar each year, and this one is likely to be the same.