Boston Bruins general manager (GM) Don Sweeney has a crucial offseason ahead of him. While spending season after season as Stanley Cup contenders, the Bruins have traded away many of their top draft picks to add significant roster pieces in hopes of winning hockey's ultimate prize. Unfortunately, the club hasn't delivered in the postseason, and as a result, their prospect pool lacks NHL-ready players. The 2023 NHL Entry Draft marks the first marquee event of the offseason, and the Bruins, barring a trade, will not make a selection in the first or second round. However, they still have five selections going into draft weekend. Today, we take a look at some potential draft targets that will help the Bruins address areas of concern.
Positions Bruins Need to Address at the Draft
With captain Patrice Bergeron and longtime veteran David Krejci still undecided on returning for another season, the Bruins have an obvious hole at the center position. They should be looking at drafting a center to bolster their pipeline, which seems particularly thin. John Beecher was selected 30th overall in the 2019 NHL Entry Draft and played his first full season with the Providence Bruins last season. In 61 games, he had nine goals and 14 assists for just 23 points.

The consensus is that Beecher will require more development time in the minors before jumping to the NHL. Aside from him, the Bruins also have Trevor Kuntar, a third-round pick in the 2020 NHL Entry Draft who is set to make his professional debut after playing the last three seasons at Boston College. Brett Harrison is an intriguing prospect coming out of the Ontario Hockey League (OHL). In 180 games he scored 82 goals and 85 assists for 167 points. He played one game with the P-Bruins last season and picked up one assist. He will also need some continued development at the AHL level before making the jump to Boston.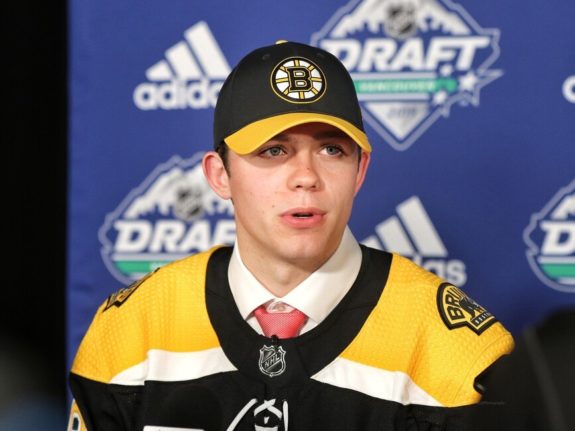 Another position the Bruins should be looking to address is the depth on the right side of their defensive corps. With Connor Clifton set to become an unrestricted free agent, the Bruins have Charlie McAvoy and Brandon Carlo under contract next season. When looking at their depth chart at the position, they have Ryan Mast, a 6-foot-5, 213-pound defenceman who has played the past three seasons with the Sarnia Sting in the OHL. He is essentially the Bruins' only prospective right defenceman who may have a future shot at playing in Boston.
---
Latest News & Highlights
---
Lastly, the Bruins could benefit from drafting a right winger as their overall depth is also bleak at the position. Fabian Lysell has been regarded as their top forward prospect and in his first season with Providence he had 14 goals and 23 assists for 37 points in 54 games. The Bruins' 21st overall selection from the 2021 NHL Entry Draft is still adapting to the North American game after having spent just one season with the Vancouver Giants in the Western Hockey League (WHL) before turning pro last season. He seems best suited to continue his development in Providence while working on his strength during the offseason, however, with the Bruins' current cap situation there is always a possibility of him breaking camp this season.
Bruins' Potential 2023 Draft Targets in 3rd Round (93rd Overall)
As previously mentioned, the Bruins will not make a selection until late in the third round of next week's NHL Entry Draft. Here are three prospects who may be available with their 93rd overall pick.
Connor Levis (C) Kamloops Blazers – WHL
Connor Levis is a center who possesses good size and strength. At 6-foot-2, 194 pounds he is difficult to knock off the puck and strong when it comes to puck battles along the boards. While he currently isn't a game-breaking offensive threat, his defensive game is sound largely due to his good positioning. He moves the puck quickly and while he is not the fastest skater, his skating is neither a weakness which suits the tenacious, hard style of game he plays.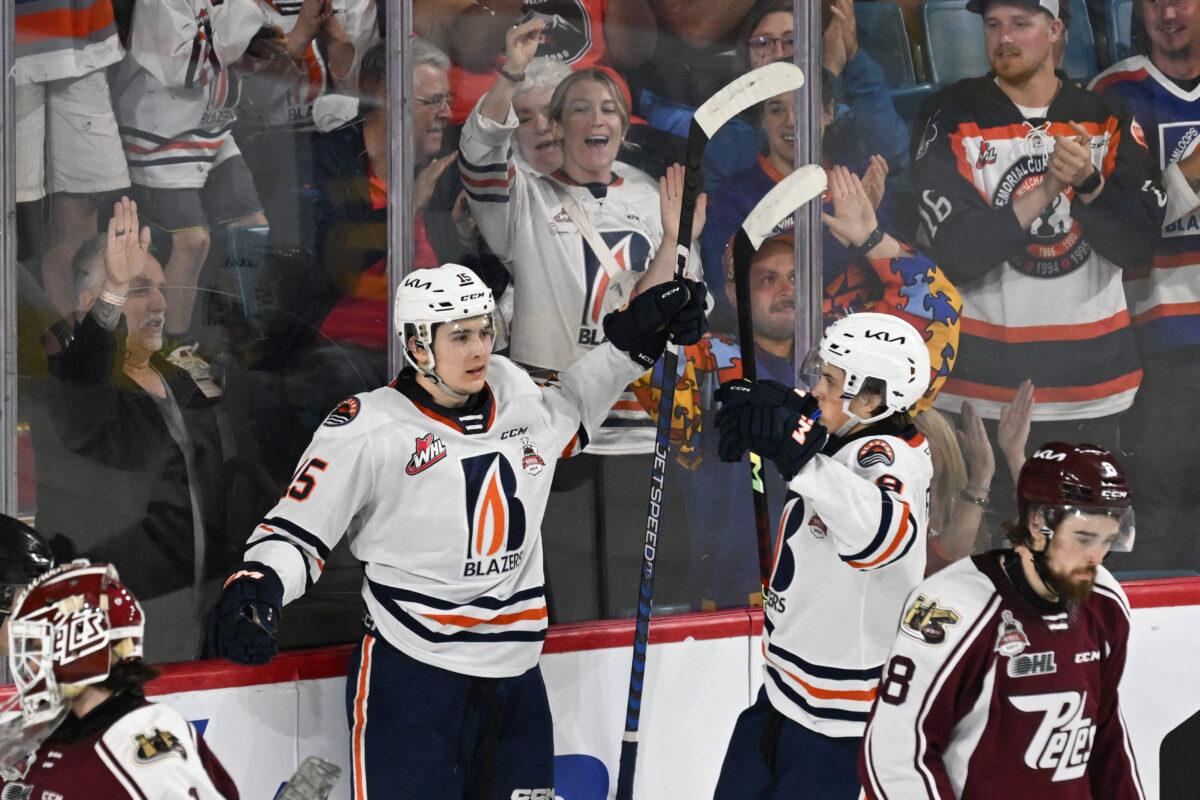 THW's Peter Baracchini has him ranked 93rd, while other outlets also have him projected as a late third-round or early fourth-round pick. In 68 games this season with the Kamloops Blazers he scored 27 goals and 40 assists for 67 points while spending the majority of his time in a third-line role.
Tanner Ludtke (C) Lincoln Stars – USHL
The Bruins are no strangers to drafting players out of the United States Hockey League (USHL) and center Tanner Ludtke could potentially be the next. In 57 games with the Lincoln Stars, he scored 32 goals and 34 assists for 66 points. Despite the solid offensive numbers, his greatest strength is his defensive play. He has already committed to playing the 2023-24 season with the Univerisity of Nebraska-Omaha so the Bruins may be reluctant to select him if they are looking for returns sooner than later.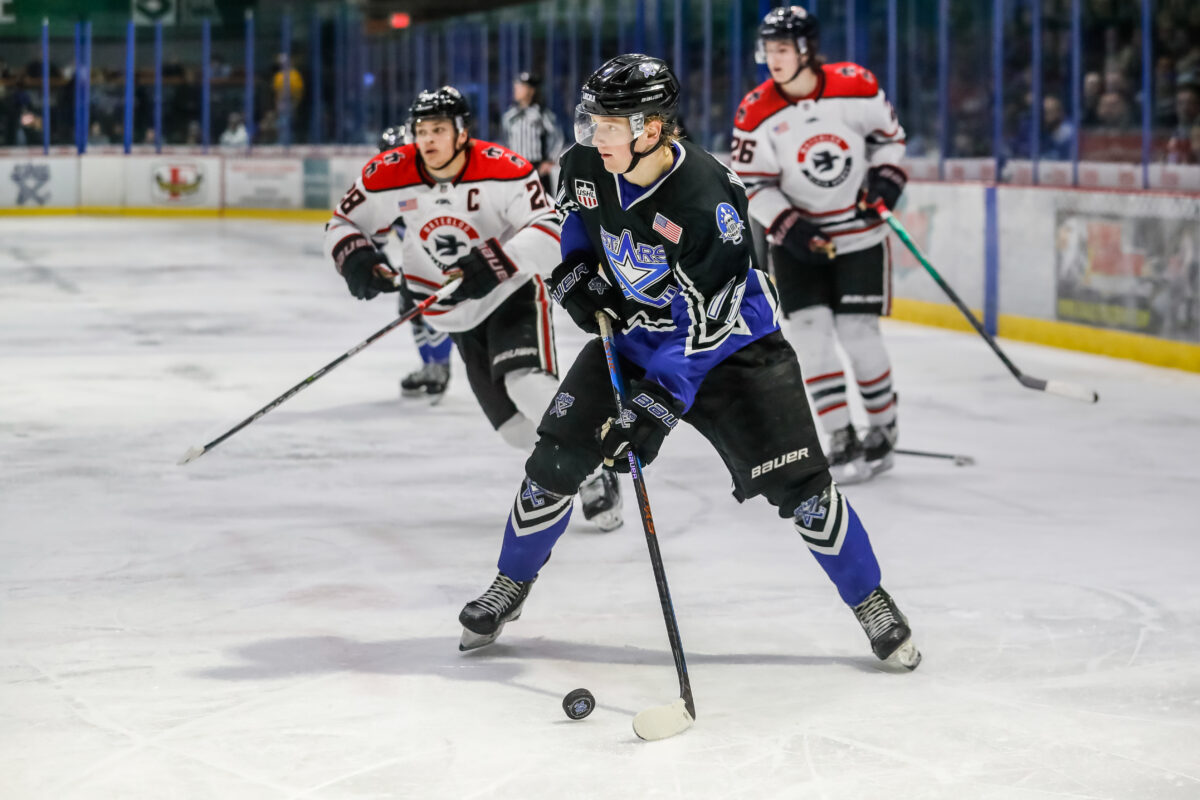 Ludtke's strength as a potential two-way center could be enticing for the Bruins as they will be looking to fill what has been a strength for so long during the Bergeron era. However, he needs to become more creative in the offensive zone and work on his skating mechanics. He is also projected to be drafted in the mid to late rounds of the draft with a projected ceiling as a bottom-six center.
Rasmus Kumpulainen (C) Pelicans – SM Liiga Jr
Rasmus Kumpulainen is another center whose various projections have him ranked anywhere from 69th (TSN's Craig Button) to 96th on THW Baracchini's rankings. He is another big center who is reliable at both ends of the ice. He has the ability to use his size (6-foot-2, 196 pounds) to win puck battles and plays well in front of opposing team's nets.
He had 34 points in 41 games last season and also added five points in five games at the U18s. While he possesses good vision and creates scoring chances for his linemates, his skating needs improvement for him to grow into a potential pivot at the NHL level.
Potential Bruins Draft Targets in 4th Round (124th overall)
While the Bruins' main focus should be to select a center with their third-round pick, they also need to come out of the draft with at least one more right-handed defenceman added to their prospect pool. However, they could find some enticing right wing candidates as well with their fourth-round selection.
Jordan Tourigny (RD) Shawinigan Cataractes (QMJHL)
Despite many Bruins fans' love for the big body defenceman, the game is continually evolving and puck mobility from the back end is a must-have with the speed of today's game. Jordan Tourigny is a right-handed defenceman standing at 5-foot-11, 165 pounds. What he lacks in size he makes up for with his puck-carrying skills and high-quality skating. He joins the offence and is able to open passing lines in the offensive zone while walking the blue line. In 67 games with the Cataractes, he scored six goals and 35 assists for 41 points.
Related: 2023 NHL Draft Guide
Tourigny was ranked 63rd on the NHL Central Scouting Service's midterm ranking, however, he fell all the way down to 123rd by the final rankings. If the Bruins are on the board with their 124th overall pick and Tourigny is available they may be getting a steal from a right-handed defenceman with a high offensive potential.
Dylan MacKinnon (RD) Halifax Mooseheads (QMJHL)
At 6-foot-2 187 pounds, Dylan MacKinnon is more of a defensive defenceman compared to the previously mentioned Tourigny. He is a strong skater for his size and is capable of making good breakout passes from his own zone. He is able to play the physical style of game Bruins faithful have grown to love, and he is a difficult defender for opposing forwards on the rush, using stellar positioning and good anticipation.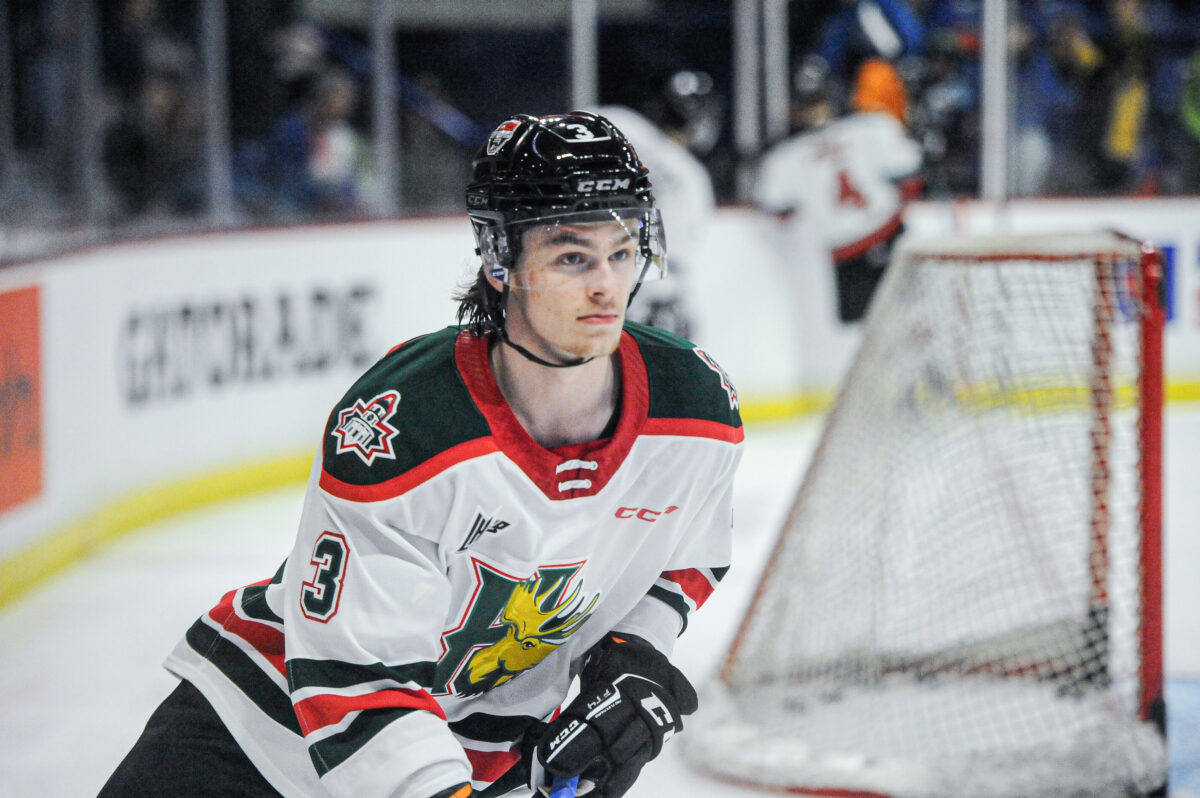 While his defensive game is his biggest asset, MacKinnon may still turn into a more effective offensive defenceman with more time. He is also projected to be a third or fourth-round selection. While his NHL potential remains dependent on how his offensive side evolves, he could potentially grow into a second-pairing, shutdown type of defender, or be utilized as a third-pairing defenceman who logs minutes on the penalty kill.
Yegor Sidorov (RW) Saskatoon Blades (WHL)
Yegor Sidorov is a re-entry to this year's draft as the forward went undrafted last year in Montreal. He is a gifted goal scorer and possesses a great shot from the right side of the ice. With the Bruins' depth at right wing needing a boost, they may look to select a player such as Sidorov. In 53 games with the Saskatoon Blades, he scored 40 goals and 36 assists for 76 points. His production carried on to the Western Hockey League (WHL) playoffs where he helped lead the Blades to a series win over Connor Bedard and the Regina Pats. The Blades then advanced past the Red Deer Rebels before losing out to the Winnipeg ICE. In 16 playoff games, he scored nine goals and ten assists for 19 points.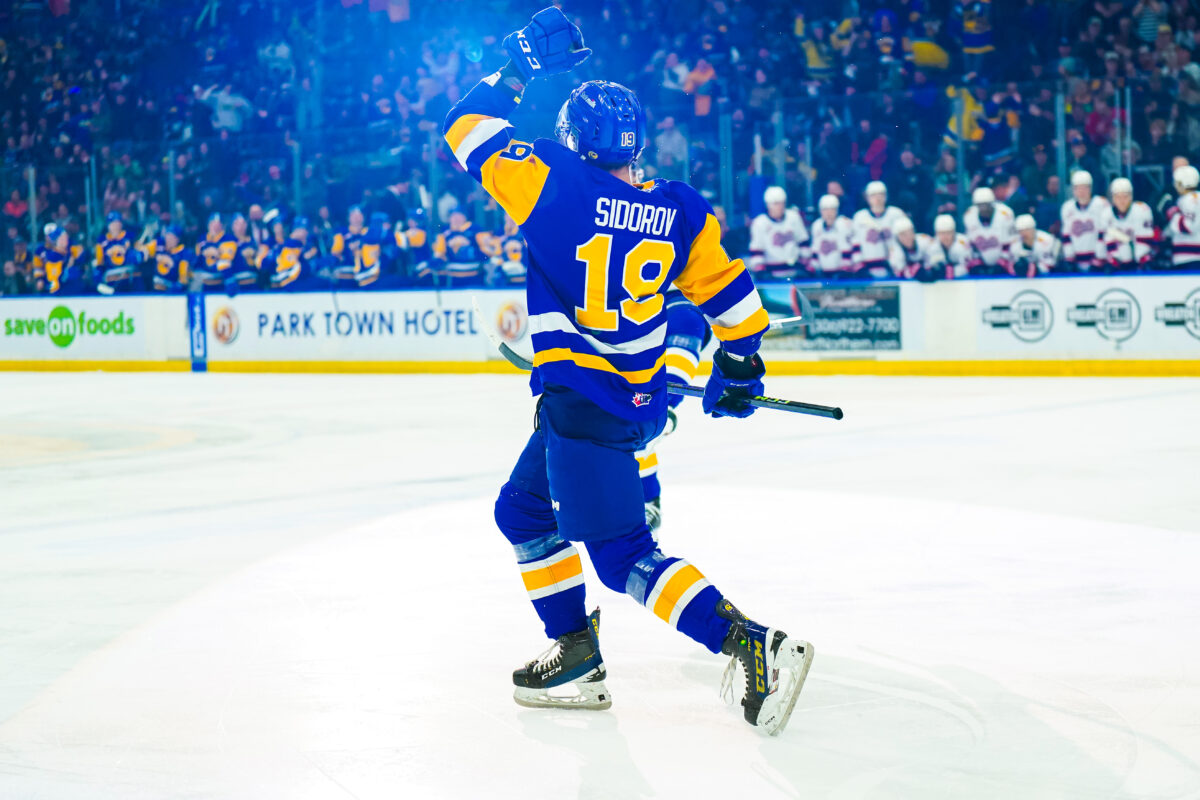 While Sidorov's shot is lethal, his skating remains average and his defensive game could use some improvement. However, his full potential remains unknown as he has the offensive skills to become a 30-goal scorer but his competitiveness may leave him as nothing more than a potential depth option at the NHL level.
Bruins Hope to Find a Steal
Despite the Bruins currently sitting without a first or second-round pick, fans should remain optimistic about the possibility of selecting some of the players mentioned. Finding a late-round gem can drastically change the fortunes of a franchise in the NHL. With under a week to go before the 2023 NHL Entry Draft, fans will have to see if Sweeney has any tricks up his sleeve to get back into the first two rounds or if the Bruins can nab a late-round gem of their own.