Yegor Sidorov
2022-23 Team: Saskatoon Blades (WHL)
Date of Birth: Jun. 18, 2004
Place of Birth: Vitebsk, Belarus
Height: 6-foot-0, Weight: 176 pounds
Shoots: Left
Position: Right Wing/Left Wing
NHL Draft Eligibility: Second-Year Eligible
Rankings
In 2012, the Los Angeles Kings took a chance on a 20-year-old prospect in the first round with the 30th overall pick. It was relatively unheard of to pick an overage prospect that high; normally, teams wait until the third or fourth round to start selecting prospects eligible in the previous draft. But the Kings were confident that the winger was a late-bloomer who was just starting to come into his own. Three picks later, the Montreal Canadiens snapped up one of the most promising 18-year-olds available after the first round and looked like they came away with the steal of the draft.
A decade later, it's clear who came out on top. The Kings took a chance on the twice-passed-over Tanner Pearson, who has scored 133 NHL goals and won the Stanley Cup in his second season. The Canadiens, on the other hand, thought they had a sure-fire NHLer in Sebastien Collberg, but he was unable to turn his international success into NHL success, and after three seasons in the American Hockey League, he returned to Sweden. It just goes to show that every player develops differently, and if someone breaks out a little later than expected, it may be best to pay attention.
Related: The Hockey Writers' 2023 NHL Draft Guide
That brings us to Yegor Sidorov, a winger with the Western Hockey League's (WHL) Saskatoon Blades. Before travelling to Saskatchewan, he was one of the best up-and-coming goal scorers in Belarus. He was an underaged star on both the U17 and U18 development teams, as well as with the Belorussians at the U18 World Junior Championships, where he finished tied for second in team scoring with five assists. His performance made him a hot prospect coming into the 2021 CHL Import Draft, where the Blades selected him 20th overall, with general manager Colin Priestner saying, "We feel he has a lot of upside and the potential to be an early selection in the upcoming NHL Draft."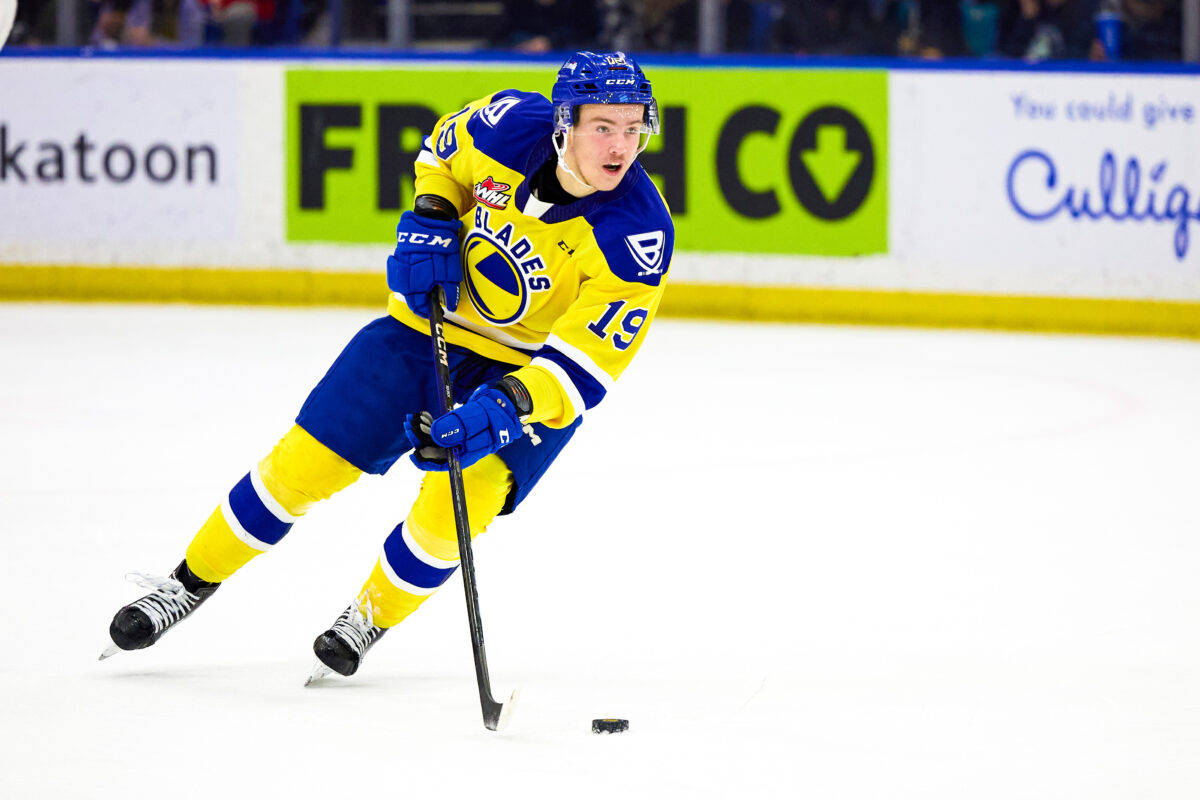 Sidorov joined the Blades in 2021-22 as an 18-year-old, when most junior players break out. However, the Belarusian didn't hit the ground running, scoring just 35 points in 58 games as a rookie. While he still finished seventh in team scoring, his 23 goals ranked fourth on the Blades, prompting the NHL's Central Scouting Service to rank him 95th among North American prospects for the 2022 NHL Draft. It wasn't enough to attract attention, though, and after seven rounds, he was left unclaimed.
It doesn't look like that will be the case this season. Although he played five fewer games this season, he scored an incredible 40 goals and 76 points, finishing second on the Blades in scoring and first in goals. In the playoffs, he continued his hot streak, scoring another nine goals and 19 points. He was crucial in taking down Connor Bedard and the Regina Pats in the first round, scoring five goals and 10 points in the series, and against the Red Deer Rebels, he scored four goals in two games to help the Blades overcome a 3-0 series deficit.
Sidorov is the very definition of a sniper, with a strong, quick shot that he fires as much as possible. This season alone, he shot the puck 246 times, leading the Blades and coming in 17th in the WHL. He's also smart with his shots, using a deceptive release to beat goalies at any angle, even when they can see his whole follow-through. Only two other players this season scored more game-winners than his eight – Bedard and 2022 second-round pick Jagger Firkus. While he does favour the right side of the offensive zone, which gives his left-handed shot more room, he doesn't rely on it and possesses some solid puckhandling skills that allow him to create room for himself.
---
Latest News & Highlights
---
Away from the puck, however, there are some concerns about Sidorov's game. He's not a fantastic skater and lacks speed, which makes him a less-than-ideal puck carrier and playmaker. Instead, he relies on teammates, such as top prospect Tanner Molendyk and fellow overage prospect Trevor Wong, to carry the puck in while he sets up in his office. It also limits him from backchecking effectively, although he does play a decent defensive game when he needs to. So, while he still has some work to do, his ability to fire the puck will be tough to pass up.
Other THW Draft Profiles
Yegor Sidorov – NHL Draft Projection
With the depth of the 2023 NHL Draft, Sidorov will likely be selected somewhere in the third or fourth round. He has a few aspects to his game that need refining, but he's a gifted goal scorer and has a strong awareness in the offensive zone, which are not easy skills to teach. He should surpass fellow sniper and teammate Brandon Lisowsky, who was selected 218th by the Toronto Maple Leafs last year after putting up 33 goals in 68 games but only stands 5-foot-9. Sidorov, on the hand, measures in at just under 6 feet, a more draftable frame.
Quotables
"After an uneventful season as a first-year eligible last year, it's unlikely that Saskatoon Blades forward Yegor Sidorov will get passed over this time. Last year was an adjustment period for the Belarusian, who was still adjusting to life in Canada and often found himself in undesirable matchups. Now, he's up to 40 goals and 74 points in 49 games, and his recent stretch of 20 points over the past 10 games has been the best of his two-year junior career. A year ago, he seemed overpatient. This year, he's generating more on his own." – Steven Ellis, Daily Faceoff
"Sidorov is a strong skater who can play with a pace for the game. He creates a lot of controlled entries with his skating and strong puck skills. He has good offensive sense and can make plays, but his main asset is his shot. He finishes opportunities well and can score from range. He sometimes relies on his shot too much, and I would like to see him attack the net more, especially for a small winger. If he adds that element, he becomes a lot more intriguing from an NHL perspective as opposed to a projected depth player." – Corey Pronman, The Athletic (from "2023 NHL Draft ranking: Connor Bedard leads Corey Pronman's tiers of the top 142 prospects," The Athletic – 05/30/2023)

"A re-entry from last year's draft, Sidorov looked like a different player this season. His mobility is fine, he's average-sized, but can he ever score. With a legit shot and some good hands in tight, he put up 40 goals and 76 points in 53 games after just 35 points in his first WHL season." – Chris Peters, FloHockey
Strengths
Shot
Puckhandling
Patience
Under Construction – Improvements to Make
NHL Potential
Sidorov is a tough player to project. On one hand, his ability to put the puck in the net is as good as anyone's in his draft class and could land him a spot on the second line in the right system, where he could become a 30-goal, 50-point player. However, his lack of high-end skating and competitiveness may leave him as no more than a depth option in the NHL, struggling to secure a roster spot. In any case, he'll need some time to develop in the minors to round out his game.
Risk-Reward Potential
Risk – 4/5, Reward – 3/5
Fantasy Hockey Potential
Offence – 8/10, Defense – 6/10
Interviews/Links
Yegor Sidorov Statistics
Videos