Like a rubber band, the nine-game Montreal Canadiens winning streak stretched as far as it could go, before snapping violently Tuesday night against the Vancouver Canucks. It had to eventually.
Now, no longer do the Habs have a potential weapon to ward over upcoming opponents. Granted, flung rubber bands don't hurt as much as sting, but psychologically they can do damage, especially in anticipation of getting hit by one.
All that's left is a long rubber strand—albeit the longest in NHL history in terms of regulation wins to open a season—either to look back on nostalgically or discard and move on. The latter option probably bodes the best for the team's fortunes moving forward.
Missed Opportunity?
Sure, the Canadiens just missed tying the NHL record of total wins to open a season (10), but there are far worse situations in which they can be. Standings-wise, they're actually in the best possible one, right at the top of the heap at 9-1 entering action Thursday night on the road against the Edmonton Oilers.
They can maybe focus more on actually playing hockey instead of prolonging the streak, which may not sound like much of a difference when the ultimate goal of playing a given contest is to win.
However, one cannot deny that the Habs were playing different hockey—almost playing not to lose—near the end of their streak than in the middle, against, say the Detroit Red Wings, when they outshot them 41-22. A few games later, their last win against the Toronto Maple Leafs, despite winning 5-3, they got outshot 27-52.
Admittedly, the loss to the Canucks wasn't as bad the score final 5-1 score indicated. The Habs got outshot by just two, 26-28, and even held a 43-37 edge in shot attempts at five vs. five, according to hockeystats.ca. Taking into consideration the first goal that goalie Carey Price should have had and a second one that deflected in off Nathan Beaulieu, maybe Montreal deserved a better fate.
Different Canadiens Lines… Different Result?
On the other hand, maybe the Canadiens should be grateful they lost as badly as they did, because now they are no longer constrained by the convention of sticking with the same lineup, when the old one obviously resulted in certain on-ice inefficiencies.
Granted, that would ideally mean giving either Greg Pateryn or Jarred Tinordi ice time finally, instead of nonsensically moving Brian Flynn up to the second line at Alexander Semin's expense and scratching the latter outright in favor of Paul Byron, as head coach Michel Therrien seems intent on doing.
Looking like Price in net. Byron in and Semin out. We will know for sure soon from head coach. #habs

— Brian Wilde (@BWildeMTL) October 29, 2015
Nevertheless, there is clearly a need for some experimentation in order to maximize the team's effort level, at least on a consistent basis. Based on the stats, even beyond the wins and losses, the results were clearly there. However, delving deeper, looking at advanced metrics, the Habs could be doing even better. At five on five, they own a Corsi for rating of 50.2 percent, which puts them at 16th in the league.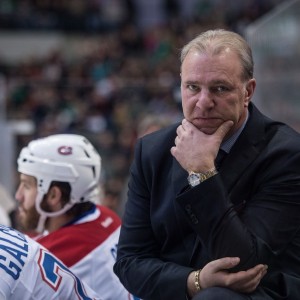 Put simply, they have the potential to be so much more than just a team that broke a relatively small-time NHL record, especially with this Canadiens team featuring elite players at every position and four lines now proven capable of being rolled, with no one averaging fewer than 11:33 per game (Devante Smith-Pelly). They're one of four teams currently without anyone averaging below 10 (New York Islanders, Philadelphia Flyers and Tampa Bay Lightning).
Of note, neither of the two previous teams to hit 10 straight wins to open a season (1993-94 Leafs, 2006-07 Buffalo Sabres) so much as made it to the Stanley Cup Final. They both bowed out in their respective conference finals. The Sabres did end up winning the Presidents' Trophy though, which is perhaps the very least that should be in the Habs' ultimate sights right now, with a commanding six-point lead already on the Atlantic Division's second-place Tampa Bay Lightning.
The Canadiens definitely owe that lead to the streak, but it's up to them now not to be defined by it and just sail into the postseason because they can. There's obvious upside to being 9-1 right now. The Canadiens (and their fans) should acknowledge that, but, more importantly, take advantage of and run with it.
It's not just one winning streak that makes a Stanley Cup champion. It's many over the course of a long season.