It was the day of the 2012 NHL Entry Draft. The Toronto Maple Leafs had secured themselves the fifth overall pick, which all but guaranteed them a solid young player. By the time their turn came to make a selection, names like Alex Galchenyuk and Ryan Murray had already been taken off the board.
The Maple Leafs decided to use their pick on Morgan Rielly, a gifted defenseman playing for the Moose Jaw Warriors of the WHL. What made this selection more incredible was the fact that Reilly had torn the anterior cruciate ligament in his right knee and was out for the majority of the season.
None of that mattered to then general manager Brian Burke, as he had stated that he would have taken Reilly with the first overall pick if they had it that year. That's how special Reilly was to this organization, and what makes all of this amazing is that it came before he played a single game for the Blue and White.
Rookie Season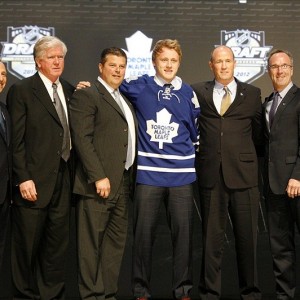 Reilly faced a huge challenge before his rookie season started. He had to convince the management and coaching staff that he was physically and mentally prepared to stick in the NHL. That would mean he had to take a roster spot from an NHL veteran in order to make the team.
Reilly did both of those things. He played with poise and confidence that was rare to see in a player so young. In 73 games he totalled two goals and 25 assists for a very respectable 27 points.
Sophomore Season
Despite all the hype around Reilly after a fantastic rookie season, there were still doubts about his second NHL campaign. Most stemmed from the fact that numerous players suffer from the dreaded sophomore slump. They regress and are not nearly as effective as they were during their first year in the NHL.
Reilly was able to entirely avoid the jinx that captures so many young players. He was able to increase his overall workload, which required him to play the point on the power-play. He saw an instant boost with his points and was able to put up 8 goals and 21 assists for 29 points. Reilly earned the praise of the coaching staff, media and fans with his confident and impressive play throughout the season.
Current Season
Morgan Rielly currently leads all #Leafs in ice-time, the first time in 7 years someone has exceeded Dion Phaneuf's time on ice. #TMLTalk

— NHL EXPERT PICKS (@NHLexpertpicks) November 7, 2015
It's the first real campaign in which the Maple Leafs are in full rebuild mode. Reilly is the young stud defenseman that will be expected to lead the Maple Leafs into the light once all the pieces are in place. Having Mike Babcock as his head coach has seemingly done wonders for the former fifth overall pick.
Reilly has now become the teams best player. Not only is he getting the green light to jump into the rush and generate scoring chances, he is also tasked with defending against the top lines of other teams. At the tender age of 21, Reilly is learning how to contain players the calibre of Jamie Benn, Tyler Seguin and Alex Ovechkin.
A job like that is not for the faint of heart. But Reilly has embraced his role and appears to be thriving. He already has three goals and ten points this year and the season isn't even at it's halfway point.  Reilly appears to have an innate understanding of what exactly needs to be done to help the team.
He's been one of the few bright spots to watch in this tough Leaf season. He's a star in the making who is getting better and better with each passing game.  Look for him to continue improving and one day take the reins of a competitive Maple Leafs hockey team.
My name is Anthony Fusco. Through school, I completed a joint degree involving an Honours B.A. in Journalism from Wilfrid Laurier University and a Videography and Broadcasting degree through Conestoga College.
I currently work for the University of Toronto as a Varsity Sports Announcer and for the Toronto Maple Leafs as part of their game presentation squad.
I'm also the play by play voice of the Kelowna Falcons, a baseball team located in British Columbia.
My goal is to one day be a hockey broadcaster.