Aside from the fact that I already despise the media-created rivalry between Sidney Crosby and Alex Ovechkin, it annoys me greatly that they have decided to bring the "rivalry" to the Olympics.  The Olympics, as I understand it, is where players try to obtain a medal of some sort for their country, most likely the gold medal. Thus, players are trying to win out of pride for their respective countries.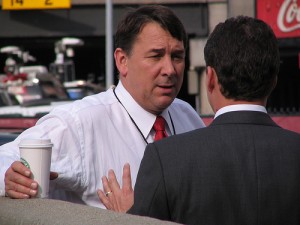 However, on the first dayof Olympic hockey, there were comments about Ovechkin's master plan to win the gold medal in retaliation of Sidney Crosby winning the Stanley Cup. Supposedly, it would make Ovechkin even happier to accomplish this in these Olympics because they are on Crosby's home-ice.
The rivalry has been elevated somewhat because of NBC hockey analyst Mike Milbury and the way he describes Crosby's play in contrast to Ovechkin's play.
Milbury is under attack from hockey fans and even his co-analyst, Jeremy Roenick for his controversial comments, specially about Alexander Ovechkin. He's made comments describing Ovechkin's playing style by saying, "If it looks like a  dog, barks like a dog, it is a dog." He even referred to Ovechkin as "the other guy" when he appeared in the same sentence as Crosby during the first say of competition.  Even more recently, Milbury criticized Ovechkin's attitude, saying it is "just every day is another day at the beach for this kid." He juxtaposed this attitude with, of course, Sidney Crosby, who is "professional" and "workmanlike."
Roenick quickly came down on Milbury's comments, but Milbury continued. He went on to talk about how Crosby has a Stanley Cup ring and Ovechkin doesn't. He then proceeded to question whether Ovechkin can handle the captaincy of the Capitals down the stretch. Ironically though, he must have forgotten that Crosby received the "C" on Pittsburgh his rookie year. I wonder how ready Milbury thought he was to lead the team then, since Ovechkin has been on the Capitals for over three seasons.
When it came to Russia's loss against Slovakia I cringed. I cringed because I feared the insults from Milbury on how Ovechkin's performance. I was waiting to hear that Ovechkin can't win for his team but Crosby can. After all, Crosby got the game-winning shootout goal against Switzerland, and even though Ovechkin also scored in his team's shootout, they still lost. Thankfully for my ears, Milbury was not at the post-game desk after that game. NBC probably anticipated the shenanigans that would have occurred.
It's one thing to like one player over the other player; after all, to each his own. But it gets out of hand when people who are not even Capitals fans get irritated at the anti-Ovechkin tirades. A post on Philly Sports Forums even shows disdain for Milbury's comments criticizing Ovechkin:
"…Milbury should be fired on the spot. They have one of the best players in the game on National TV and pretty much rag and embarrass him the whole time."
This is a sports forum from Philadelphia showing the same feelings as a Caps fan would. It's bad when Philadelphia and Washington, DC can agree.
It's obvious when a guy is trying to be "outspoken" or "controversial"; or in other words, trying to be Don Cherry. If I was to provide one piece of advice to Milbury, I would say  just know your sport and speak your mind, and keep the antics out of it.
Angie represented The Hockey Writers at the 2011 NHL Winter Classic and is credentialed for Washington Capitals home games. She is a NHL Contributor for SB Nation's "NHL Scores & More" and covers high school hockey for The Washington Post. Angie attended American University where she studied broadcast journalism.