Erin Ambrose, Junior, Defense, Clarkson
Expectations are high for Ambrose to follow up two very productive freshman and sophomore seasons. In 71 career games so far, she's netted 20 goals, 66 assists, and 86 points. She's considered to be the most offensively-adept defenseman in the country, and her 50 points last season were good enough to place her 10th nationally in scoring.
Rachael Bona, Senior, Forward, Minnesota
Bona broke out last season with the Gophers, putting up 23 goals and 61 points in just 41 games, which was good enough for third in the country. She has 108 career points (23 goals, 38 assists) in 123 games, and has come a long way since her rookie year. She'll be an important part of Minnesota's offense again this season.
Hannah Brandt, Junior, Forward, Minnesota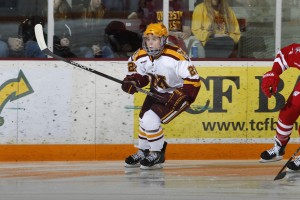 With Amanda Kessel sitting out this season due to lingering concussion symptoms, Brandt will be the Gophers' go-to player up front. That shouldn't be much of a problem, as she succeeded in that same role last season, leading the team to WCHA regular and postseason championships and the national title game. She has 56 goals, 91 assists, and 147 points in 82 games so far, and was a two-points-per-game player as a rookie in 2012-13.
Alex Carpenter, Junior, Forward, Boston College
Carpenter missed last season while training for the Olympics with the U.S. National Team, and helped the squad to a silver medal in Sochi. In 72 career games, she has amassed 54 goals, 56 assists, and 110 points, and she's scored all of them as a 17- and 18-year-old. Carpenter will be following up a 70-point campaign in 2012-13, and I'd expect this season to be her most dominant yet.
Kendall Coyne, Junior, Forward, Northeastern
After sitting out the 2013-14 season while centralizing with Team USA, Coyne will look to make this her best season yet with the Huskies. She has so far totaled 63 goals, 50 assists, and 113 points in 65 career games. She's been lights-out for Northeastern throughout her first two years, and her speed and tenacity around the net make her a dominant force up front.
Josefine Jakobsen, Senior, Forward, North Dakota
Jakobsen was far and away the country's best two-way forward last season, scoring at nearly a point-per-game pace while blocking 74 shots. In 110 career games, she's totaled 43 goals, 67 assists, and 110 points, and has become a force in such categories as blocked shots, faceoff wins, and game-winning goals.
Brianne Jenner, Senior, Forward, Cornell
Jenner competed for Team Canada at the 2014 Winter Olympics in February, and returns to the Big Red for her senior season as an Olympic gold medalist. Named the ECAC's Player of the Year in 2012-13, she has amassed 78 goals, 100 assists, and 178 points in 98 games over the course of her career.
Sarah Lefort, Junior, Forward, Boston University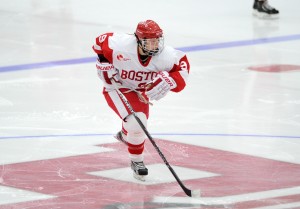 Lefort was the country's leading goal-scorer last season with 32, and was fifth in points with 55. Overall, she has 56 goals, 42 assists, and 98 points in 75 games throughout her first two years with the Terriers, and she'll be featured up front this season along with Marie-Philip Poulin.
Emerance Maschmeyer, Junior, Goaltender, Harvard
Maschmeyer's played tailed off towards the end of last season, but she'll have a much deeper line-up of skaters in front of her this year. Throughout her first two seasons, she's recorded a .940 save percentage, 1.62 goals-against average, a 28-12-6 record, and 10 shutouts. She'll be the key to the Crimson's success this season.
Marie-Philip Poulin, Senior, Forward, Boston University
Poulin was centralized with the Canadian National Team last season in preparation for the 2014 Winter Olympics, so she sat out the NCAA season, but she'll be back with the Terriers this year. In 79 career games, she's scored a total of 54 goals, 73 assists, and 127 points, and has twice led BU to the national championship game. Poulin is widely considered to be the best player in the world and already has two Olympic gold medals to her name;  she'll be looking to add an NCAA title this year as well.
Rachel Ramsey, Senior, Defense, Minnesota
Ramsey was the nation's best all-around blue-liner last season, and notched 12 goals, 31 assists, and 43 points in 41 games played. She's a dominant player in all three zones, and will be anchoring the Gophers' defensive corps once again as they set their sights on another national championship.
Jillian Saulnier, Senior, Forward, Cornell
Saulnier established herself last season as one of the most dynamic players in the country, stepping up for the Big Red in Jenner's absence. She's so far scored 60 goals, 91 assists, and 151 points in 97 career games and with Jenner back in Cornell's line-up this year, Saulnier will be even more of an offensive threat.
Haley Skarupa, Junior, Forward, Boston College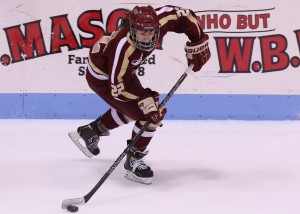 Skarupa was forced into the role of go-to player for the Eagles last year, and a lot of the pressure will be taken off her now with Carpenter back with the team. She's netted 49 goals, 45 assists, and 94 points in just 66 games, and she should be up for a big year with the firepower BC has up front.
Phoebe Staenz, Sophomore, Forward, Yale
Staenz saw limited action last season, playing for both Yale and the Swiss National Team in the 2014 Winter Olympics, but she was outstanding when she did suit up for the Bulldogs. She tallied 11 goals, 15 assists, and 26 points in just 20 games, leading all rookies in just 20 games. Staenz should be even more dominant in 2014-15 with a full season to work with.
Rebecca Vint, Senior, Forward, Robert Morris
Vint has been very impressive throughout her career so far, helping the Colonials earn some acclaim on a national level. Through 97 games, she's scored 62 goals, 56 assists, and 118 points, and should be a very strong force up front once again this year.
Preseason 2015 Patty Kazmaier Award Winner: Marie-Philip Poulin, Boston University