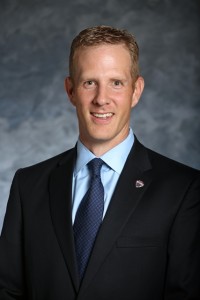 I sat down with Josh Fenton to get his take on the state of the National Collegiate Hockey Conference following the inaugural season. I asked him about his thoughts on the first season and about the rumors of further realignment that have surfaced recently.
Eric Burton, the Hockey Writers: What's the state of the conference?
Josh Fenton, Commissioner National Collegiate Hockey Coherence: We're happy with where we stand right now. We had a good, successful inaugural season. Doing everything for the first time takes a little bit longer, because it's the first time. We've kind of learned along the way, two or three tweaks to do next year, to better our process. We're very happy where we stand today.
EB: For the most part the conference tournament appeared to go off without a hitch, except maybe for the ice conditions. But I would imagine that the conference is addressing that and some other issues?
JF: All in all, it was good first start with our conference tournament. We certainly aren't going to rest on what we created this year, and think it's sufficient for future years. We need to work to make it better, and enhance it in the future.
There are really two things that guide our decision making and our thought process as it relates to the conference as a whole. Certainly the conference tourney is a big part of it.
First one is the student experience. What kind of experience are our students having in the conference? Is it a good experience? Is it not a good experience? The NCHC has a student athlete adviser group that we communicate with periodically. They can give us feedback in terms of the experience that student athletes have as member institutions, and as members of the conference.
Second one is the fan experience. What kind of a fan experience do we have for our fans during the regular season? What type of experience do we have for our fans during the post season?
It's how we engage our fans, through social media, through our website. We run different and unique promotions. Visibility and the exposure of the conference; whether it's through television or other means that we can provide for our fans to follow, and watch our member institutions. We want to be able to do that.
At the end of the year, in particular with the Frozen Faceoff, we want to create an immense experience that goes above and beyond the hockey games that occur on the weekend. I think we did a good step forward in that this year. The fan experience and the student experience are two of the things that ground our decision making.
EB: Where do you see this league in three to five years?
JF: We need to be able to enhance revenue streams, primarily through the conference tournament with ticket sales, sponsorship engagements, and then look for different or new revue streams. The financial operations of the conference are supported largely with what happens that year with our conference tournament. Just the financial structure and the ability to drive revenue are certainly important for the conference.
EB: Are you looking to add new members to the NCHC in three to five years?
JF: Membership for us, right now, is focused around the eight member institutions that we have. We have a lot of work to do in our inaugural year to just kind of get ourselves up and off the ground, and provide a great experience for students and fans at our member institutions, as a whole. We were really focused on the eight member institutions that we have. That still remains our focus today. On adding a member in the future, you must look at what value does that add to the membership as a whole?
Any discussion of membership or landscape changes always reverts back to what do we need to add value to the conference? Do things or changes that come in the future add that value to the conference? Right now we don't have any certainly specific answers or things that we're looking to do in relation to membership. It's my job to keep my ear to the rail, so to speak, to see what's happening nationally, what might be out there and what other institutions are thinking, and what other conferences are thinking about their alignment.  It's my job to report what I hear and know back to our board and our members.
EB: Thanks for chatting with me today.
JF: No problem. If you need anything else, feel free to call me.