For more than 14 seasons, Neal Broten played for the Minnesota North Stars/Dallas Stars franchise. During the Minnesota years, no player played more games, scored more shorthanded goals, had more assists, or scored more points than he did. Broten was essentially the face of the North Stars. It was a status he held until the emergence of Mike Modano took shape and the team had relocated to Dallas.
---
---
When the North Stars moved down south and shortened their name to simply the Stars, it brought a great deal of heartbreak to the people of Minnesota. After so many years, not only was it sadly surreal to no longer have the team in the "Twin Cities", but it was also strange to see Broten playing elsewhere. He would end up playing one full season in the "Lone Star State" before he was dealt back up northward. But a departure from the organization would bring him a Stanley Cup almost immediately, and Broten was paramount in making it happen.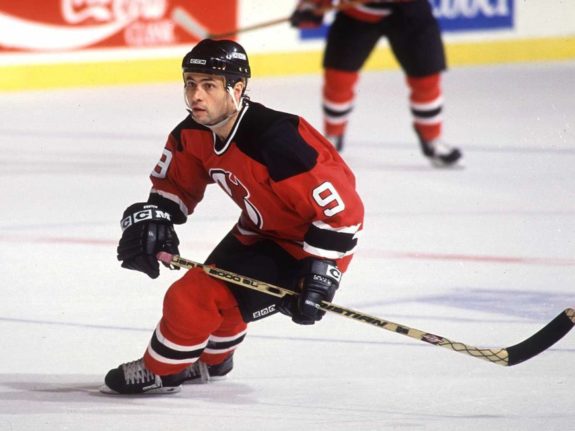 THW takes a look back at the move that saw the longtime North Stars/Stars forward be moved to the New Jersey Devils where he became a Stanley Cup champion. The trade in and of itself is rather underrated and often overlooked in the grand scheme of NHL trade lore. We are here to do it some justice.
Setting the Stage
The North Stars drafted the young centerman from Roseau, Minnesota in the third round (42nd) of the 1979 NHL Entry Draft. One of the highly touted University of Minnesota Golden Gophers for two years under coach Herb Brooks, he scored the game-winning goal of the 1979 NCAA Championship over the University of North Dakota. In Broten's two collegiate seasons with the Golden Gophers he totaled 142 points in only 76 games off of 38 goals and 104 assists. He earned the 1981 Hobey Baker Award as US collegiate hockey's best player.
With his combined level of skill, mindset and competitive nature, his coach knew that he could count on Broten. Brooks selected his center to play for the 1980 U.S. Olympic men's hockey team at the Lake Placid Games. Broten and teammates would go down in history by performing the "Miracle on Ice" victory over the Soviet Union – widely considered to be the greatest achievement in sports of the 20th Century. Team USA would eventually become gold medalists when they defeated Finland. Broten scored two goals and an assist in seven tournament games during those Olympics.
Broten would join the North Stars shortly after the Olympics wrapped up and be part of their unlikely run the 1981 Stanley Cup Final. He scored two goals in three games during the 1980-81 regular season. Once the postseason got underway, Broten played in all 19 playoff games for Minnesota that year. Unfortunately, they would lose in the championship round to the New York Islanders, who were in the midst of their run of four straight Stanley Cups. Broten scored a lone goal and added seven assists during those playoffs.
From there on out, he was a staple for the North Stars for well more than a decade. Broten's first full NHL season was one of his finest. During the 1981-82 season he finished fourth in voting for the Calder Trophy as the league's top rookie when he scored 38 goals and 60 assists for 98 points in 73 games. His highest point total came during the North Stars 1985-86 season when Broten compiled 29 goals and 76 assists for 105 points in 80 games – the only time he would eclipse the 100-point mark. Broten was one of only three players – the other two being Bobby Smith and Curt Giles – to play in both the 1981 and 1991 Stanley Cup Finals with the North Stars, although Smith and Giles spent time with other teams between the two runs.
Broten finished his time in Minnesota with 249 goals, 547 assists, and 796 points in 876 games. Brian Bellows is the only other player in North Stars history to surpass 700 points in scoring. Once the franchise relocated for its first season in Dallas (1993-94), Broten finished fourth overall in scoring that season. In 79 games the veteran center tallied 17 goals and 35 assists.
Broten Is Moved to the Devils
The 1994-95 NHL season was shortened by a lockout of players by team owners as part of a labor dispute. An abbreviated regular season was held which consisted of 48 games for each of the league's 26 teams. Broten would begin his 15th NHL season as normal – a member of the Stars. However, before the season's end a major change would take place.
There was a sense that age may have caught up with Broten by that point. Having played in the league for well more than a decade, he was 35 years old. As the season got underway in Dallas, Broten produced very little. Through 17 regular season games he failed to score a single a goal and compiled only four assists. The Stars wanted to obtain a center who was a bit younger, but still wanted to get a solid return on a player of Broten's stature. After all, he had scored 867 points in 992 games when combining his time in Minnesota and Dallas.
On Feb. 27, 1995, the Stars traded Broten to the New Jersey Devils in exchange for center Corey Millen. Both centermen were remarkably similar. In terms of stature, though Broten was two inches taller at 5-foot-9 compared to Millen's 5-foot-7, each weighed around 170 pounds. Millen was also five years younger, but had already played for three different teams prior to the transaction. Each player had also been a product of the University of Minnesota. While Broten had the longevity in the league, Millen had just completed his first full season in the NHL after playing only parts of five others. Still, he had produced decent numbers up until that point. In 202 games with the New York Rangers, Los Angeles Kings, and Devils prior to the trade, Millen had scored 144 points (69 goals, 75 assists), including three straight 20-goal seasons.
Initially the deal looked fairly even, if not an advantage for Dallas. Broten would have something to say about that.
How the Deal Panned out for Dallas
Millen never quite caught on with Dallas, and his remaining time in the NHL would be fleeting. After the trade took place he finished out the 1994-95 season playing 28 games for Dallas. However, the numbers he generated were a far cry away from his more recent campaigns. Millen scored only three goals for the Dallas that year, though his 15 assists were conceivably alright. Still, this was not the kind of production that the Stars were anticipating from him.
It got worse from there. Once the 1995-96 season was underway, Millen split time between the parent club Stars and the Michigan K-Wings of the International Hockey League (IHL) who had become the team's minor league affiliate. Playing in 11 games with the K-Wings in the minors, he scored eight goals and 11 assists for 19 points. Millen played only slightly more games with the Stars that year – 13 games, which saw him generate three goals and four assists. With proven, reliable centers in Modano, Guy Carbonneau, Brent Gilchrist, and Dave Gagner on the roster – all of whom were producing – Millen's inability to step into the forefront made him expendable.
Without ever playing a full season for Dallas, he would be traded to the Calgary Flames on Dec. 19, 1995 along with Jarome Iginla in exchange for eventual Hall of Famer Joe Nieuwendyk. Just four years later the veteran Nieuwendyk, who was already a Stanley Cup champion from his time with Calgary, helped Dallas win their first championship in franchise history.
Millen would finish out the 1995-96 season with the Flames. He scored just four goals and 10 assists in 31 games after the trade. He would play one final season in Calgary – his last in the NHL as well – when he appeared in 61 games for the 1996-97 season, scoring all of 11 goals and 15 assists for 26 points. Millen went over to Europe and played five seasons in Germany with the Cologne Sharks, before finishing out his playing career with one season in Switzerland for Lugano.
How the Deal Panned out for New Jersey
With something to prove, and perhaps a bit of a chip on his shoulder, Broten was rejuvenated immediately following the trade. Demonstrating shades of his younger self he finished the 1994-95 regular season at nearly a point per game. In 30 games with the Devils he chipped in eight goals and added 20 assists for 28 points. Broten was putting up points for a team known for being intentionally stingy with its "defense first" mindset. His numbers were what had been expected of Millen in Dallas, but it was the more fully aged center getting it done for the "The Garden State".
Most-wise Devils president and General Manager Lou Lamoriello pulled off a significant move for his hockey club. One that helped the Devils go from a team that went 9-11-4 in the first half of the season, to a record of 13-7-4 in the second half for a fifth place Eastern Conference finish.
When asked about the acquisition and success of Broten at the time, Lamoriello stated the following:
"It's a case of a player making the people around him a little better. Corey was better one-on-one, but Neal makes other players around him a lot better. He's got a style that is more conducive to our system."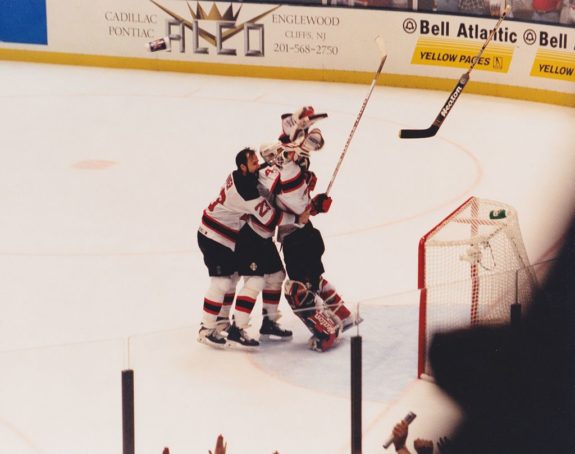 Broten continued scoring and setting up others throughout the playoffs. He played in all 20 postseason games for New Jersey, as the Devils dispelled the Boston Bruins, Pittsburgh Penguins, and Philadelphia Flyers, before sweeping the Detroit Red Wings four games to none in the Final. Scoring seven goals and 12 assists, Broten's 19 points were tied with Ron Francis for third most in playoff scoring that season behind Detroit's Sergei Fedorov (24) and his Devils teammate Stephane Richer (21). Broten led all scorers in the Final for either team, as he scored three goals and three assists in the four games.
He would also score the most important goal of his hockey career as his tally at 1:08 of the opening period in Game Four ended up being the Cup-winning goal, making him the first American to score such a tally. Broten led the league with four game-winners throughout those playoffs.
The Trade Was Broten's Last Hurrah
After helping the Devils win the Stanley Cup, Broten would play two more seasons in the NHL. In retrospect, New Jersey had struck while the iron was hot, as his final pair of seasons were unremarkable in terms of his performance. His scoring performances of the 1994-95 season for the Devils and the Cup victory were truly Broten's last hurrah.
Playing in 55 games during the 1995-96 season, the 36-year-old center scored a mere seven goals and 16 assists for 23 points. The Devils faltered as a whole, with lackluster offense coming from all of their players expected to produce. In turn, they would fail to make the playoffs that season and did not have an opportunity to defend their Cup.
The 1996-97 season would be Broten's last, and he ended up playing for four different teams that year including 11 games in the IHL with the Phoenix Roadrunners. Broten began the year with the Devils, but after only three games in which he had a lone assist he was traded to Los Angeles in exchange for future considerations. The Roadrunners were a minor league affiliate of the Kings that season, which led to his stint in Phoenix.
After Los Angeles had placed him on waivers, Broten was claimed by his former team the Stars on Jan. 28, 1997. Dallas was hoping to capitalize on his veteran leadership and newly acquired Stanley Cup-winning experience. He would finish out his career with one last oomph of resurgence – eight goals and seven assists for 15 points in 20 games with the Stars. Once the playoffs got underway, Broten played in two of their seven games in an opening round showdown against the Edmonton Oilers, recording a lone assist. Dallas would be eliminated by Edmonton four games to three.
Broten Was the Better Deal by Far
Due to the swapping of he and Millen, Broten was a key component in getting the Devils their first of three Stanley Cups in eight years. In 1,099 regular season games Neal Broten scored 289 goals, 634 assists and 923 points. At the time of this article Broten is the only player to have won the Hobey Baker Award, an Olympic gold medal, and the Stanley Cup. He is also one of just a handful of players to have won an NCAA championship in addition to the Olympic gold and the Cup. Broten was inducted into the United States Hockey Hall of Fame in 2000.
The move was one of the many orchestrated by Lamoriello that brought success to the Devils. In all actuality, acquiring Broten for the 1995 Cup run may have been one of the former Devils GM's finest, and even underrated. While neither Broten or Millen played much longer beyond the deal, it was the elder centerman who paid the greatest dividends for his respective team.
* originally published in July 2018
---
Latest News & Highlights
---