For an entire decade, Brian Bellows was a staple of the Minnesota North Stars and the team's premier sniper. Selected with the second pick of the 1982 NHL Entry Draft, he represented the franchise at three different All-Star Games (1984, 1988, 1992) and was even named an NHL Second Team All-Star in 1990. Playing in 753 regular season games for the North Stars, plus another 81 in the playoffs, a parting of ways with Bellows seemed quite unlikely. The left winger was deeply embedded into the team and the fans of Minnesota.
---
---
Understandably, Bellows would be taken aback at first when a trade took shape after 10 seasons as a North Star. Though he would not have been able to foresee it at the time, the move is what would garner him a Stanley Cup ring and see his name engraved on the silver chalice for all of time. We take a look back on the transaction that saw Bellows moved from the "Land of 10,000 Lakes" to the most storied franchise in hockey history.
Setting the Stage
Within Bellows' 753 games in Minnesota he generated a total of 342 goals and 380 assists for 722 points for the North Stars. Not including the time since the franchise's relocation to Dallas, those point totals are the second most in team history during their Minnesota years. Neal Broten – the only North Star to score more with 796 – played 123 more games than Bellows did with the team. The 342 goals scored by Bellows are the most in North Stars history. Arguably there was no finer player in the history of Twin Cities professional hockey.
You may also like:
Bellows' most productive season with Minnesota came during the 1989-90 season when he set career highs in goals (55) and points (99). Timing in the careers of athletes can oftentimes be strange. For while Bellows compiled such great totals, this was perhaps the apex of his career in Minnesota. More great moments were to follow, but in retrospect one can see that this chapter was coming to a close.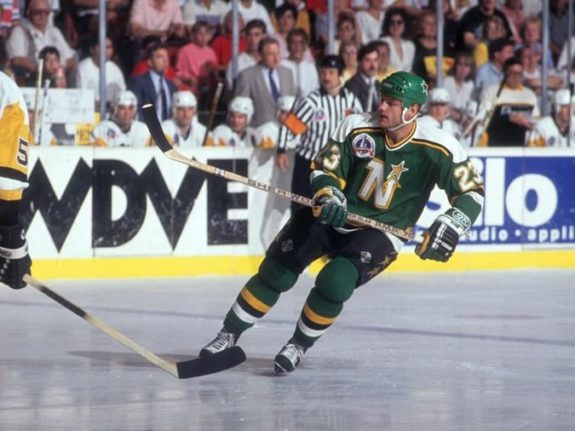 After his career high season, the North Stars would have a most unexpected run to the Stanley Cup Final in the 1990-91 NHL season. The team placed seventh overall in the Clarence Campbell Conference with a losing record of 27-39-14. Still, it was enough to earn them a playoff spot. Their measly 68 points were 15th of the 16 teams to qualify for the postseason.
With head coach Bob Gainey at the helm, the North Stars went on a wild run that saw them eliminate the Chicago Blackhawks (4-2), St. Louis Blues (4-2) and the reigning Stanley Cup champion Edmonton Oilers (4-1) to vault them into a championship showdown against Mario Lemieux and the Pittsburgh Penguins. Though Minnesota would eventually lose to a stacked Penguins team  – one that included not just Lemieux, but was comprised of eventual Hall of Famers Jaromir Jagr, Mark Recchi, Joe Mullen, Bryan Trottier, Larry Murphy and Ron Francis – the North Stars would push the series to six games.
Bellows was the only North Stars player to play in all 80 regular season games and all 23 playoff games. In the postseason he led Minnesota in scoring with 10 goals and 19 assists. After the North Stars improbable run, Bellows would play one final season in Minnesota. The 1991-92 campaign saw him score 30 goals and 45 assists for 75 points in 80 games.
Bellows Is Moved to the Habs
In a surprising move, newly named North Stars general manager Gainey traded Bellows to the Montreal Canadiens on Aug. 31, 1992 in exchange for right winger Russ Courtnall. Bellows had mixed emotions at the time of the trade. He remarked the following at the time about joining the Canadiens:
"I hope to score more than last year. I want to come in and prove I can still play to the levels expected. I was shocked [about the trade] but I'm excited about the new change. My idol was Ken Dryden. It's every kid's dream to play for the Canadiens."
Personal sentiments aside, Montreal seemed to have gotten the better end of the deal from the get-go. Though Courtnall was also an opening round draft selection (sixth overall in 1983), his production was well below that of Bellows. Originally selected by the Toronto Maple Leafs, his finest numbers up until that point had come during the 1986-87 season when he scored 29 goals and 44 assists in 79 games. In fact, when all was said and done Courtnall only surpassed the 30-goal mark once in his 16-year NHL career. Bellows on the other hand reached or surpassed the mark nine different times.
By no means was Courtnall a slouch – he just was not as prolific of a scorer as Bellows. Still, after coming to the Canadiens in November of 1988, he put together three seasons in a row of at least 20 goals for the Habs. Even in an injury-shortened 1991-92 season Courtnall still managed seven goals and 14 assists for 21 points in 27 games. Perhaps where he made the most impact for Montreal was the season he was traded. Courtnall and the Canadiens made it to the 1989 Stanley Cup Final where they lost in six games to the Calgary Flames. With eight goals and five assists in 21 playoff games that year, he was third overall for the Canadiens in playoff scoring.
When the dust settled after the initial transaction, the Canadiens had themselves a proven goal scorer capable of hitting between 40 to 50 goals a year. Minnesota would have themselves a speedy winger, who might not have generated as many goals, but created opportunities because of how quick he was.
How the Deal Panned out for Minnesota
Oddly enough, during Courtnall's first season with the North Stars, he assembled the finest offensive season of his entire career. In what would be the team's final year in Minnesota, their newly acquired winger proceeded to score 36 goals and 43 assists for 79 points in 84 games – the goal total would be a career high for Courtnall. His 36 goals were also the most for any North Star that season, and his 79 points trailed only Mike Modano's team high of 93.
Courtnall would remain with the team as the franchise moved to Dallas and shortened their name to the Stars. He remained the team's most productive winger during their first season in the new city. While his goal production dropped to 23 goals in 84 games during the 1993-94 season, Courtnall's 57 assists became a career high and led all Stars players. His 80 points that year were also his career high and placed him second behind Modano once more, who once again had 93 himself.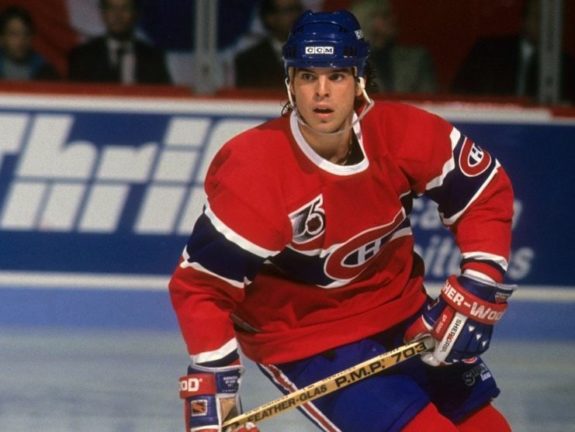 After two full seasons with the franchise, Courtnall would be on the move again. In the lockout shortened 1994-95 season his production for Dallas left something to be desired. Through 32 games he managed to score just seven goals and 10 assists for 17 points, while also being a minus-eight for plus/minus. Dallas would end up shipping Courtnall to the Vancouver Canucks at that season's trade deadline.
The only other factor worth noting during Courtnall's brief stay with Minnesota/Dallas was that he scored two of his career 29 shorthanded goals while with the team. He often used his speed to generate scoring chances on the penalty-kill, and he still stands in the top-25 in NHL history for most shorthanded goals in a career. Furthermore, at the very least Minnesota/Dallas got out of Courtnall his finest seasons of his career. In 200 regular season games between the two cities he scored 66 goals and 110 assists for 176 points.
How the Deal Panned out for Montreal
The length of Bellows' time in Montreal was only slightly longer than Courtnall's with Minnesota/Dallas. However, his tenure with the Canadiens paid the left winger and the team much greater dividends. He would have an immediate impact in his first year with the Habs. Bellows led the team in goal scoring with his 40 goals in 82 games. Similarly, his 88 points placed him third in scoring behind Vincent Damphousse and Kirk Muller.
The 1992-93 season would see the Canadiens win their 24th Stanley Cup, and Bellows would be a key part of the achievement. This particular Montreal team was led by a collection of players, who like Bellows, had already been well-established in the NHL with other teams but had never won a Cup prior. Damphousse, Muller, Denis Savard, Gary Leeman, and J.J. Daigneault to name a few.
Once the playoffs came, Bellows would tie with Mike Keane to be third in postseason scoring for Montreal. He played in 18 of Montreal's 20 games those playoffs as Montreal eliminated the Quebec Nordiques (4-2), Buffalo Sabres (4-0), New York Islanders (4-1) and then finally the Los Angeles Kings (4-1). 11 times during the playoffs the Canadiens played games that ended in overtime. For Bellows' 18 games he scored six goals and nine assists. In the Cup Final, he played in each of the five games where he recorded one of his goals and an assist. Bellows' lone assist helped set up John LeClair's OT-winner in Game Three of the championship series.
After the Cup win, Bellows would play two more full seasons for Montreal but his numbers dipped each year. As Montreal tried to defend the championship for the 1993-94 season, the left winger scored a decent 33 goals and 38 assists for 71 points in 77 games. Still solid numbers for a player not quite 30 years old yet. However, even when considering it was a lockout year, the 1994-95 season saw Bellows' numbers drop considerably. In 41 games he generated a mere eight goals and eight assists. After having the least productive season of his career, he was traded in June of 1995 to the Tampa Bay Lightning.
A Brief Time in Both Players Careers
Neither Bellows nor Courtnall are best remembered for the teams that they ended up being traded to as part of this particular deal, although each played for less illustrious teams afterward. That is important to note as part of this discussion. Bellows would go on to play four more seasons in the NHL after leaving Montreal, but for three different teams (Tampa Bay, the Mighty Ducks of Anaheim, and the Washington Capitals). Courtnall would also play four more seasons after he was traded from Dallas and had three stops as well (Vancouver, New York Rangers, and Los Angeles Kings).
Putting statistics and production numbers aside for the moment, the most important takeaway from this trade is that adding Bellows brought Montreal a Stanley Cup upon his arrival. Though his overall time with the Canadiens was relatively brief he was integral in that specific championship. On a more sentimental level, the trade brought Bellows the one and only Stanley Cup ring of his career.
In addition to the 1991 Final with Minnesota and the win with Montreal, he would also help the Washington Capitals reach their first Stanley Cup Final in 1998. Even then he still had some magic left at age 33, as he scored nine points (six goals, three assists) in 11 regular season games that year and had 13 points (six goals, seven assists) in 21 playoff games en route to the Final. Unfortunately, Bellows and the Caps would be swept by the Detroit Red Wings in four games.
17 years in the NHL, three trips to the Final, and one Cup across a career total of 1,331 games (regular season and playoffs). That is quite a sizable career for any player. It makes for more of a "feel good" story to know that the trade to Montreal put Bellows' name onto the Cup for all of time, and deservedly so.
---
---
---
Latest News & Highlights
---