During the month of September, we will profile New Faces in New Places from around the NHL. We now look at Penguins' defenseman Jack Johnson. He fell out of favor in Columbus and landed a new five-year deal with their rival. Did the Penguins make a wise investment?
Jack Johnson
2017-18 Stats: 3-8-11 in 77 games with the Columbus Blue Jackets.
2018-19 Team: Pittsburgh Penguins.
How Acquired: Signed a 5-year deal worth $16.25 million on July 1, 2018.
Expected Place in Lineup: Bottom-4 defenseman.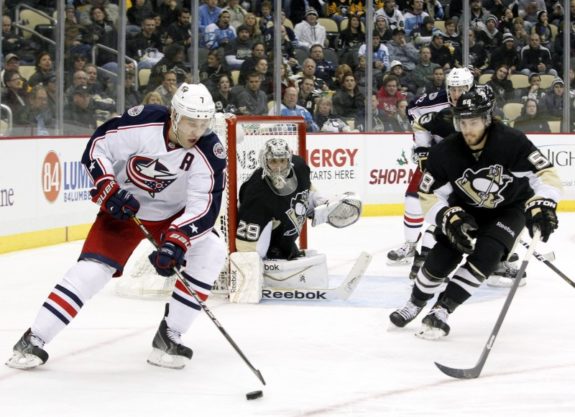 Mark's Take
Johnson had a very eventful tenure in Columbus which saw him come to the Blue Jackets in the Jeff Carter deal. Much was expected of him. For the most part, sans the 2016-17 season, he fell short of expectations.
That's because he was looked at from the lens of a top-pairing defenseman. While there were seasons he put up points including 8-32-40 in 2014-15, there was just one season Johnson finished a whole season as a plus player. Normally you don't put your eggs in plus/minus, but when a vast majority of your career was spent on the ice for more goals against than goals for, that is a trend you can't ignore.
Then add to that the bankruptcy situation he had to endure and you have a player who played through a lot of adversity but tried making the most of it.
To Johnson's credit, he enjoyed one very good season in 2016-17. He went from -16 the season before to +23. Playing with David Savard on the second pair, they were one of the better overall pairs in the league that played in a shutdown role. Unfortunately he wasn't able to continue that play. In fact, he found himself riding the pine during the most important time of the year, the playoffs.
Ian Cole was now there. Markus Nutivaara earned playing time. This left Johnson in the cold. But to his credit through all the drama, Johnson handled everything as professionally as one could hope for. He even asked for a trade midseason and handled that well given the circumstances.
Honestly, if you temper your expectations, this signing could work out for Pittsburgh. He has a new contract and the security that goes with guaranteed money. He's on a team who can score goals. He won't be on their top pair. Johnson can just play hockey without the weight of the world on his shoulders. If he can stay around even and help solidify the bottom-four, this signing is fine even if five years is too much term.
What Others Have Said
"I've really been wanting to be a part of a winning culture, in a place where the expectations to win are as high as can be, and there's a chance to win. I don't think I could've asked for a better opportunity than here." –Jack Johnson
"The signing of Johnson allows the Penguins to, in some way, shape or form, ensure they have a puck-moving defenseman on each of their three pairings, which is something they lacked last year." –The Pittsburgh Post-Gazette
"Penguins captain Sidney Crosby has reportedly been lobbying for the Penguins to pursue Johnson. The two were prep school teammates at Shattuck-St. Mary's and good friends." –CBS Pittsburgh
"There is nothing wrong with a team wanting to sign Jack Johnson in free agency. Yes, his entire career he has been woefully miscast as a top-pairing defenseman and has consistently shown he is probably not suited for that role. But in the right setting, on the right contract, in the right role, there might be some value for a team to find." –NBC Sports
2018-19 Season Stats Prediction
I think Johnson will have a weight lifted off his shoulders knowing he has a five-year deal secured. Given the offensive firepower the Penguins have, I expect Johnson will play fine but the numbers won't jump off the page at you. He is starting the back-nine of his career.
4-16-20 and will alternate between the second and third pair depending on play and injuries.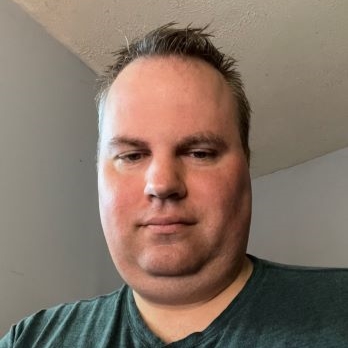 I am a fully credentialed writer who covers the Columbus Blue Jackets, Cleveland Monsters and Erie Otters as well as the Ontario Hockey League and NHL Draft. The 2022-23 season will mark nine seasons with the Hockey Writers. I am also the site's Credentials Manager. Please take note of the updated Twitter handle: @mark_scheig.