The Vegas Golden Knights' blue line has been dealt a blow, as defenceman Nate Schmidt will miss the first 20 games of the 2018-19 season. The 27-year-old was suspended by the NHL on Sunday for violating the league's performance-enhancing substance policy. Schmidt will be allowed to participate in training camp but is ineligible to play in the preseason.
The earliest he can return to action is on Nov. 18 against the Edmonton Oilers. His absence from the Vegas lineup will be felt given he was arguably the Golden Knights' top defenceman last season. With that in mind, below are three main takeaways from Schmidt's suspension.
Golden Knights Lose a Top-Two Defenceman
For nearly the first quarter of the upcoming season, the Golden Knights will be void of one of their best blueliners. Schmidt patrolled the top defence pairing for a majority of the 2017-18 campaign and would have done the same this season. The University of Minnesota alum hit the ice more than any Golden Knights skater last year, averaging 22:14 of ice time per game. Schmidt logged 1,960 total minutes of ice time in 2017-18.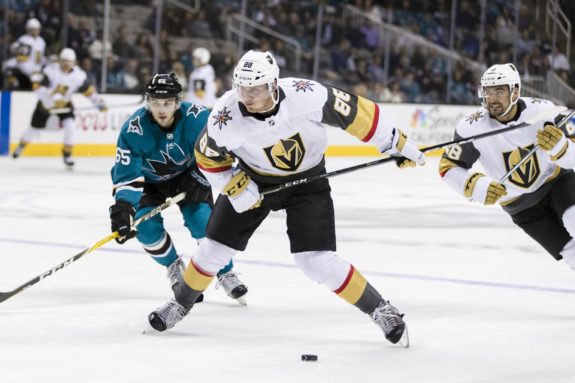 The five-year veteran was a significant contributor both defensively and offensively last season. In 76 games, Schmidt recorded a career-high 36 points, ranked 2nd among Vegas defencemen. The St. Cloud, MN. native is a strong puck-mover, racking up 31 assists to go along with five goals. His assists total was tied for the highest among Golden Knights blueliners. His defensive point shares rate of 4.8 was the second-best on the team; DPS is an estimate of the number of points contributed by a player due to his defence.
Getting shots on goal became a problem for opposing players when Schmidt was on the ice. The former Washington Capital registered a career-best 121 shot blocks last season, including eight games of at least four blocks. He thwarted five shots in two matches last season. A primary reason why Schmidt led Vegas in ice time was his tendency to avoid the penalty box, as he logged just 16 penalty minutes in 2017-18. His ability to stay away from the 'sin bin' was indicative of his discipline.
Shea Theodore's Time to Shine
With the regular season nearly a month away, the Golden Knights' coaching staff have a big decision on their hands. Filling the void left by Schmidt's 20-game absence on the top pairing will be a high priority for head coach Gerard Gallant. Luckily for him, Vegas has a stable of blueliners capable of skating alongside–presumably–defenseman Colin Miller on the first pairing.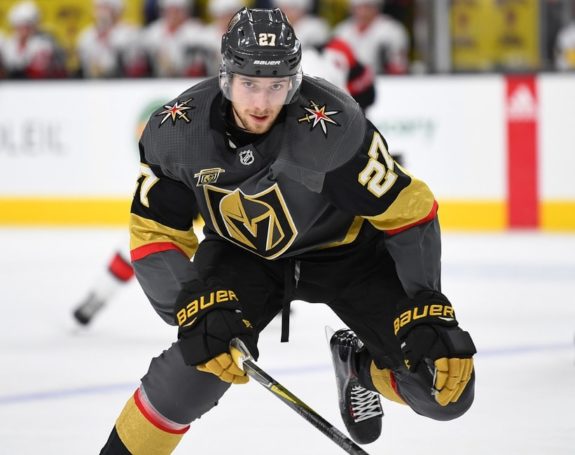 Expect blueliner Shea Theodore to emerge as the favourite to replace Schmidt during his suspension. Pegged as a breakout candidate for 2018-19, Theodore played the best season of his three-year career in 2017-18. The Langley, B.C product recorded 29 points off six goals and 23 assists in 61 games. His goal total was second amongst Golden Knights defencemen, while his points and assists ranked third in the same positional category.
At just 23-years-old and fresh off his greatest campaign to date, Theodore is primed for a bump up the depth chart. The former Seattle Thunderbird of the Western Hockey League was selected 26th overall by the Anaheim Ducks in 2013. Schmidt's ban allows for Theodore to cement his first-round billing by succeeding as a top-two defenseman. The British Columbia-born defenceman displayed admirable playmaking ability and increased responsibility could lead to an improvement in his defensive skillset.
The Other Candidates to Replace Schmidt
Theodore isn't the only nominee. Another blueliner that could challenge for the top-two role is defenseman Brayden McNabb. What he lacks in offensive prowess is made up for by his bruising physicality and overall defensive repertoire.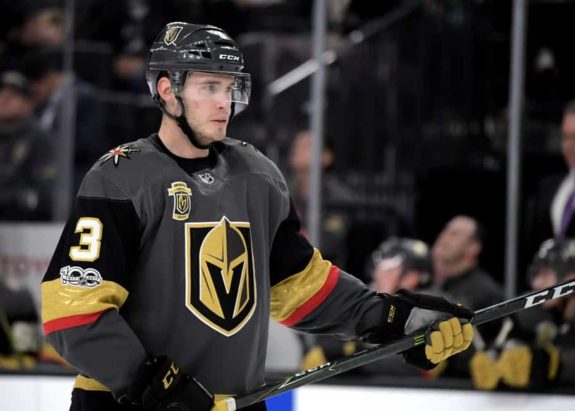 McNabb was the only Golden Knight with a higher DPS than Schmidt last season with a 5.0 mark. The Davidson, Sask. product did not hesitate to throw the body around, as he led the Golden Knights with 225 hits in the regular season. Blocking shots became second nature for McNabb in 2017-18, as his 176 shot blocks were a team-high and ranked sixth in the NHL.
A sleeper in this race is veteran defenseman Deryk Engelland, who packs a skillset similar to McNabb's. The 36-year-old blueliner is coming off the finest offensive season of his career, where he notched five goals and 18 assists for 23 points. But where he is most effective is in the shot blocking and toughness departments. Engelland finished with 150 shot blocks and 126 hits, which were second and third respectively on the Golden Knights.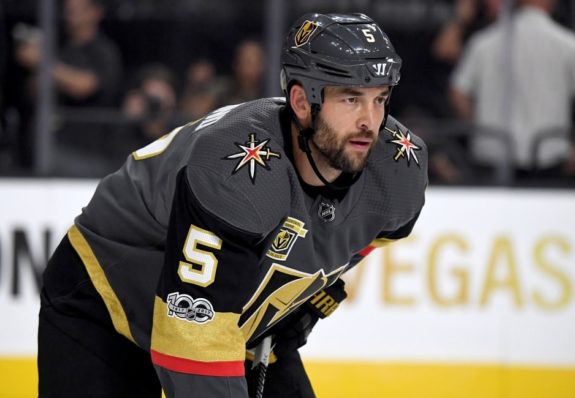 There is no doubt that the Golden Knights will miss Schmidt. However, if one of the three aforementioned blueliners plays exceptional hockey as Schmidt's replacement, do not be shocked if one of them maintains the top-two role once the Minnesota-born veteran returns from suspension.
A 2018 graduate of the Langara College Journalism program in Vancouver, B.C. I used to contribute to both the British Columbia Hockey League and Florida Hockey Life Magazine (with the latter being a burden on the phone bill). My experience with those publications is being carried over to THW, as I will be covering the Vegas Golden Knights. Currently living in Richmond, B.C.